Ever since he started his first business at the age of 22, Andy Ann (EMBA 2009) has founded and invested in more than 20 start-ups. The serial entrepreneur is now the founder and CEO of NDN Group, an investment company focusing on venture building, digital consulting and marketing services, innovative technologies and digital training. With a forward-thinking mindset and a penchant for going beyond the low-hanging fruit, Andy has expanded his business into a variety of digital technology realms. He has even become a pioneer in many I&T ventures and forged his own digital empire.
Taking the Road Less Travelled
Looking back at his career, Andy mentioned that when he started his entrepreneurial journey, start-ups were few and far between. Support was scarce, let alone guidance or mentorship. All he could do was toughen up, press ahead and learn from trial and error. According to him, entrepreneurs must always be prepared for failure. He has first-hand experience with investors pulling out and having to let go of dozens of teammates. Despite these challenges, Andy never thought of giving up, because he had long decided to shoot for the stars. "It is easy to go back to working for others and enjoying a stable and high-paying job, but, as in the story of The Three Little Pigs, if you could dig in and power through the most difficult obstacles, the path will become smoother."
Many start-ups focus on a specific field to make financing and development easier to manage; but Andy takes a different view: "If entrepreneurs put all their eggs in the same basket, they would have a hard time bouncing back in times of adversity." As a case in point, Andy said Richard Branson, the founder of the Virgin Group, owns more than 400 companies. "Investors, of course, prefer entrepreneurs to be focused on their business, which is relatively easy to do. Yet, rather than having to seek external support when the going gets rough or having to risk being overwhelmed by macroenvironmental changes, I prefer to create an ecosystem of complementary businesses." Presently, Andy's company is involved in data analytics, digital marketing, microinsurance and other businesses. He is also the co-founder of a company that engages in ESG businesses, which he expects to be a trend to stay.

Andy is intent on fostering a digital media ecosystem. He has already moved towards emerging tech applications such as NFT, blockchain and InsurTech.
Adopting the Long View and Creating Long-Term Value
Andy chose the path of entrepreneurship because he enjoys creating something from nothing and generating new value. To him, entrepreneurship is more than about immediate gains. "Too many people equate entrepreneurial success with company valuation; but becoming a unicorn shouldn't be the only metric for success. Entrepreneurs should be able to look farther ahead than most other people." He recalled visiting Guinness' original brewery in Dublin after he graduated with his EMBA: "When I saw that Arthur Guinness signed a lease with the government for 9,000 years, it inspired me to take the long view. While this may make things more difficult, the mindset has helped me go farther and faster. In fact, half of my current business portfolio is geared towards future market opportunities. We're even looking into trends that may shape the coming century."
On the day of the interview, Andy's company concluded an NFT project for a local bank. It was just another success story of Andy getting ahead of the game. "These experiences motivate my team and me to keep pushing forward. As a matter of fact, I have already prepared a press release for 2030 as we are tapping into the mega-trends of blockchain and microinsurance." In terms of I&T development, Andy thinks ESG will still play a central role, but its ultimate success will depend on how well financial systems, private enterprises and innovative ideas work together. As for blockchain and AI, he said their success will be determined by whether the two technologies can strike a balance between centralisation and decentralisation.
In the face of immense competition and opportunities, both within and outside the region, Andy believed that start-ups should look ahead with not only depth but also breadth. "I always stress that start-ups should position themselves for the international market right off the bat. They should consider returning to the comfort zones of Hong Kong and the Greater Bay Area only after tackling the broader market. Prioritising what is difficult over what is simple is the only way in which they will avoid being easily crushed by their competitors. The I&T environment in Hong Kong is quite good. It is an international financial centre with a wealth of talent having global perspectives. If start-ups have a mature entrepreneurial mindset, they will achieve twice the results with half the effort."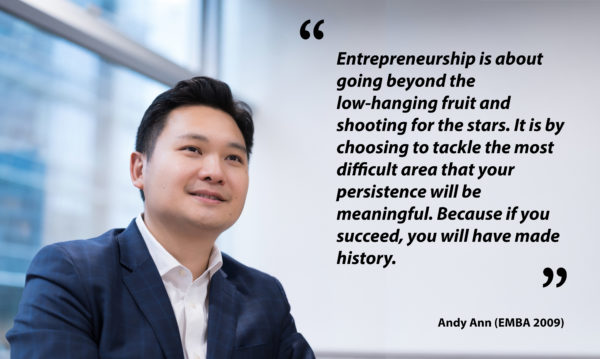 Claiming First-Mover Advantage and Making History
A few years after embarking on his entrepreneurial journey, Andy decided to enrich his business knowledge by enrolling in the EMBA programme of the CUHK Business School. In addition to learning from professors and classmates from various professional backgrounds, he received support for his ventures from the strong EMBA alumni network. After graduation, he actively participated in and served the CUHK EMBA Alumni Association. Two years ago, he even became the President and rallied alumni to give back to the community. "There are many influential figures from a variety of industries in the EMBA programme. That's why I wanted to encourage everyone to contribute their strength and help the less fortunate among us and give back to society."
Andy advised alumni who want to start their businesses to stay optimistic and be prepared to rise to the occasion: "If entrepreneurship was easy, everyone would be doing it. The reason your toil and persistence are meaningful is because this is a difficult path to walk on, and if you succeed, you will have made history."