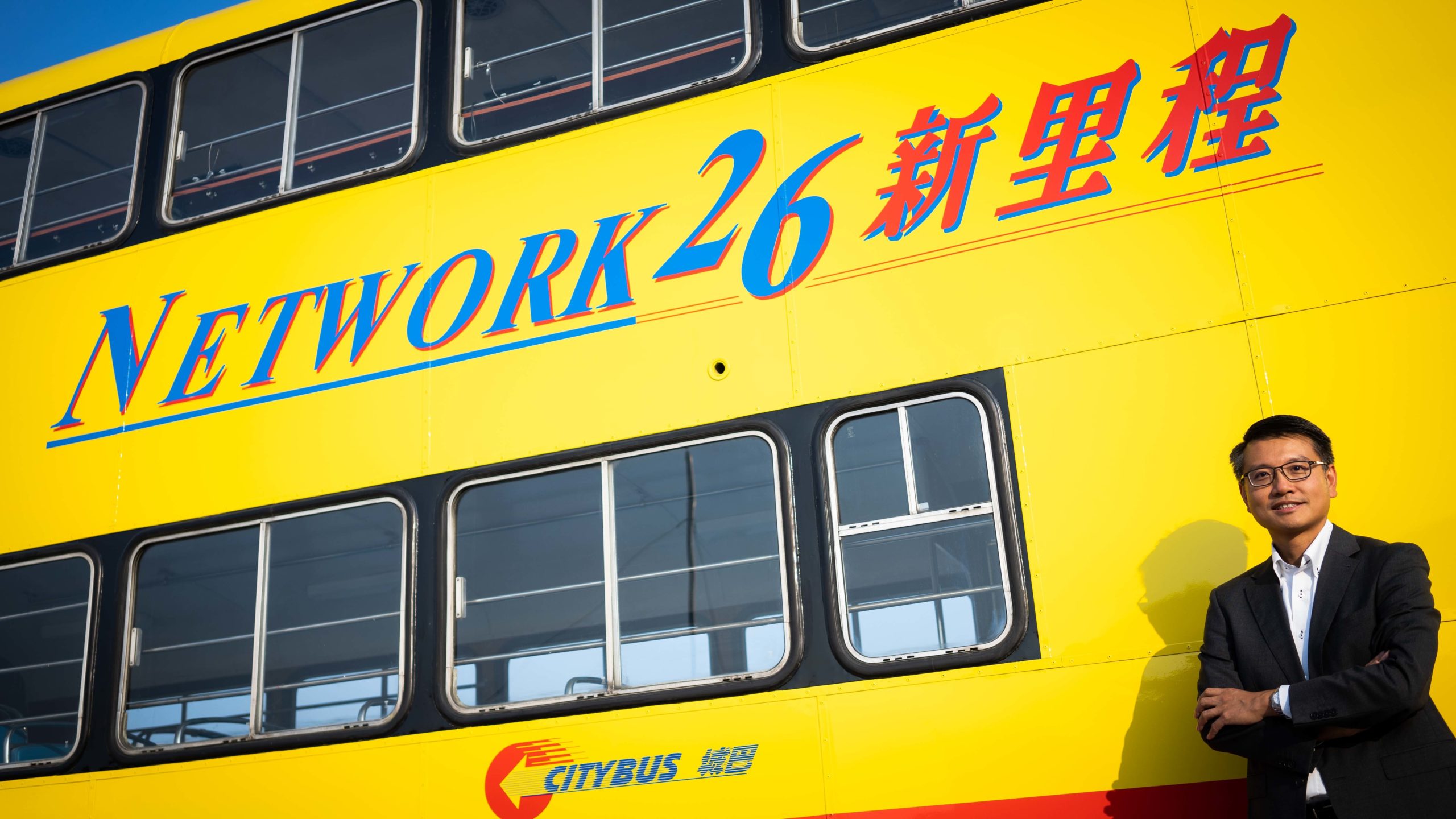 A job done isn't good enough. What's needed is a job well done.
When it comes to catching the bus these days, passengers do not need to be at stops until the very last minute. With an app on their smartphone, they can stay informed of the estimated arrival time, after New World First Bus and Citybus, owned by NWS Holdings, introduced Hong Kong's first automatic bus stop announcement system and smartphone app in 2012. The technology received the "Best Public Service Application Grand Award" and "Best Public Service Application (Transformation) Gold Award" in the Hong Kong ICT Awards 2013. Newton Ng (MSc in Information and Technology Management 2003) is the mastermind behind this technology, in his role as Assistant Director (Corporate Support) of NWS Holdings and Head of Development for New World First Bus and Citybus.
Enrol in CUHK Twice to Further Education
Newton was a science student in secondary school but began to see business studies as more versatile. He was offered early admission to CUHK's BBA programme after completing Form Six and became one of the first student residents of Shaw College. To this day he still benefits from his instructor's teachings. "Professor Japhet Law, who taught me statistics, compared statistics to gold mining. The treasure usually sinks to the bottom. So it's important to ask yourself whether there are any traces of overlooked information after analysis. In my advertising and strategic marketing course, Professor Leo Sin often stressed that a unique selling point was a must for successful sales and marketing. This knowledge has become a second nature to me and proven to be very useful later at work," Newton explains.
A few years after graduation, Newton moved on to his next goal: to further his Master's Degree. It happened to be around the time information technology was becoming more popular. Although the dot-com bubble had burst by then, he noticed that the operating logistics in his industry had plenty of room for improvement, so he returned to CUHK to enroll in its MSc in ITM programme. "The concept of the programme is to connect IT professionals with businessmen, which was exactly what I needed. I don't know how to code, but after completing the programme, I knew how to ask for what my IT colleagues could actually deliver. It was very helpful when my company started to digitalise later on," Newton says.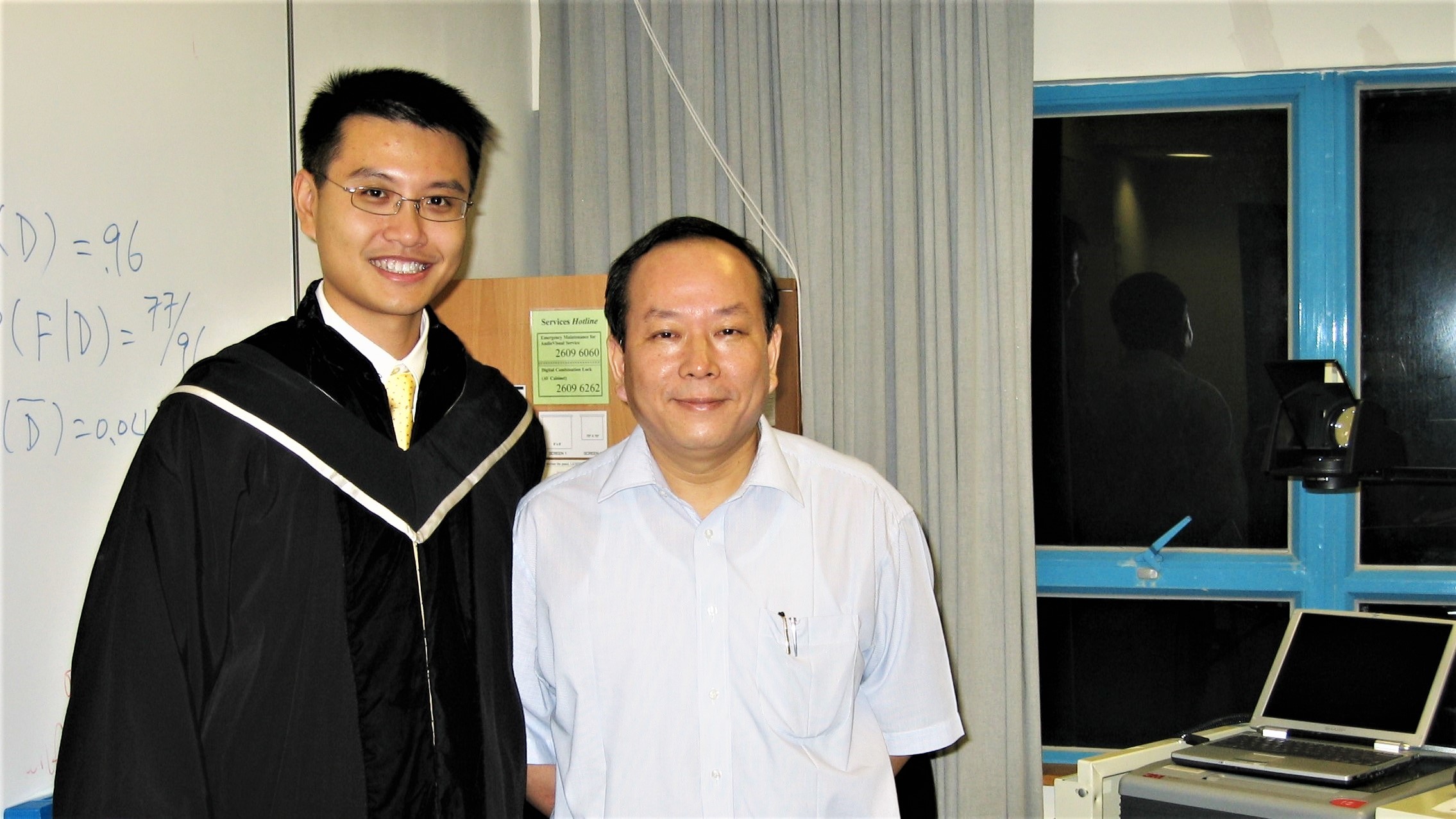 Newton (left) poses with his instructor and former Associate Dean of Business School Professor Lee Ching-chyi at his MSc in ITM graduation
A Pioneer Who Loves a Good Challenge
Looking back on his career journey, Newton had worked at Citybus twice as a summer intern even before graduating with a bachelor's degree. "I majored in marketing. Many of my peers looked for sales and marketing jobs, but I wanted to work in product development. Back then career planning wasn't really a thing to me. I just thought transportation was interesting, and I was drawn to the vision of Citybus. Joining the company after graduation just made sense."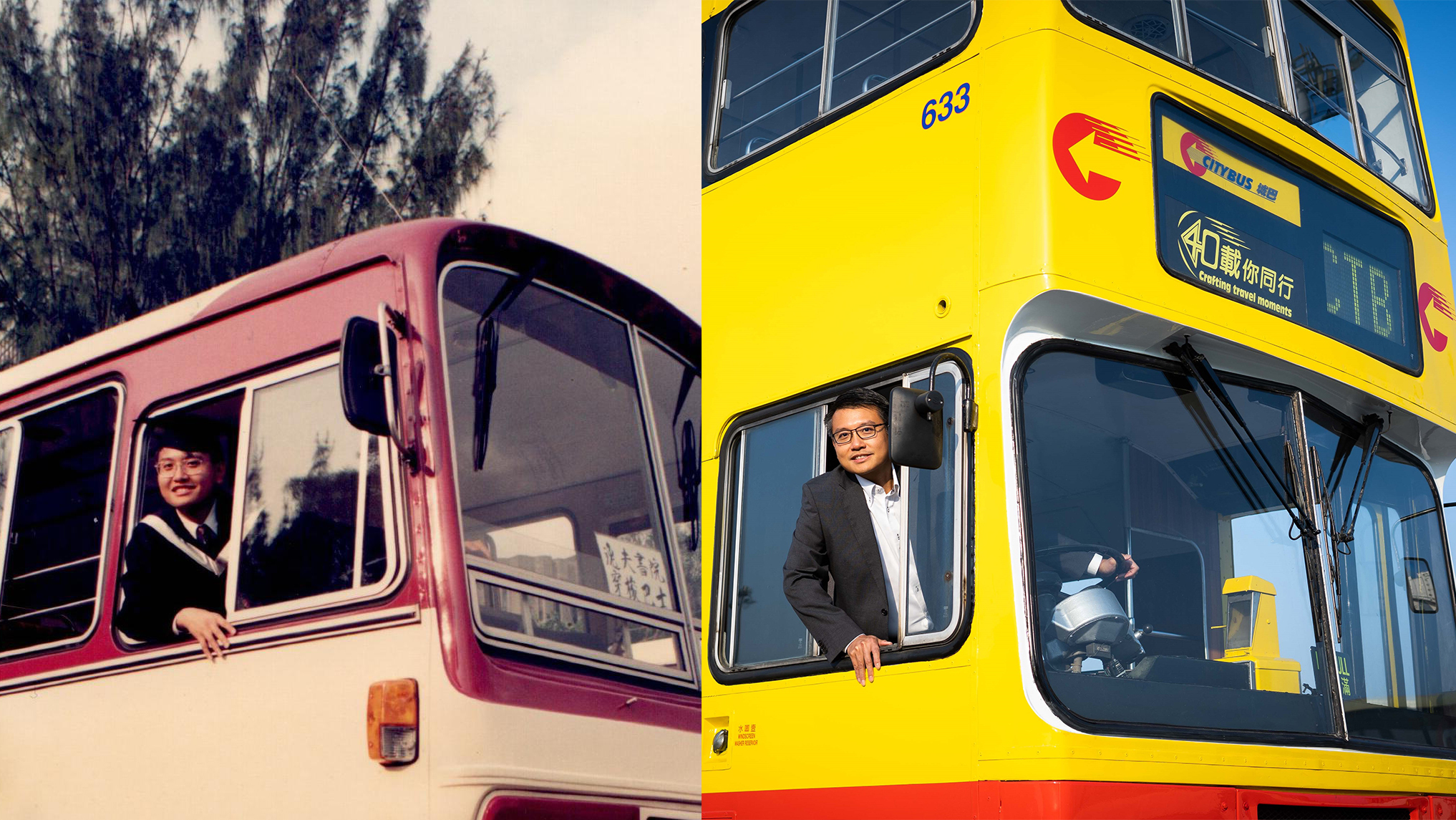 Fate brought Newton and buses together when he was an undergraduate. He completed two summer internships at Citybus and made a point to take his graduation photos in a CUHK campus bus (left). Little did he know he would join Citybus again after graduation and go on to work there for two decades
In the early stage of his career, Newton wanted to fulfill his dream of working at a big corporation, so he briefly left Citybus to join MTR as a traffic controller. While he gained valuable experience operating a mass public transportation system, life inside the control room eventually became dull. It was a central reason he returned to his former employer and has been working at New World First Bus and Citybus since. He oversaw the Operations and Planning Department, and his duties ranged from managing frontline staff including bus captains and regulators to negotiating route changes, additions and reductions with the government, as well as making development plans with forecasts on future vehicle and manpower needs.
Newton says the constant flow of opportunities to be part of new projects is the reason he has stayed at the same employer for this long. He joined the company in 1993 just as Citybus took over 26 routes from China Motor Bus, and was given the chance to assist with this launch within three months of joining. Upon his return from MTR in 1998, his first project was to plan new airport bus routes, dealing with the traffic chaos associated with opening a new airport. Each new project, be it a city tour bus service or mobile app development for New World First Bus and Citybus, has motivated him to move forward. "Every time I finish a project, I look for a new one. It never stops. I'm the living testament of the first line of CUHK Student Union's anthem: 'We've cut the hills and broken the grounds. Our sacred job is to blaze the trail,'" Newton says.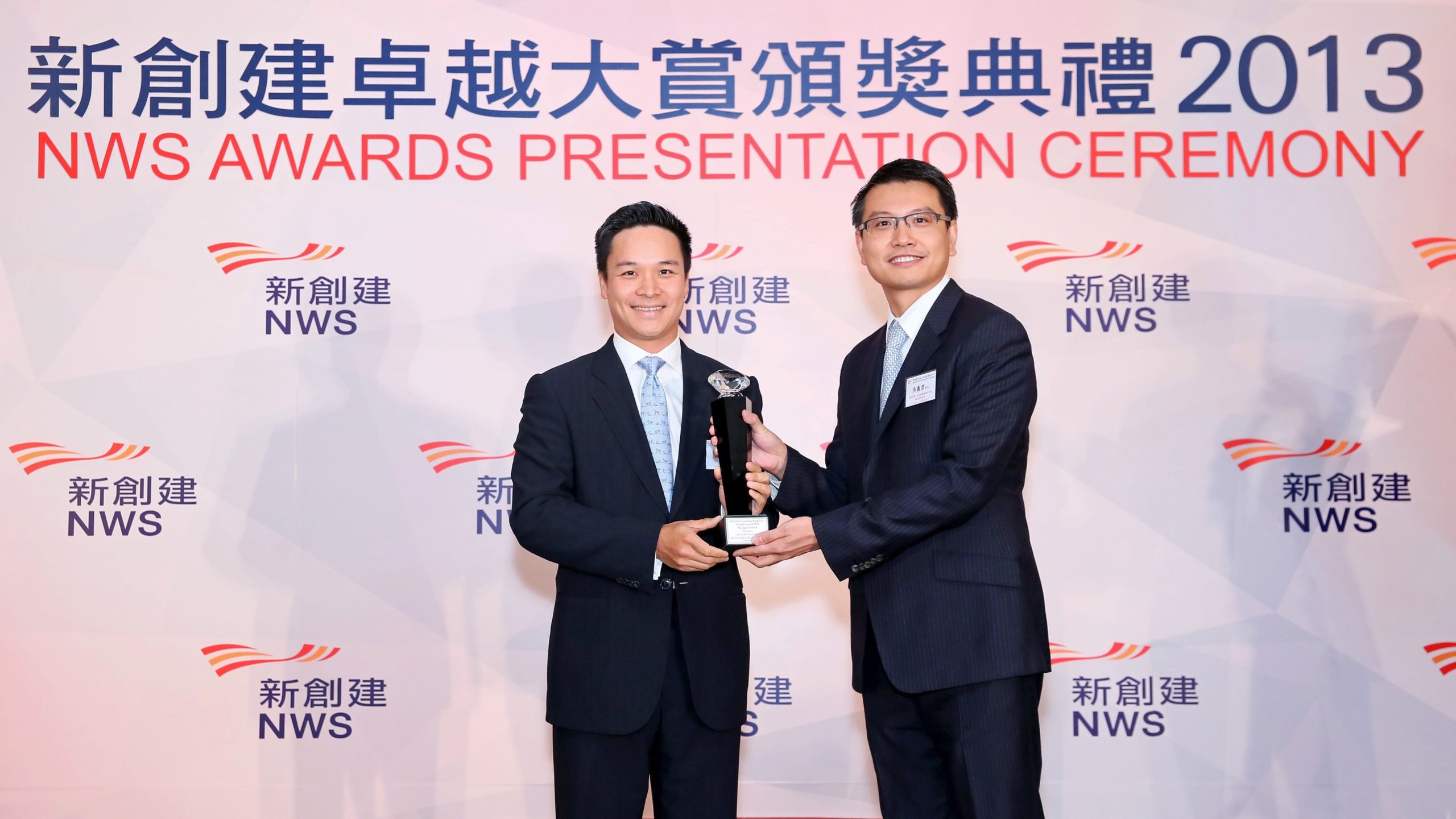 Newton (right) excels at his job and was presented the NWS Outstanding Employee Award in 2013
No Job Too Trivial
Newton minored in Japanese studies as an undergrad. He appreciates Japanese people's dedication to everything they do. When he was assigned the job to develop a new mobile app for New World First Bus and Citybus, he decided to move beyond the mainstream HTML format, which lacked interactivity, and set his eyes on developing a practical yet interactive app. Taking advantage of technological advancements such as the GPS technology, Newton turned a homework assignment from the ITM programme into reality by developing a real-time monitor system of vehicles that could control and manage the location of buses. Passengers could also stay informed of the estimated arrival time of buses through the app.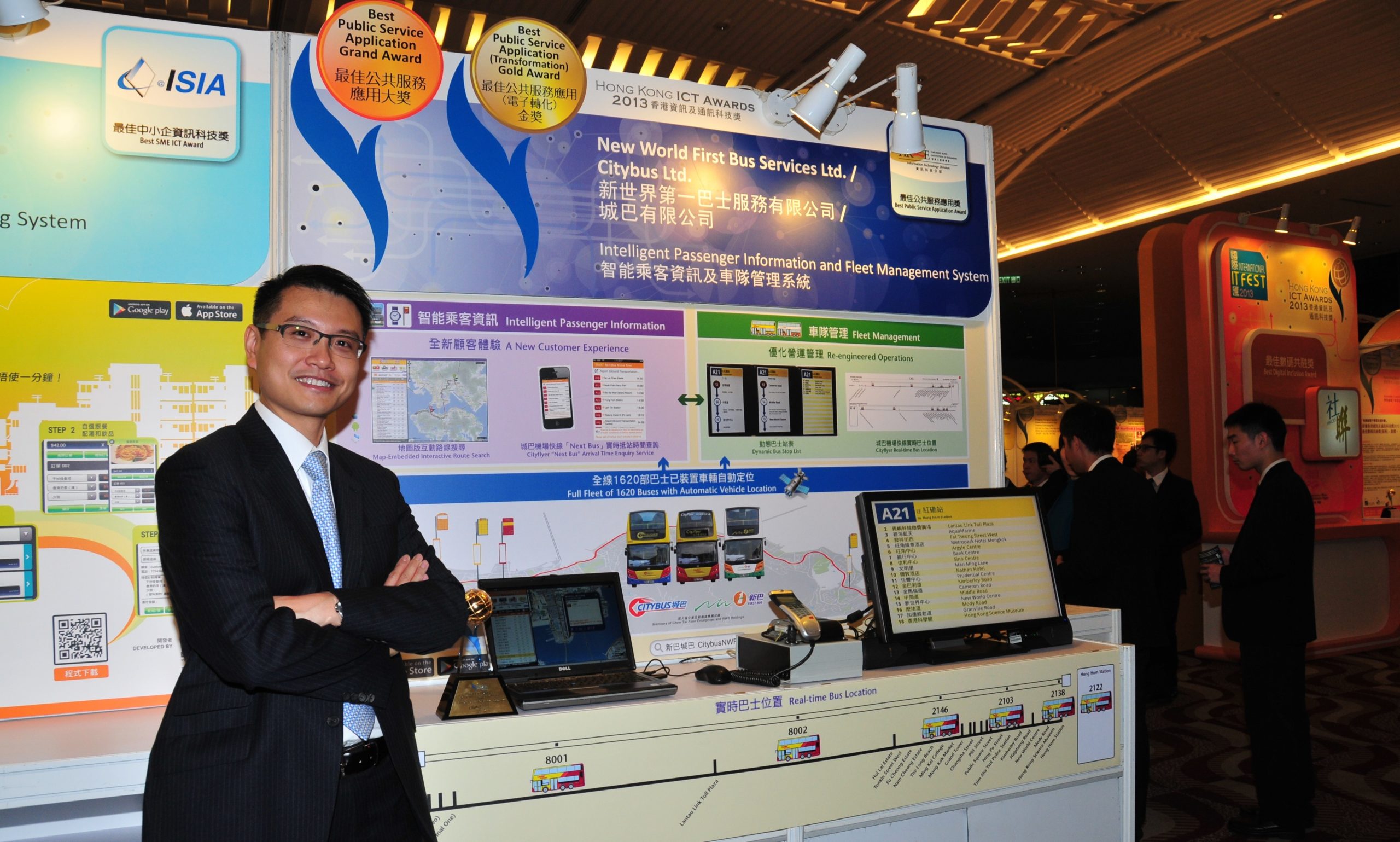 Newton put what he learnt into practice and turned his ITM programme assignment into reality. He developed an automatic bus stop announcement system and a mobile app for New World First Bus and Citybus under NWS Holdings. The technology received the "Best Public Service Application Grand Award" and "Best Public Service Application (Transformation) Gold Award" in the Hong Kong ICT Awards 2013.
"The biggest challenge was building hardware that could withstand vibrations on board and sending and receiving a large amount of data from a slow-moving vehicle using Wi-Fi. The first contractor could not overcome these challenges and withdrew halfway. We went back to square one, went through the tender process again and wasted two years. I later consulted with an ITM classmate, who has an IT and engineering background, and then negotiated with a second contractor. In the end, we managed to solve the problem by using bespoke industrial hardware. The project took four years to finally come to fruition," Newton says.
The technology has evolved into a second generation offering today. All New World First Bus and Citybus vehicles are now equipped with 7-inch touchscreen tablets. Controllers can make text-to-speech commands as well. New features such as real-time bus status and using the destination to filter the next bus to arrive have been added to the mobile app. Users may even be able to pay their fare using the app in the future.
Integration of Traditional Wisdom and Innovation
The process of developing different systems made Newton realise that he could not just sit in the office working on his computer all day, but also meet customers face-to-face to understand their needs. "Most customers aren't good at expressing their needs and rely on us to look for the answer. The key is to put your heart into getting every job well done. This motto is influenced by the teachings from our company's founder and is in line with the craftsman's spirit promoted by the group," Newton says.
Thanks to this company culture, Newton has operated a bus to serve passengers, trialed software developed by his own team, and mingled with frontline staff. "When passengers say thank you as they get off, you will understand what kind of service truly satisfies them."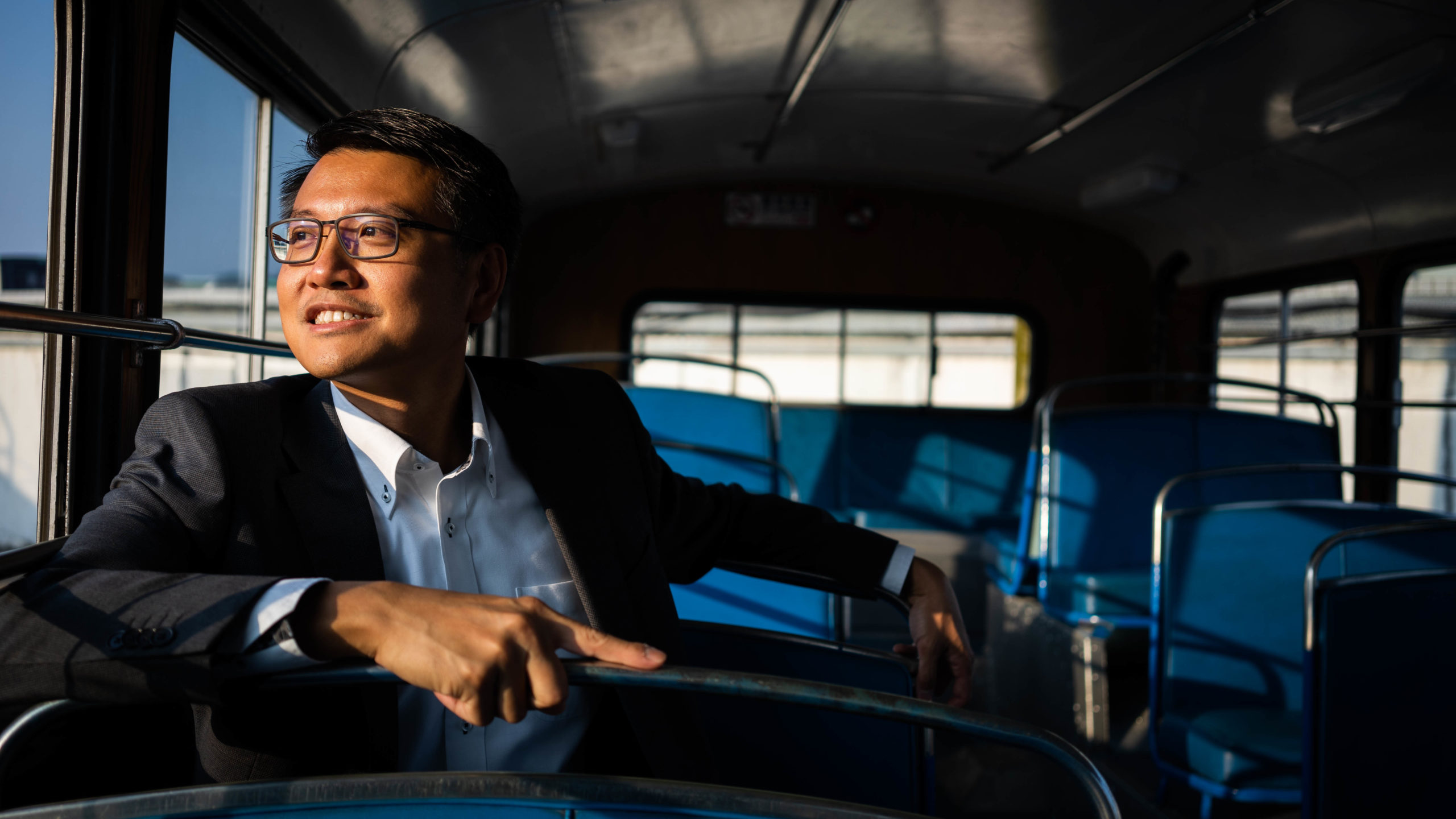 Newton likes to be on the frontline to learn about the needs of passengers and has a keen nostalgia for buses and love for the industry. He is determined to offer passengers a new bus experience via technology