Clement Lau (MBA 1996): Championing Sustainable Development in the Real Estate Industry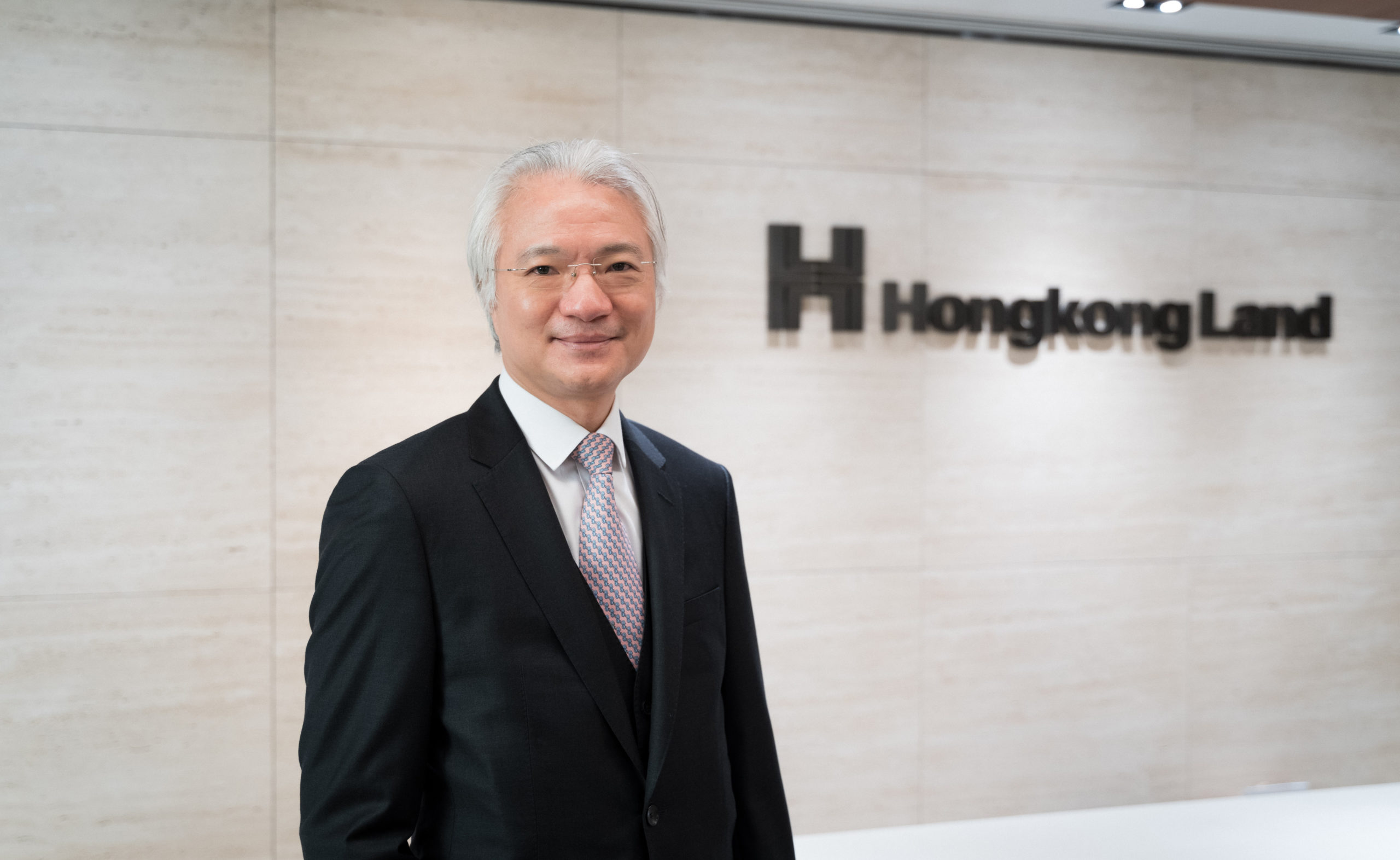 Establishing a solid foundation, developing a comprehensive plan and achieving objectives tactically: This is how Clement Lau (MBA 1996) approaches his work and public service. Such strategy has helped the Director & Head of Development and Valuations at Hongkong Land Limited and the President of the Royal Institution of Chartered Surveyors (RICS) promulgate sustainable development and nurture the much needed next-generation talent.
Creating the Greatest Value by Adopting a Holistic Approach
As a child, Clement loved to build models. After graduating from the university, he pursued his passion by joining the surveying industry. He revels in developing creative ideas for projects and finds joy from seeing projects go from conception, construction to completion. To him, property development is analogous to childbearing given the amount of time and effort poured in before a project can be materialised. At the same time, the ever-changing market conditions burden the process with changes that put one's intelligence and patience to the test. He recalled supervising a major project in Beijing that took seven years to secure construction permits, as policy changes necessitated several rounds of negotiations with the local government. On a lighter note, he said that doing business sometimes really boils down to "talking".
"Property development isn't the same as model building. You can't put a building in any city because each location has its own culture and background," he remarked. "It is important to first derive a good amount of understanding of the stakeholders' and users' expectations by speaking with them. After evaluating the macro-environment, we can decide on the property's market positioning and use." As the head of his department, Clement will meticulously analyse all measurable and unmeasurable factors, gather feedback, collaborate with his team to assemble the most appropriate software and hardware, and hammer out a holistic development blueprint.
Clement described his duty as "identifying the greatest value" for projects. Against the backdrop of shifting markets and demand, he has a keen eye for "agility" and "sustainability" in the "value" he seeks. "Even after we've produced the blueprints, we can't just execute the tasks mindlessly. We must also leave room for adjustment and transformation when we plan to ensure long-term success." Citing the example of Hongkong Land's refurbishment of its property portfolio in Central over ten years ago, Clement said that their act of turning commercial buildings into hotels and connecting shop floors for a three-story flagship store was to enable properties to continue to develop sustainably and increase in value by moving with the times.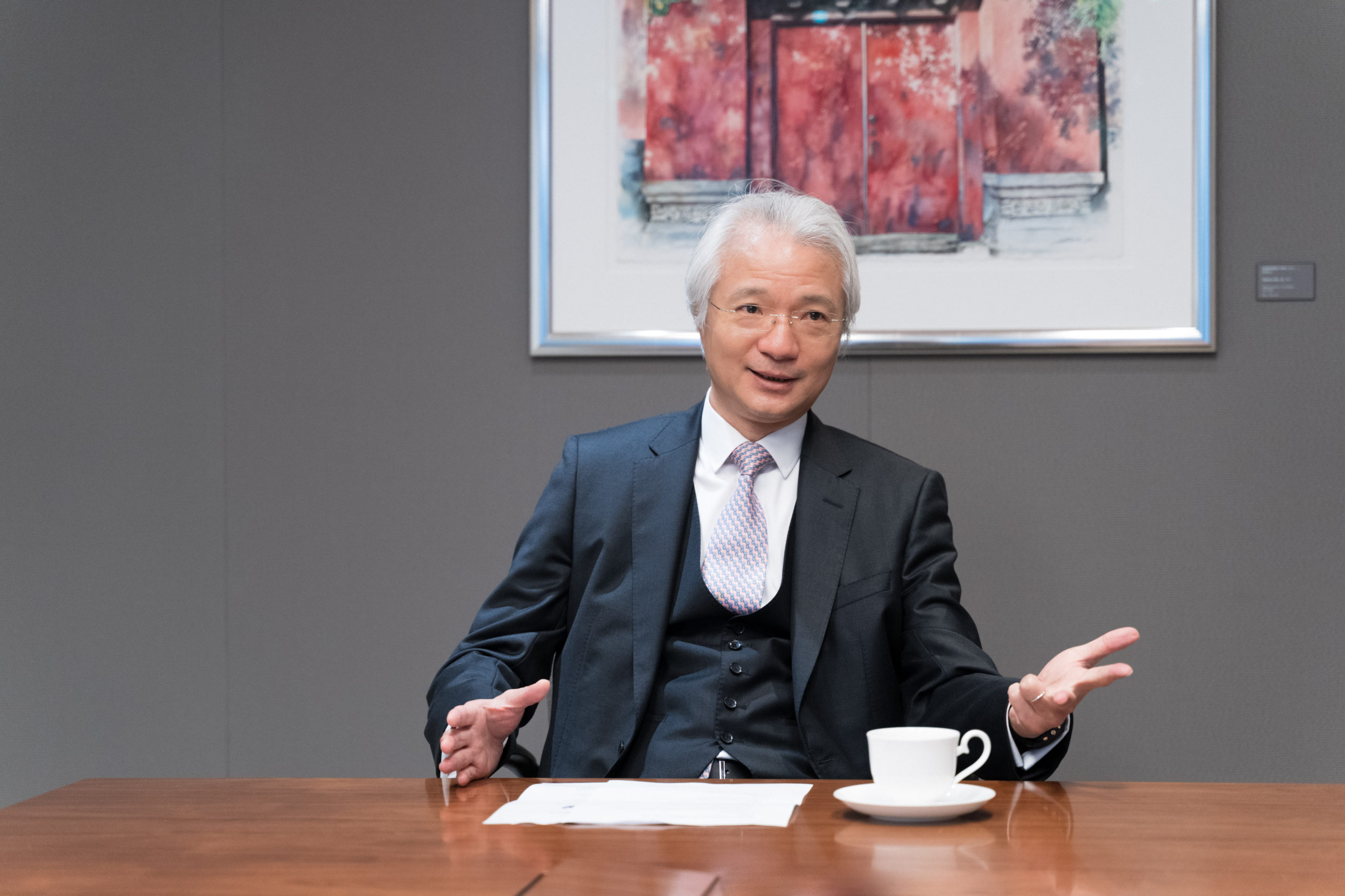 Clement said that flexibility and foresight must be exercised during project planning to allow room for future refinements, as development projects take years to be materialised, and the lifespan of properties often extends decades.
Driving Decarbonisation with Mission
Besides serving Hongkong Land, Clement is the President of the Royal Institution of Chartered Surveyors (RICS). Being the first Chinese to lead this international professional body, he is keen to give back to future generations and the industry and advocate for sustainable development. To enhance communication and strengthen connections, he has met with members from different regions after becoming the president. In order to help businesses around the world to achieve the net zero goal by 2050, RICS is also setting decarbonisation benchmarks.
Clement noted that the built environment currently accounts for around 40% of global carbon emissions. It is, therefore, incumbent upon industry professionals to examine each project and put decarbonisation goals into effect. "Just as we need a good foundation for buildings, we should also tackle decarbonisation from the ground up." He claimed that RICS is working to establish international standards, including how emissions should be measured and reported, adding that it is also collating data on carbon emissions of various building materials to help users make a wise selection. "We also work with governments and non-governmental organisations to promote initiatives that will help us achieve our objectives. As the president of RICS, I've also advised the government on ways of improving the quality of construction and carbon emissions in public housing design." He opined that business investment and sustainable development go hand in hand, and that society and the economy can benefit as a whole only with a good environment.
Achieving Complementary and Mutually Beneficial Development
With an increasing number of Greater Bay Area (GBA) infrastructure and construction projects in the pipeline, the demand for surveyors is also growing in tandem. According to Clement, Hong Kong has the maximum number of RICS-chartered surveyors outside of the United Kingdom. In turn, these outstanding professionals can empower the GBA to enhance its planning and management standards. The abundant opportunities offered by the region will also benefit Hong Kong's consultancy firms and developers. Clement pointed out that the GBA differs from previous regional economic plans for several significant reasons: "In the past, small markets have constrained the products and development of real estate or businesses. Yet the GBA has a population of more than 80 million people, which creates immense demand for goods and services. We can serve the entire value chain of the industry with systematic planning. By having all member cities working together and synergising their strengths, we can form a large-scale operating ecosystem and achieve economies of scale."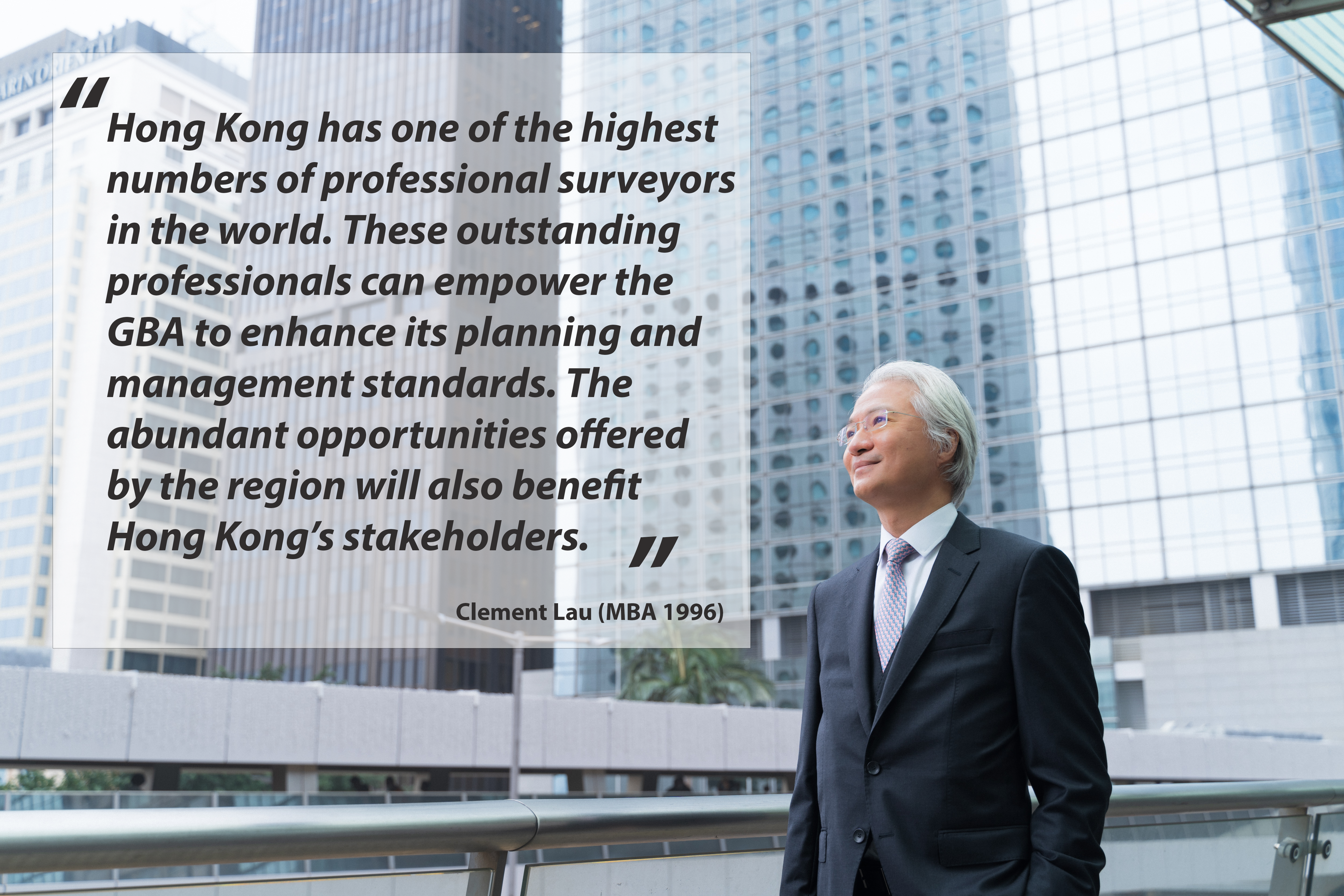 Teaching and Learning as Mentors and Friends
Clement's commitment to sustainability extends beyond the real estate industry. He is generous in sharing his experience and expertise with students of CUHK Business School, and has served as a mentor for years. Recalling his decision to join CUHK's MBA programme, he said that apart from gaining knowledge about business management and finance, he also wanted to meet new people, build networks and learn from others. "I enjoy being a part of the mentorship programme as it allows me to meet the younger generation and understand their thinking, at the same time, I'm also inspired by what they share with me and gain fresh ideas for market development." He encourages Business School alumni to pay greater attention to decarbonisation and other environmental issues, and together lay the groundwork for sustained prosperity by adhering to the global green economic trends.