Mothers are entrepreneurs in every sense of the word. They are the founders, chairpersons and CEOs of ventures that are nurturing the next generation. Even in the absence of fanfare, glamour or remuneration, they labour long hours and make significant personal sacrifices to help their "start-ups" grow into "scale-ups" and contribute to making the world a better place. In honour of Mother's Day, we invited three CUHK Business School alumnae to discuss their parenting adventures, including the highs and lows as well as the vision, values and wisdom they instil in their children to help them thrive and become the leaders of tomorrow.
1. Rendy Ng (EMBA 2016)
Founder & Principal Health Care Lawyer, ARLU
Co-Founder & CEO, Dr. Baba Family Health Centre
Director & Chief Gemologist, Bee's Diamonds
President 2022-2024, Zonta International – New Territories II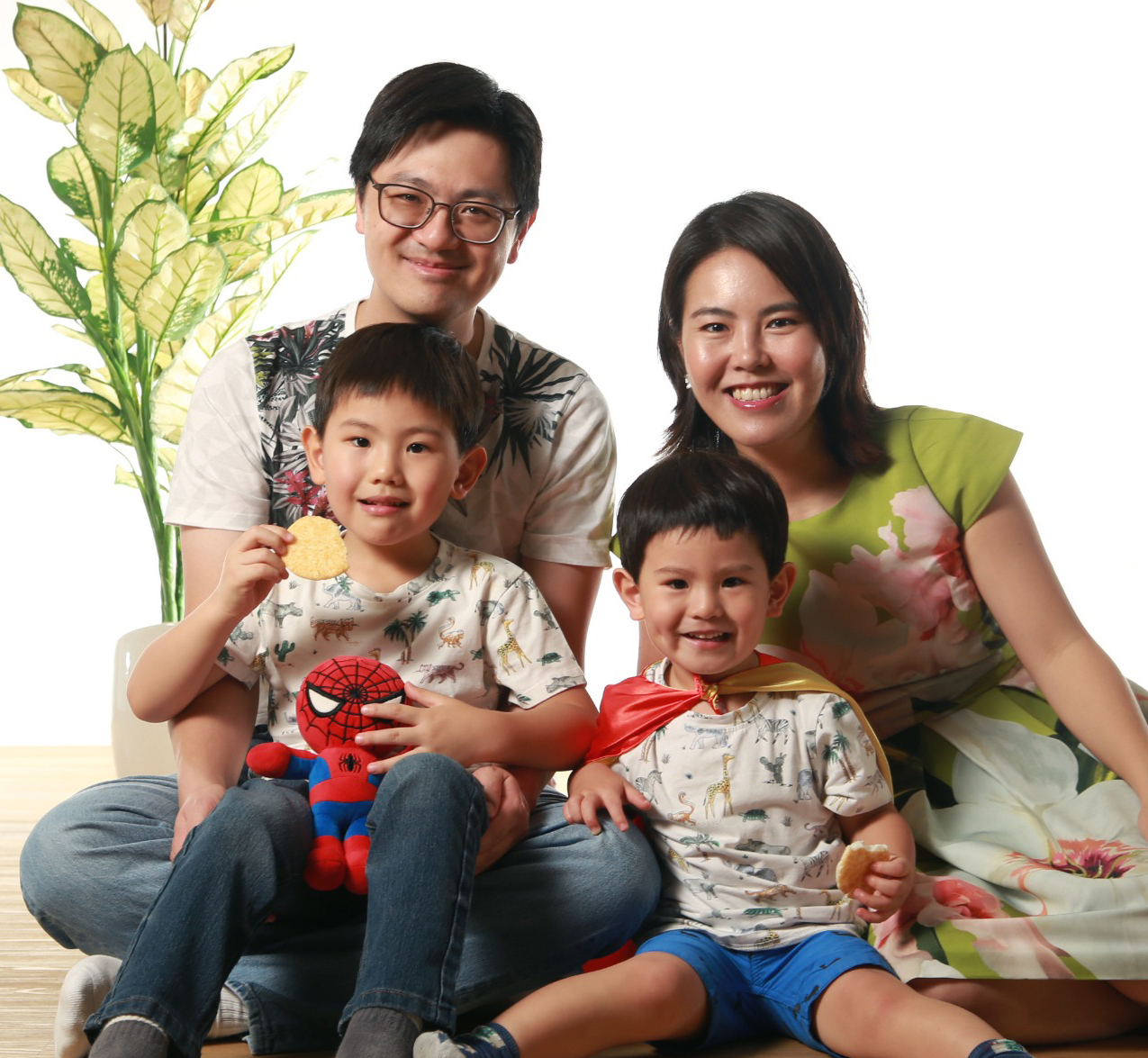 Q1. How old is/ are your child(ren), and what do you enjoy doing together?
Darren is seven and Philip is four. I enjoy exploring and going on adventures with my boys. Kids have a knack of re-opening our eyes to the world we've forgotten about because of our business (or rather, busy-ness). They also bless us with new and insightful perspectives. They teach me to let go of the things that don't matter, focus on important matters and live a more balanced life.
Q2. What is the toughest and best part of being a mother?
Time management and self-care are the toughest for sure. When you love someone unreservedly, it's very easy to lose yourself – your identity, goals, me-time and interests. But motherhood taught me that life isn't all about promotions, or recognitions. It's also about loving and caring for others and balancing the best of all worlds. Women are unique – they have the choice of re-prioritising life when motherhood comes in. We have the privilege of exploring the real meaning of life over and over again.
Q3. Can you tell us more about your work? How does your work/ profession shape your parenting philosophies or styles? What's your secret to being a successful working mum?
When people ask me what I do, I always mention being a mother, along with being a lawyer, entrepreneur, jeweller and other roles. Being a mum is a profession on its own – we're constantly managing projects, multi-tasking, coaching our "team" and strategising for the future. Don't we do this at work? We always stress the need for gender equality, but the world often undervalue their contributions as mums, nurturing the next generation.
Aside from being a mum, I am a commercial lawyer and I have founded ARLU – a legal consultancy, offering mobile in-house legal counsel solutions to SMEs, and co-founded Dr. Baba Family Health Centre to provide high quality health care, ranging from medical to psychological therapy to public using physical clinics, telemedicine and home-visits arrangements. For the past decade and till now, I head the private clients and investment departments of Bee's Diamonds and was also their Legal Counsel.
Coming from a family of entrepreneurs, I'm accustomed to questioning existing frameworks and exploring new alternatives. I believe that these risk-taking skills will be critical in the future and should be cultivated at a young age. One of the regular "trainings" that I give my sons is our annual Christmas mum-trepreneur and kids-trepreneur projects. Every year, we produce a product to sell before Christmas. The funds raised go into their "Entrepreneurial Fund", which they can then use to launch a business venture upon growing up.
I am far from being successful. I am still struggling, juggling and learning everyday. At most times, I fall and then pick myself up again with the support and encouragement of my mum and my mummy friends. Doing community service helps a lot with rebuilding that constant feel of inadequacy of being a mum though. I have just been elected as President of Zonta International – New Territories II, an organisation that promotes women empowerment, advocacy and community service. Dedicating myself to doing community service with a group of healthy, kind and lovable women of similar age who are also nurturing young kids definitely help when you know there is always a trustable support group to give you a pat on the back.
Q4. If you could only teach your kids one life lesson, what would it be?
"Be kind". It is simple but extremely important not only in business but also in life. I believe being kind is the only way to thrive for the long run. I've been showered with empathy, understanding and kindness along the paths I've taken.
"Maintain your integrity" is also vital. As my grandfather and father would say, "Once you lose your integrity, you lose everything." I cannot stress this enough to my sons. I show them, by example, how to stay honest and keep their word, no matter what.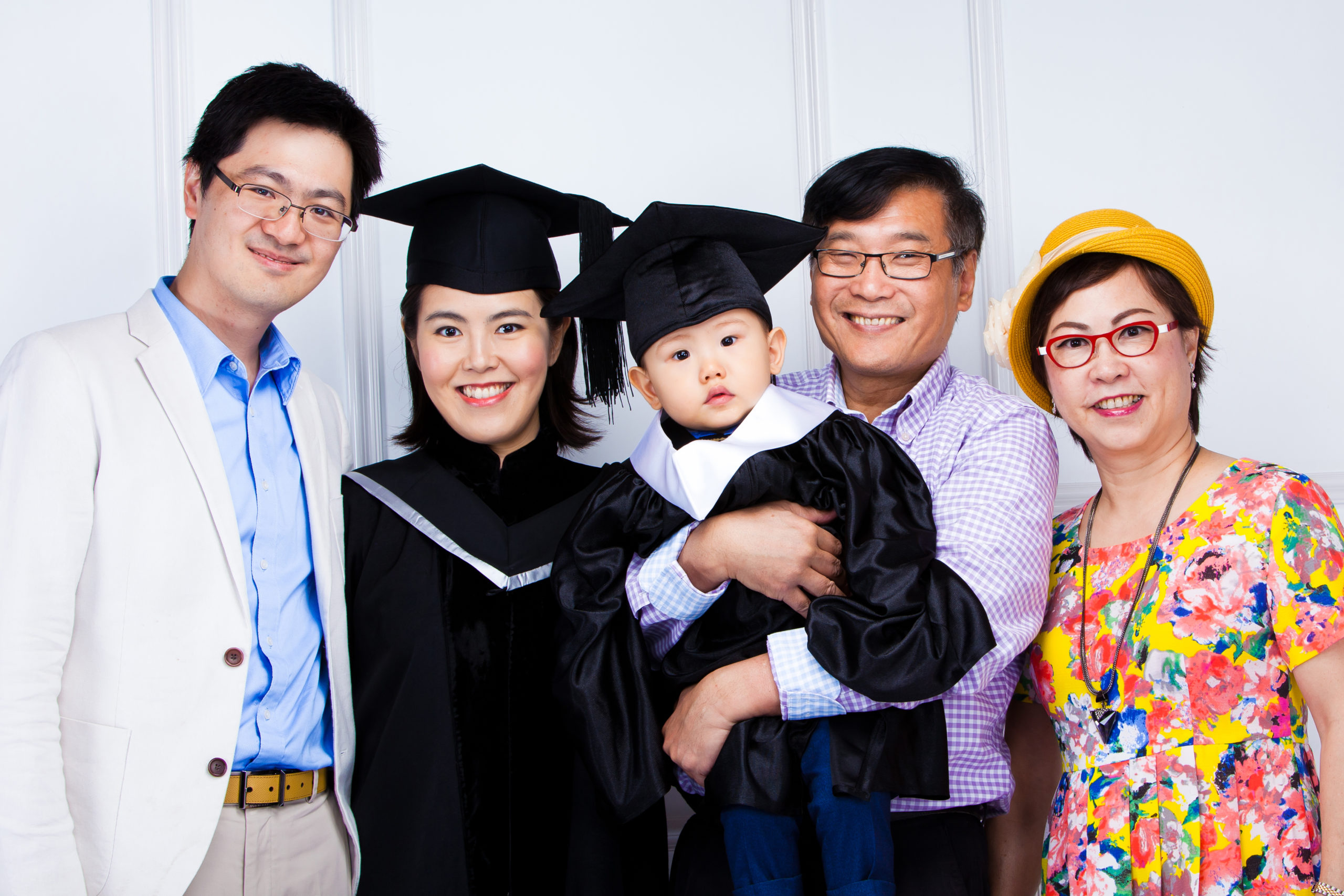 Rendy in her EMBA graduation gown with Darren and the rest of the family. She was carrying Darren in utero while she studied for her EMBA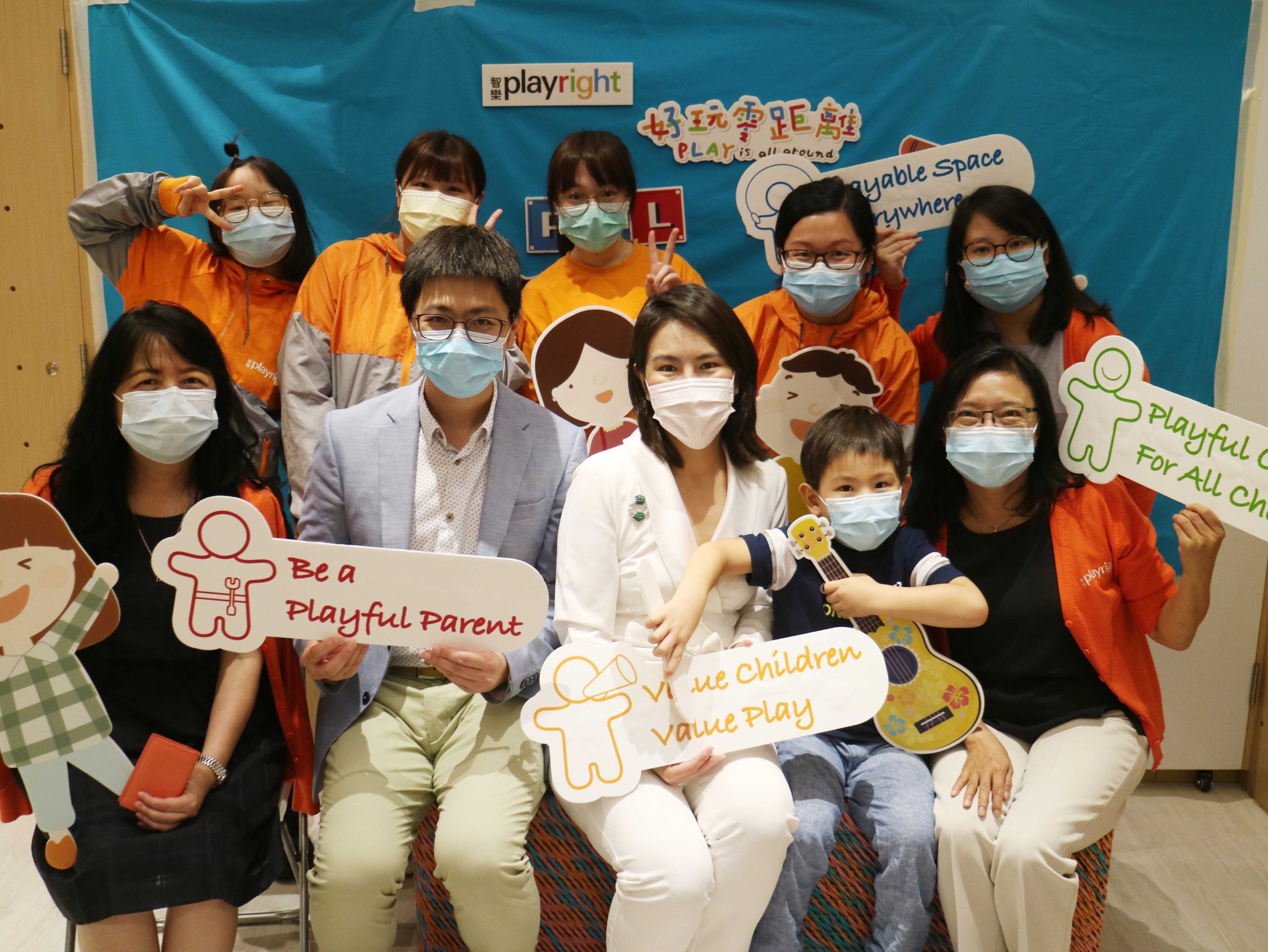 Rendy, her husband and Darren donated a cheque to the Playright Children's Play Association, a non-profit organisation in Hong Kong
2. Kanie Siu (BBA 1988)
CEO, Plan International Hong Kong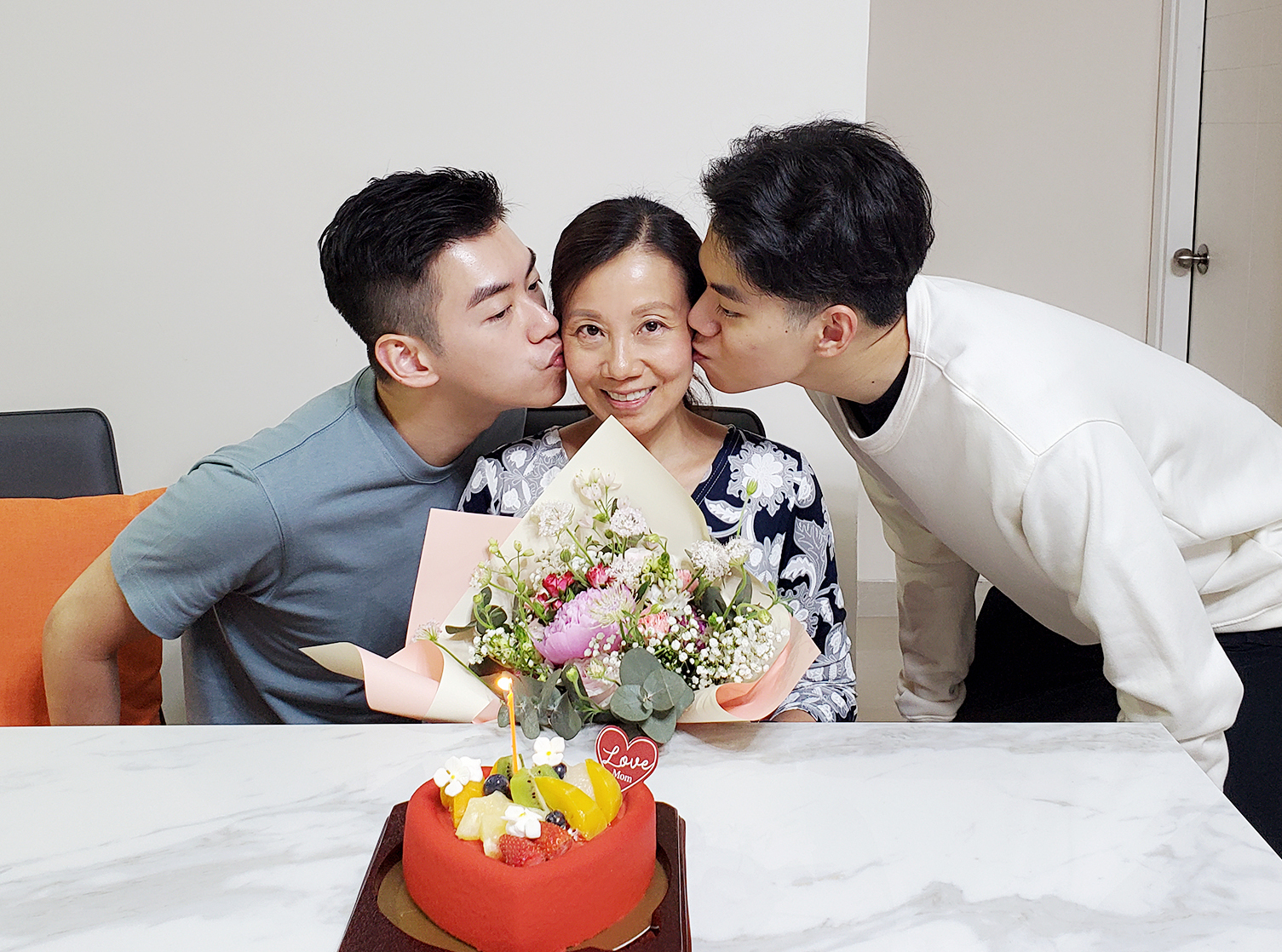 Q1. How old is/ are your child(ren), and what do you enjoy doing together?
I have two sons, and they're 21 and 30. I enjoy doing anything and everything with them because I value spending time together. This is something that I'm glad to have learnt from my mother. When I was a child, she was constantly with me. She would teach me about life and living. I learnt to do household chores as well as about frugality, manners and respect for others. These virtues can only be learnt through daily interactions and the examples set by our parents. Thus, I consider the quantity of time spent with children to be as important as the quality of time, because interactions are vital to a child's character development.
Q2. What is the toughest and best part of being a mother?
It's toughest when your child is sick. I was once working late in the office, preparing for an important meeting the following day when my son called and said his stomach ached. My husband was away on a business trip, so I left work immediately to take my son to the hospital. Thankfully, what was initially diagnosed as appendicitis turned out to be stomach flu, and he had a speedy recovery.
Finding time for yourself is also hard. When I studied for my second master's degree, I couldn't stay behind for after-class activities because I had to go home and help my son with his homework and tuck him in. I would sometimes take a taxi to class just to save 10 minutes even though the school was close to my home. It was quite stressful for us working mothers.
The best part, of course, is watching the two boys grow. Despite their age difference, they're very close and have endless things to talk about. Both have also grown to become polite, self-reliant, resourceful young men. We have now reached a stage where my husband and I just support their career and life choices whenever they need us. This is what makes me happy as a mother.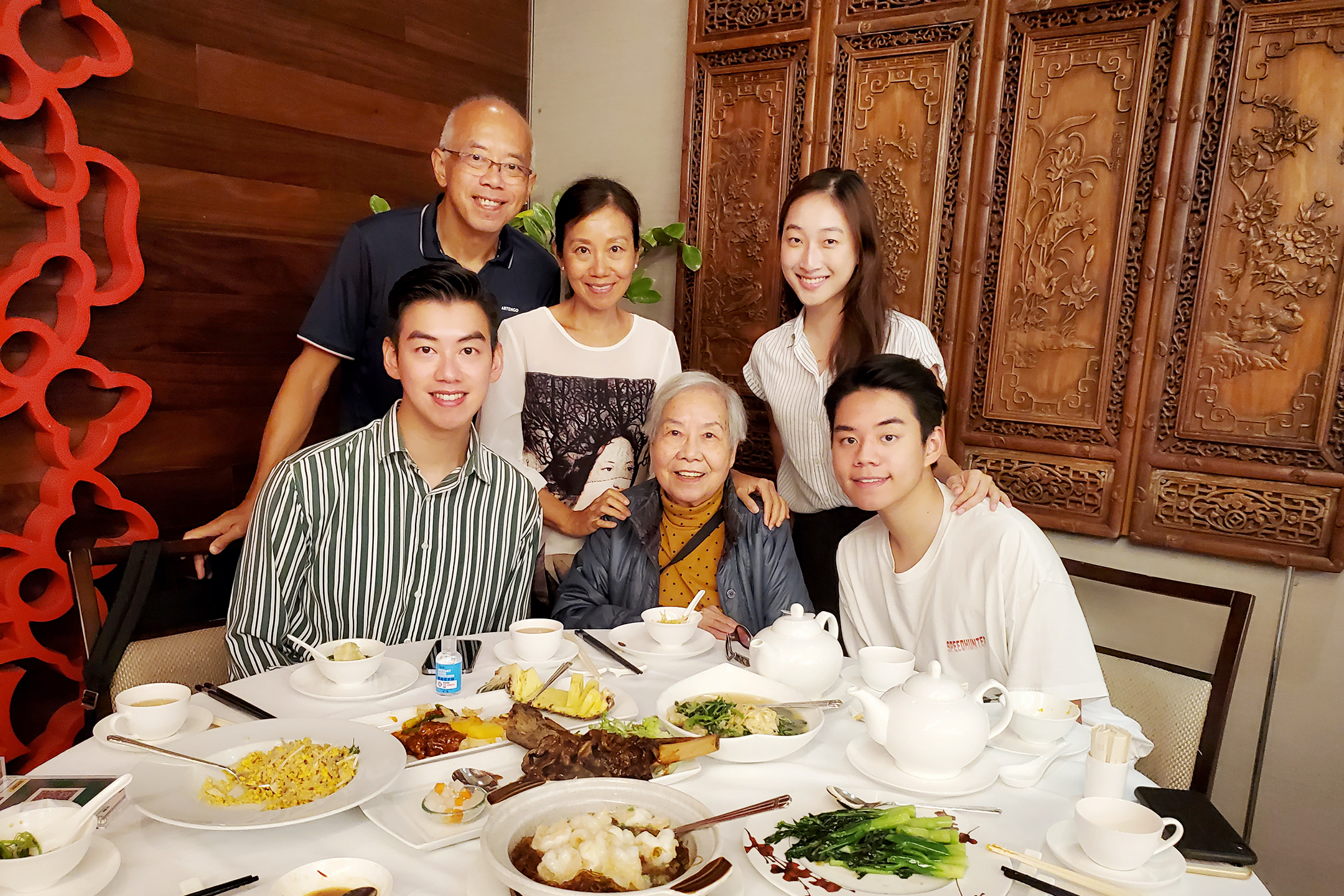 Kanie with her husband, sons and the rest of the family.
Q3. Can you tell us more about your work? How does your work/profession shape your parenting philosophies or styles? What's your secret to being a successful working mum?
I am the CEO of Plan International Hong Kong. One of our core missions is to promote children's rights, especially equal rights for girls and young women.
I've learnt two keywords through my work at Plan International and other commercial and charitable institutions: development and philanthropy.
To successfully develop a place, we must empower the people to become self-reliant. As the adage goes, "Give a man a fish, and you feed him for a day; teach a man to fish, and you feed him for a lifetime". When it comes to parenting, I raise my sons to become self-reliant. Philanthropy, on the other hand, is about helping those in need. I teach my sons to be kind. When they were in school, I encouraged them to participate in school activities like visiting care homes and mentally challenged children, and we would participate in charity sales together.
As for parenting, I can't say there's a secret formula, but several important factors do exist. The first is to have help. There's only so much one person can do. Having good colleagues and a supportive spouse helps. My husband has played a key role in ensuring that our children grow up positive and joyful. He also supported me immeasurably, empowering me to have some me-time and pursue my studies. As I often say, we succeed only because others help us to succeed.
Q4. If you could only teach your child(ren) one life lesson, what would it be?
To quote Stephen Covey's The 7 Habits of Highly Effective People, "Begin with the End in Mind". There's also a Chinese proverb that I teach my children: "the heaven rewards hard work, the earth rewards kindness, people reward honesty and business rewards integrity". It is precisely for this reason that I value spending time with children. I believe that your dedication, kindness, honesty and integrity will be mirrored in your behaviours and have an impact on your child.
3. Doris Fung (BBA 1996)
Director, HSBC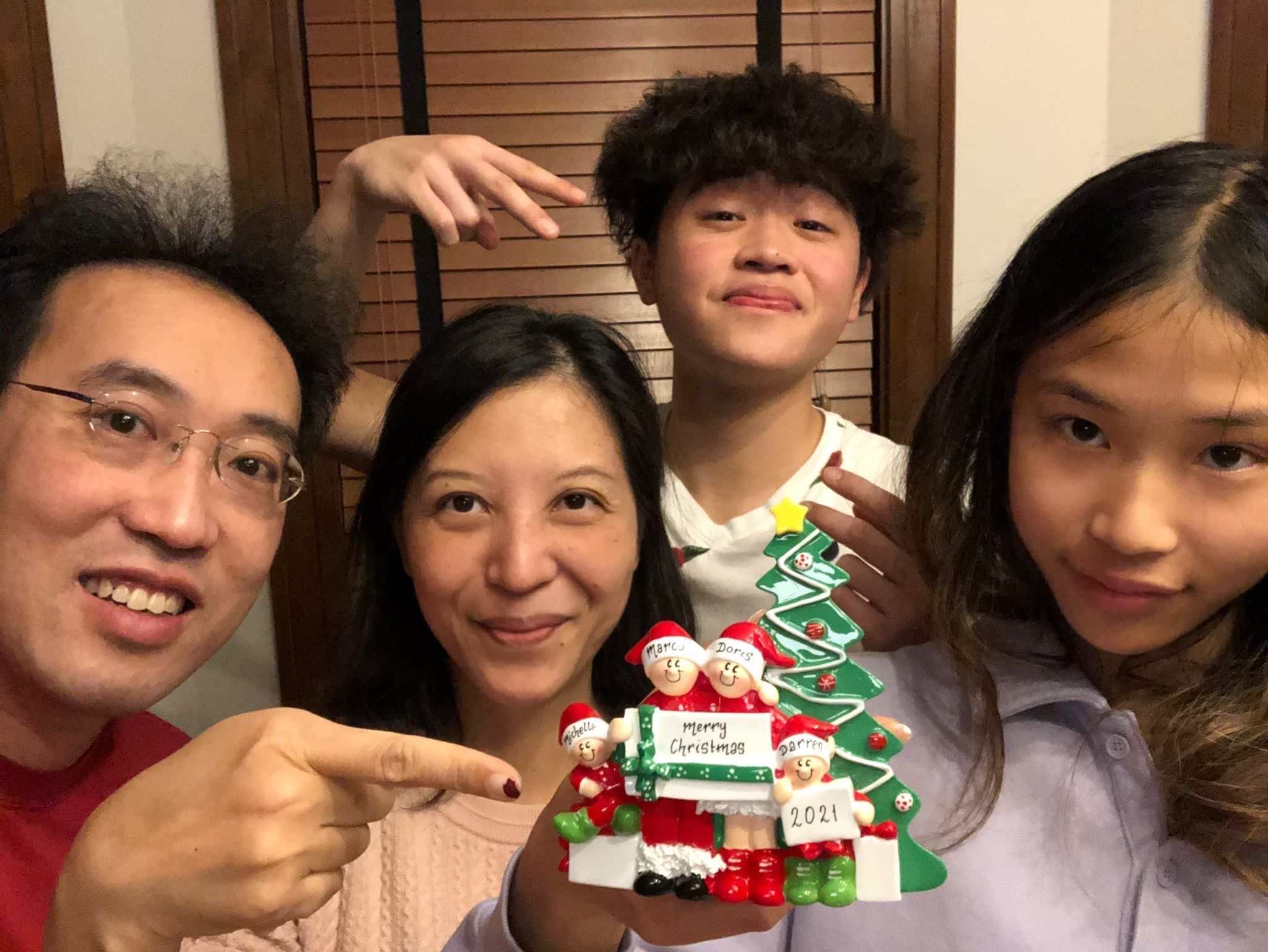 Q1. How old is/ are your child(ren), and what do you enjoy doing together?
My girl is 17 and my boy is 16. They're both studying overseas at the moment. We treasure the precious family time that we have when we can all come together in person. Even when we're apart, we make a point of getting in touch via text messaging or video calls whenever possible. It is challenging as it involves three time zones, but we consider family our top priority.
Q2. What is the toughest and best part of being a mother?
I take the greatest pride in being a mother. This is a gift from God. I love watching them grow taller and bigger every day. I get to be their close and trusted friend, with whom they share their daily happenings as well as their highs and lows. I also share my ups and downs with them.
The challenges that a mum faces vary from stage to stage. When the children are small, you focus a lot on their day-to-day, making sure they are fed and cared for properly. During adolescence, a mother needs to be their trusted friend, whom they respect and feel safe sharing their feelings with. I see all of these things as blessings. I enjoy and am grateful to be a mum, particularly a working mum.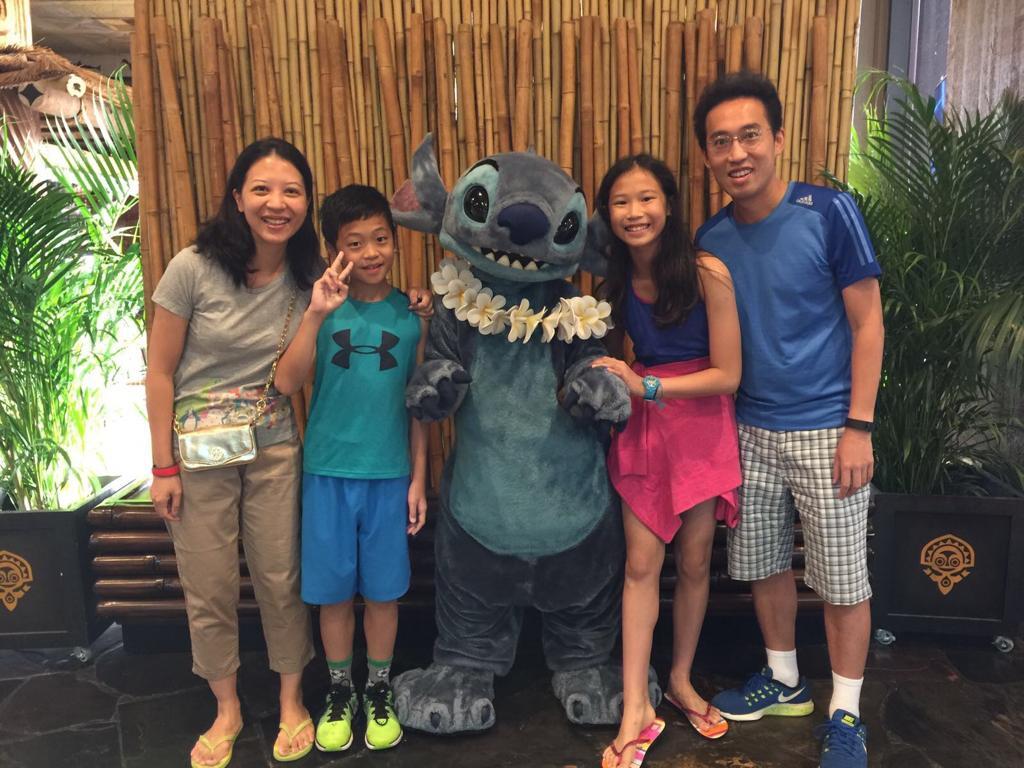 Doris spent great time together with her family during an overseas trip
Q3. Can you tell us more about your work? How does your work/profession shape your parenting philosophies or styles? What's your secret to being a successful working mum?
I have always worked in the financial industry. It's a very stressful and highly stretched environment. I have done my round from US investment banking, to European private banking and then on to transactional banking. Being tough while remaining flexible is key to weathering storms and adapting to different cultures.
When it comes to parenting, I maintain the same liberal mindedness. I appreciate true diversity and inclusion both at work and at home, and always encourage my children to express their views openly and listen carefully to the views of others at the same time.
I don't think there is a definitive recipe for being a successful working mum. Love conquers all. As the hymn says, "When you walk in love with the winds on your wings… the miles fly by."
Q4. If you could only teach your child(ren) one life lesson, what would it be?
When I was growing up, having a dream was a luxury, let alone following one. As I get older, I always find this to be a big gap in my heart. Because of this, I am keen to share with my children that having a dream and being able to follow it is precious, as you only live once. Be perseverant. Don't give up, even when others do."
We wish all our CUHK Business School alumni mothers a joyful celebration with their loved ones!