Li Yatong (MBA 2016): Galvanising Passion for Innovation into Measurable AI Solutions
The rapid development of Artificial Intelligence (AI) gives fresh impetus to the advancement of both technology and emerging industries. Li Yatong (MBA 2016) capitalises on the game-changing AI innovation to forge ahead with his entrepreneurial passion. He founded VoiceAI Technologies after the MBA study and made InnoHub at CUHK Shenzhen Research Institute the foundation of its operations under the auspices of his alma mater. In the space of just a few years, VoiceAI Technologies has grown from a small start-up to a sizable company with over 100 staff and business covering finance, automobile, and security management.
Standing at the forefront of voiceprint recognition in the Greater Bay Area, Li Yatong recalled the bumpy beginnings of his start-up enterprise when each step on the journey presented a new challenge, overcome only by striking the correct balance between passion and rationality. "Granted, high morale is hugely important, but entrepreneurs must remain rational and gather momentum for self-analysis and introspective exploration."
Adherence to Founding Passion
A decade ago, the global start-up frenzy ignited Li Yatong's curiosity about the AI industry and its development opportunities – "If vision is the promised land of AI application, then voice is a powerhouse of potentials for AI development". His passion for voiceprint recognition has grown since he launched his entrepreneurial pursuit. With support from like-minded partners, Li Yatong has built a dynamic platform for high-flyers to thrive. "Starting a business is a bold undertaking, particularly with AI technology when it is basically a process of trial and error. The passion of our team is the constant source of creative impetus, their trust encourages me in every step I take." Li Yatong adheres to a hands-on approach to product development, with the flexibility to fine-tune solutions to suit clients' needs and bring pride to the team.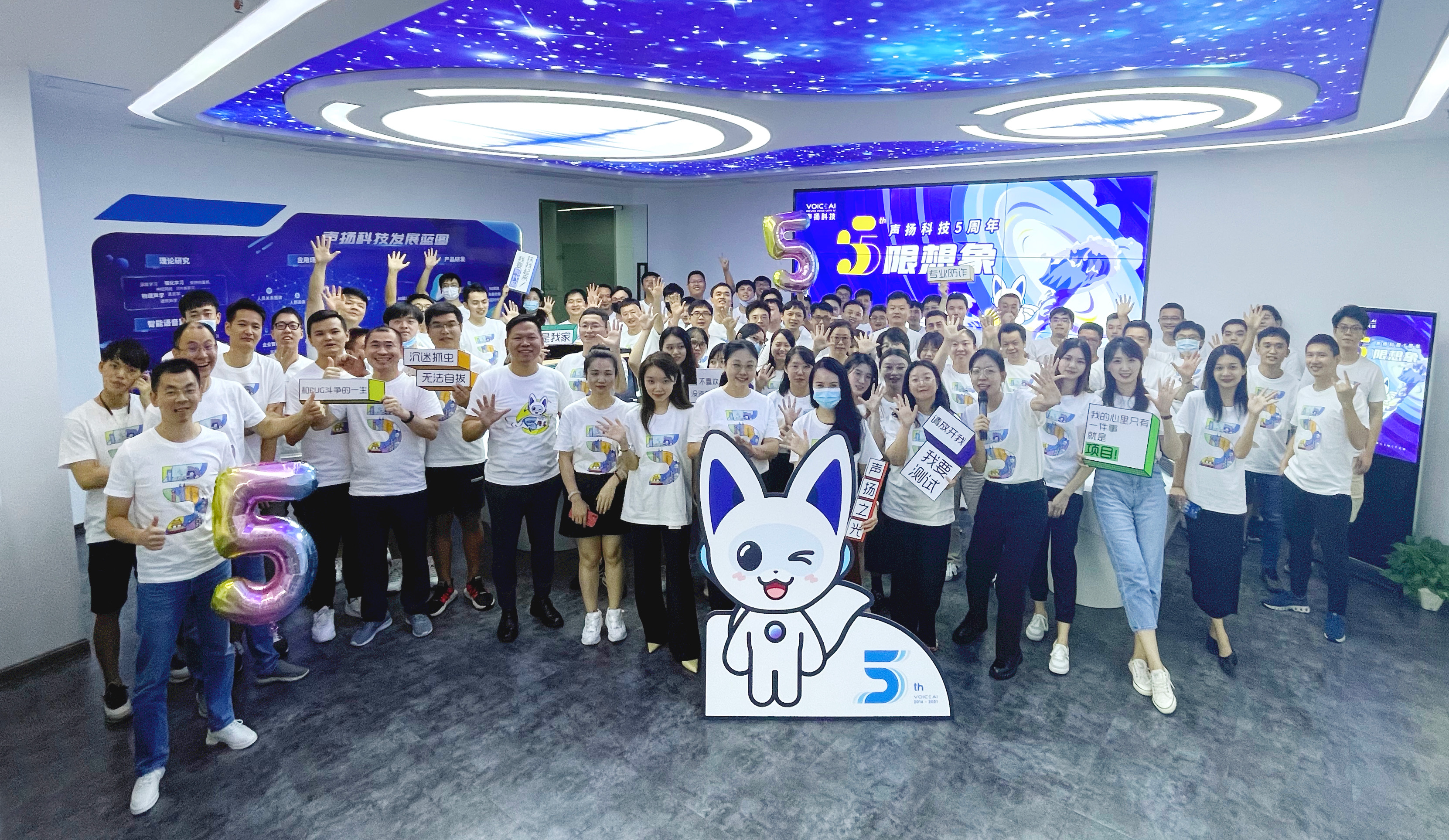 VoiceAI Technologies has a team of over 100 elite "adventurer"', whose entrepreneurial spirit spurs Li Yatong on to explore more opportunities to thrive.
A Rational View on Success and Failure
In the volatile world of business, many hopefuls with strong entrepreneurial passion succumb to reality. In his own way, Li Yatong overcomes this frustration. "There is no formula for success in entrepreneurial pursuit. The entrepreneur needs to be thoughtful and reflective, learning from experience and finding solutions from an objective and scientific perspective."
This objective and rational attitude is the backbone of Li Yatong's strategic thinking as he gauges the industry prospect. As a practitioner of the AI industry, he is delighted to see the prevailing trend towards a healthier industry development as the frenzy cools off. He has confidence in the development of the Greater Bay Area into an integrated hub too. "Capitals, talent, and policies are some of the keys to the development of an economic zone. The Greater Bay Area has the best of all worlds." With this in mind, Li Yatong is poised to capitalise on the advantages of the Greater Bay Area to promote the integrated development of business and technology in Shenzhen and Hong Kong.
For Dreams to Take Root
The seeds of entrepreneurship were entrenched in Li Yatong's mind long before CUHK, but he chose to pursue postgraduate study with concentration on Entrepreneurship and Innovation under CUHK's MBA programme in Hong Kong before embarking on his own enterprise. The course offered Li Yatong the opportunity to meet top-notch entrepreneurs. It also helped consolidate both his entrepreneurial determination and the ability to "anchor" his aspirations to solid and practical foundations. "Our view turns narrow after a prolonged period of time in the same industry", said Li Yatong sighed. "The MBA programme helped bridge my knowledge gap in the world of business through case studies on entrepreneurship and peer exchanges, equipping me with a broader spectrum of perspectives."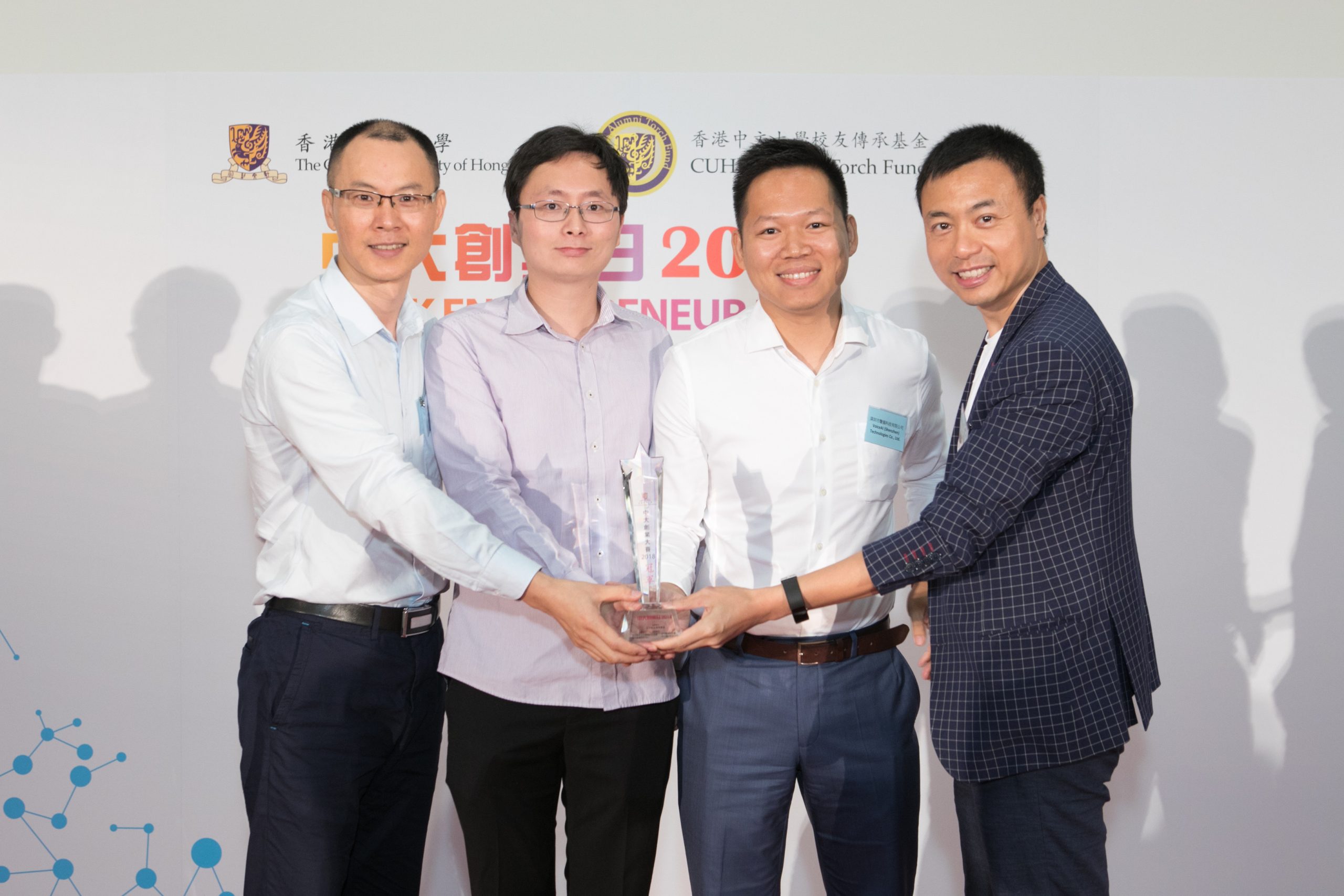 Li Yatong wins championship and Outstanding Solution award with VoiceAI Technologies in CUHK Entrepreneur Day 2018.
Li Yatong encouraged young alumni to ride the growth momentum in the Greater Bay Area to embrace their start-up dreams in the emerging AI industry despite all the entrepreneurial challenges. They must be well-prepared though, according to him. "Sort out all the resources that you need first, then you'll know how and where to move on", he said. It is also important for aspirants to remain passionate, reflective and humble as they go after their dreams.