Anyone who has sailed knows that making the best use of the wind, water and weather is crucial to smooth yacht sailing. Being an avid helmsman and the Chairman of the Hong Kong Science and Technology Parks Corporation (HKSTP), Dr. Sunny Chai (EMBA 2007) has been active in the field of innovation and technology (I&T) for nearly 40 years. This passionate and deft leader is still in his best sailing condition, and he is determined to lead Hong Kong's I&T development into a boundless sea.
Sunny believes that commitment is vital to work, public service, or even hobbies: "One must stay true to their commitment no matter what they do. They must devote their full efforts at all times. This is not about proving to others but to oneself." With this belief, Sunny has continuously challenged himself throughout his life. Since 2006, he has been actively contributing to the society by taking up different roles in public service sector while managing a company with thousands of staff. Later on, he enrolled in the EMBA programme at The Chinese University of Hong Kong (CUHK) Business School.
Setting Sail with Determination
Timing, position, and direction are all determining factors to consider before setting sail. Apart from keeping an eye on the surroundings, one must have the determination to reach the destination, come rain or shine. Sunny, as a veteran industrialist, has managed businesses in Guangdong, across mainland China and overseas. He has begun assuming different positions of public service since 2006, which includes taking up the chairmanship of HKSTP, a position he has already served for three years.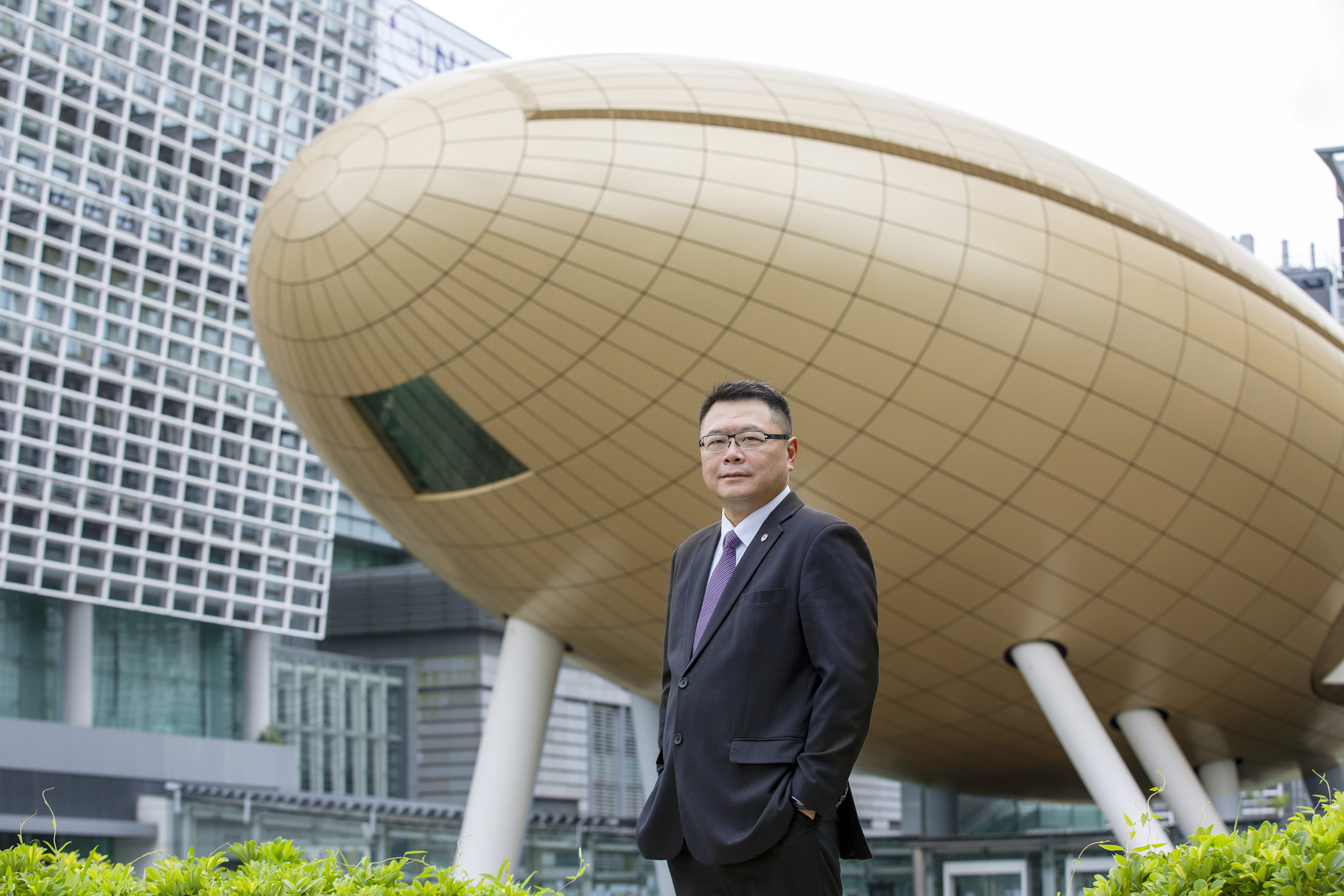 HKSTP Chairman Dr. Sunny Chai is leading Hong Kong's I&T development into a brighter future with his passion for innovation and technology and his deft leadership.
Although Hong Kong's potential for I&T development faces scepticism, Sunny is unfazed by such pessimism. "Many people say that Hong Kong is lagging behind other cities. But taking FinTech as an example – the Octopus card was first introduced in Hong Kong and it has reached immense success now. The technology has even been applied worldwide. Although we seem to fall behind mainland China in terms of electronic payments, it is merely due to the variation in policies, not the technological differences," he said.
"Determination and policy support are what Hong Kong needs most to enhance I&T development. We may introduce technology, capital, and talent from elsewhere, but determination and policy support are intrinsic," Sunny added. He illustrated that it could be uneasy to predict how the voyage unfolds with different timing, position, direction, as well as the unknown choppy water ahead. But ultimately, the success of Hong Kong's I&T development depends on its own commitment.
Start from Simplicity
Sunny had a smooth transition from family business to public service by "going with the flow". "I studied a major related to information technology (IT) in the US, so I steered my company towards this direction naturally." He transformed his family business from injection moulding to electronics, and recently to IT. He opines that older generations must support their descendants with faith and discretion to make decisions. "When we talk about 'the first generation', it doesn't necessarily imply parents – the first generation can also be the company's stakeholders. Therefore, it is important to make reformations come in phases and give time for the stakeholders to adapt. For example, I wouldn't ask for changes every year in HKSTP even I have new ideas, as it might be hard for the colleagues to follow," he said.
HKSTP manages three industrial estates (IE) in Hong Kong, and there are plans to upgrade and transform the IEs since the period of the former Board of Directors. After Sunny took up the baton, he implemented a "start from simplicity" approach to promote re-industrialisation in the IEs. "Securing space for development is among the top priorities in Hong Kong's I&T industry. After years of hard work, we have put our Data Technology Hub (DT Hub) in Tseung Kwan O into operation. Its adjacent Advanced Manufacturing Centre is slated to be launched in 2022. We are also building the MARS Centre for medical related equipment, materials and accessory products in Tai Po," Sunny revealed. He has been exploring other sectors with keen local demand, such as food and traditional Chinese medicine, to be the focus in driving re-industrialisation further.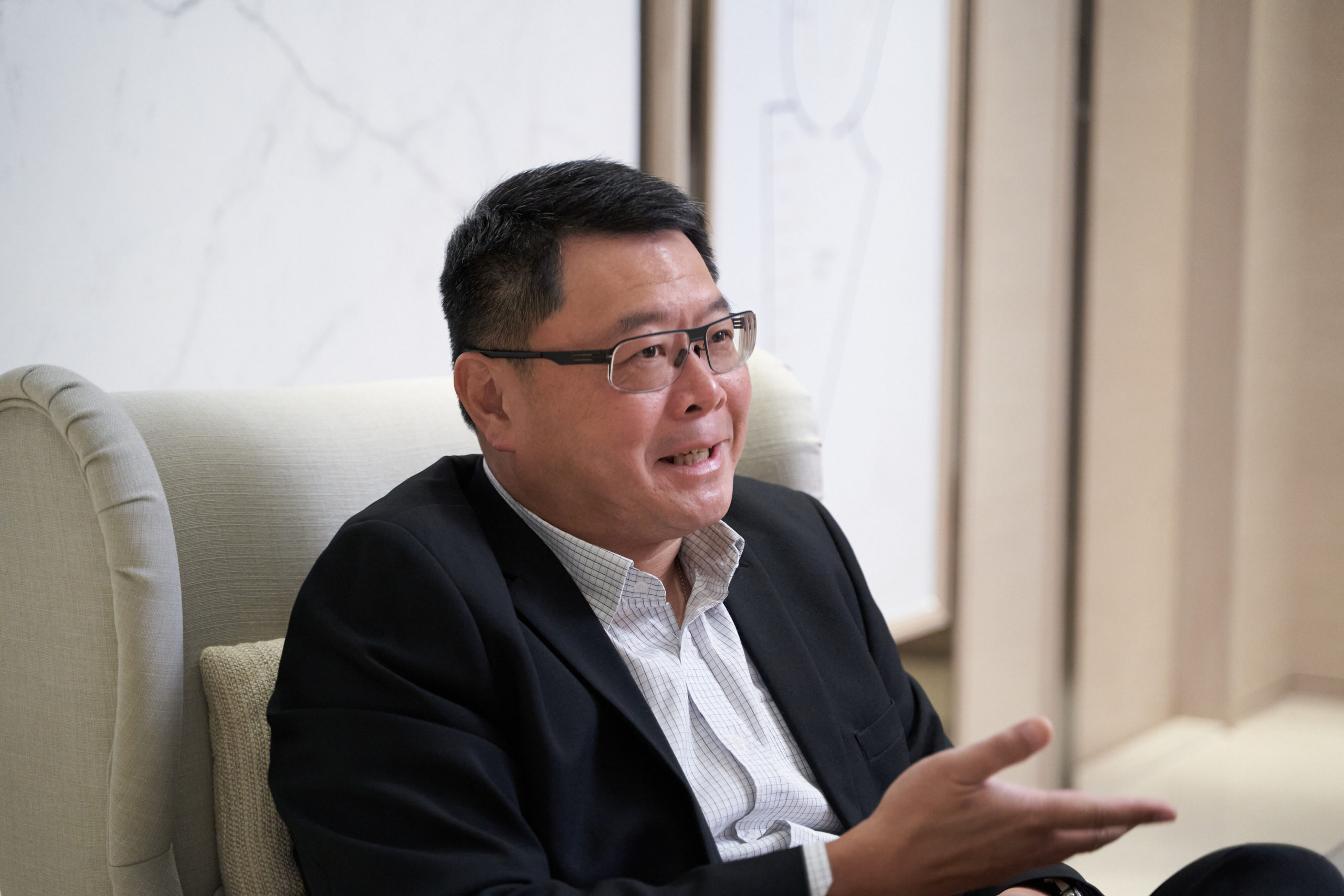 A seasoned industrialist, Sunny is championing the upgrade and transformation of Hong Kong's industrial estates. He is an active supporter of the government's "re-industrialisation" initiatives.
Collaboration between the Government, Industry, Academia and the Research Sector
Sunny places much emphasis on the collaboration with universities. HKSTP has already set up remote incubators in several universities to provide comprehensive support to start-ups. The collaboration hopes to allow professors and students, who aspire to join the vibrant I&T ecosystem in the city, to accelerate commercialisation and get their solutions off the ground.
Having experienced several cycles of industrial and I&T development in Hong Kong, Sunny described Hong Kong's journey to develop I&T to be promising. "There are currently eight unicorns in Hong Kong. Some have already become global industry leaders, and some biotech start-ups flourish internationally. Indeed, many unicorns-to-be are growing rapidly as we speak," his take on this is confident. He believes that Hong Kong's I&T development will be prospective if the city rides the wave of the Greater Bay Area's policies and growth. In the mid-to-long term, the development of a technology corridor can help create a vibrant I&T ecosystem, connecting the Lok Ma Chau Loop, Wang Chau, and Liantang, as well as the three IEs and HKSTP in Pak Shek Kok.
Sunny illustrated that HKSTP has made progress continuously in the past 20 years, and that the government has extended unprecedented support and resources into the I&T sector in recent years. He hopes that a vibrant I&T ecosystem can eventually be built in Hong Kong. Even if the government reduces its input, the industry and academia can step up and take up the role to lead the future development.

"I think Hong Kong's I&T has a promising future. The positive ambience, the enhanced support and the ample opportunities that emerged in recent years are all unprecedented."
Making Time to Learn
With a lifelong passion for learning, Sunny wanted to pursue advanced studies after he had graduated with the Bachelor's degree in the 90s. However, he needed to return to Hong Kong and shoulder his family business, so he had to put his scholarly dream on hold. In 2005, he enrolled in CUHK's EMBA programme, and even completed a Doctor of Engineering degree afterwards. Mentioning his EMBA experience, he reminisced, "There were nearly 50 students in my class and they were all elites in their industries. But everyone learnt to step off their pedestals to become students again. We rolled up our sleeves to work on projects together." He has kept in touch with the professors and his classmates after all these years. Besides contacting electronically, they would meet every two months before the pandemic.
Focusing on Serving Hong Kong
Reflecting on his decades-long career and public service, Sunny said he is in a state of contentment. "I totally enjoy the current state. I'm working with a fantastic team and we're all passionate about creating a better future for Hong Kong." As the helm of leading HKSTP, Sunny is adamant about staying on course despite all the waves. He is committed to steering Hong Kong's I&T towards the greatest sailing water.