Parenting has evolved over the years, and so has parenthood. Male leaders of our times are as ambitious at work as they are loving as a father. With a bond that is built on affection and trust, modern father-child relationship is comparable to life mentorship, where the child embarks on self-exploration, with the father as guiding beacon. In the run-up to Father's Day, we talked to three CUHK Business School alumni dads about their parenting experiences, including the highs and lows, as well as their vision for unlocking the potentials of their children.
1. Tommy Lee (EMBA 2012)
Managing Director, WESPACE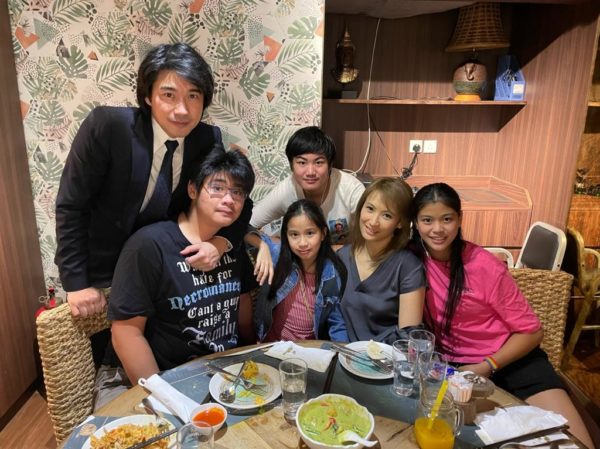 Taking care of a child is no easy task. For Tommy, a father of four children, the effort is fourfold. Despite or because of the mammoth paternal undertaking, Tommy takes on a liberal approach and encourages his children to tap into creativity as they explore possible paths in personal development – a vision informed by his background in the creative industry.
Q1. How old is/ are your child(ren)? Would you mind telling us one of your memorable moments together?
I have four children: my elder son is 21, who is an independent young man studying in the US in his junior year; my younger son is 15, and he is going to attend high school abroad next year. My two daughters are 13 and 10 respectively. The elder one is an aspirant fencer with an Olympic dream while the younger is smart but rather clingy.
They are very close despite the age gaps and differences in personality. As a father, I feel blissful that they enjoy the cosy moments with their mom. I am particularly thankful for the family trip to Japan, Canada, and America three years ago. It was fulfilling just hanging around together.
Q2. What is the toughest and best part of being a father?
I attach great importance to my family. My upbringing has shaped me as a husband and a father. I don't judge children by their school performance, nor do I hasten to accelerate their learning curves. But I do ask them to give their best in their own pursuits. I want them to be courteous, humble, and well-behaved.
For me, being a father is not just about breadwinning – the ideal father also leads by example. Knowing it's a demanding task to oversee the education of four children, I am particularly attentive to their school and discipline choices, from kindergarten to tertiary education. Parenting is of course challenging, not least because you have to juggle two roles as stern disciplinarian and fond listener. My stringency had once undermined my relationship with kids before I learned how to let go and seek help. In terms of time management, I try to allocate sufficient time among them. I am thankful for their understanding and willingness to be with me.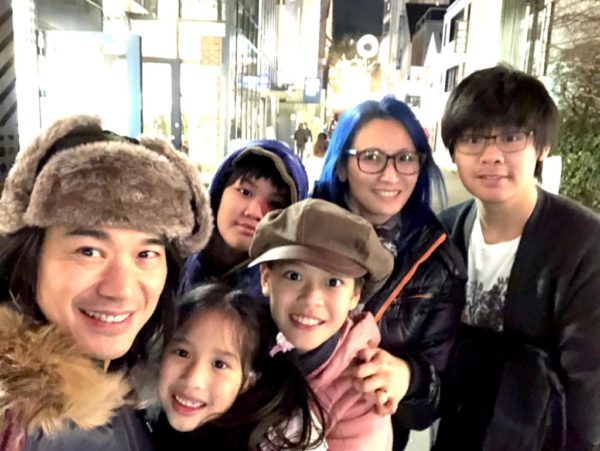 Tommy has fond memories of a previous trip with his family, which was cosy and memorable.
Q3. Could you tell us more about your work? How does your work/ profession shape your parenting philosophies or styles?
I liked arts since I was a child. I've been exposed to drama, singing, art, and design. When I was young, I worked as a creative before joining my family garment business. Later, I renewed my creative pursuit by co-founding an extended reality (XR) production studio. I even ran my own theatre. This ardent passion of mine has spurred me to pay attention to my children's cultivation of personal interests, with a view to instilling passion and a sense of purpose in their minds. My elder son is an e-sport enthusiast, so I encourage him to study game design and programming. Likewise, I ensured that my elder daughter received the best available training in fencing even when the sport was still in obscurity in Hong Kong. Now, she aims at landing in fourth place in Hong Kong by the age of 15, followed by an Olympic berth. I am happy that they are working hard to achieve their dreams; I wish them advancement in the post-pandemic age of volatility.
Q4. If you could only teach your kids one life lesson, what would it be?
"Cultivate oneself. Bring order to the family. Govern the country. Bring peace to all." It's a profound but sensible principle. I also stress the importance of integrity. I want my children to be dutiful but not without flexibility. Being loving and caring is also vital, not just at home but also as a way of giving back to society. For me, the ultimate lesson is about living life to the fullest. Successful or not, at least there is no regret.
2. Leo Cheung (IBBA 2009)
Regional Director, Prudential Hong Kong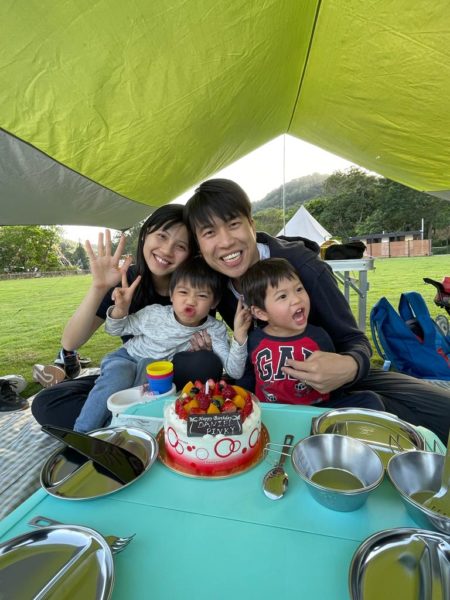 Native family and upbringing have a crucial role to play in personal development. Leo triumphed over a challenging childhood thanks to the support of his mentors and peers. As a father now, he devotes himself to the positive development of his own children as well as the younger generation.
Q1. How old is/ are your child(ren)? Would you mind telling us one of your memorable moments together?
Daniel is five, Jonathan three. I'm grateful for being there with my children as they experienced their firsts. Recently, we went camping together. We spent time enjoying the great outdoors and wildlife. It's a memorable experience for both my children and me – they coped well with the unfamiliar environment and I enjoyed my first camping attempt. I'm not an active person, but it's a rewarding excursion at a time when travelling wasn't possible.
Q2. What is the toughest and best part of being a father?
Frankly, it's more rewarding than taxing. My personal experience of parenting is one with empowering and thought-provoking undertones. When COVID-19 cases peaked in Hong Kong, my wife and I were worried about the health of my boys, not to mention we were virtually locked away from the outside world. But then, growing up is a bumpy ride – it is a blessing to be given the opportunities to develop resilience as they faced new challenges. Thanks to my wife's insistence on not having a domestic helper, I have been a hands-on dad in the everyday life. Even when my boys are being naughty, I try to remain poised and calm them with tenderness. I don't find it too exhausting.
As a father, I love it when my boys take part in my life. I enjoy seeing them blend in with my colleagues and friends in church. They even greeted my colleagues in online meetings! It is wonderful to be good friends with my sons.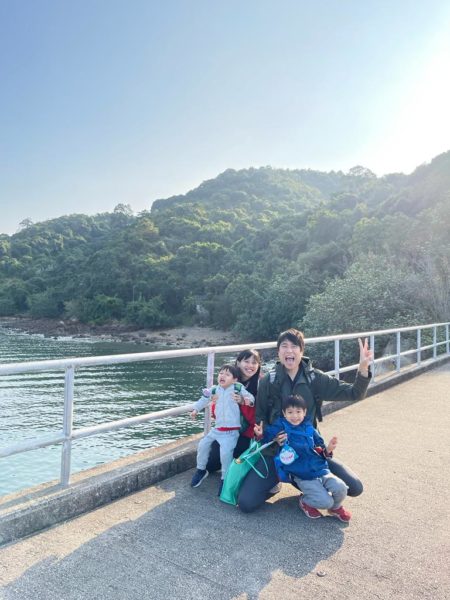 Leo takes his children on an outdoor adventure despite his generally homebound lifestyle.
Q3. Could you tell us more about your work? How does your work/ profession shape your parenting philosophies or styles?
Basically it's a human-oriented work, in that I want to spread a positive message. I've been in the insurance industry for 14 years now, where I serve a diverse clientele and manage a team of professionals. In addition, I founded the volunteering group Aspire and a shared space in Hong Kong Island. The latter offers young people a quiet learning space, with a mentorship programme and activities such as psychological consultation to help them thrive.
My religious belief has helped me develop a philosophy that values individuality. Everyone deserves to be treated equally with respect despite their backgrounds, education levels or economic status. Children too are precious gifts, they shouldn't be patronised or intimidated by adults just because they are at a tender age. Instead, we are obliged to give them a voice. My wife and I believe that every child has their own potential, it's the parents' duty to be the wind beneath their wings. Spoon-feeding only undermines their development.
Q4. If you could only teach your child(ren) one life lesson, what would it be?
Looking back on my childhood, I had overcome poverty and the legacy of my parents' marital problems thanks to the support of my religion and friends in church. These experiences, however, are conducive to my parenting, in that I feel grateful in times of smooth sailing and composed when faced with adversity. I hope my boys can learn the same too, and to observe and analyse problems as genuinely as they can, and do what is right as they strive for the best.
3. Joe Ho (BBA 2003, EMBA 2018)
Client Development Manager, Maersk Hong Kong Limited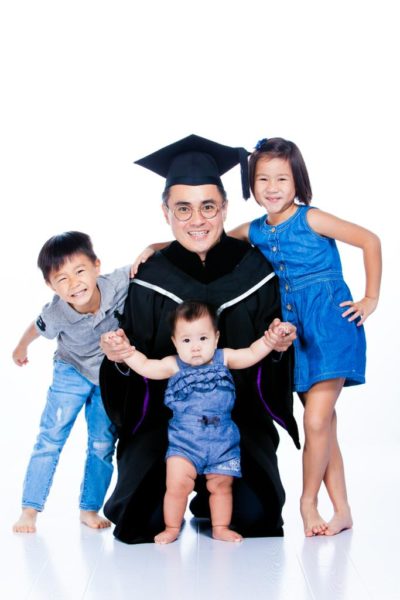 Many parents are keen on giving their children a head start, which includes sending them to top schools. Joe and his wife, on the contrary, choose to adopt the unorthodox, child-led learning model of Unschooling, which stresses on developing inborn talents through a happy learning experience.
Q1. How old is/ are your child(ren)? Would you mind telling us one of your memorable moments together?
I have three children: Macy is nine, Felix is eight, and Charlotte four. They have their own personality and interests. Macy like books. We had a month-long spiritual practice during the Easter holiday – the first time initiated by her. She browsed through online information under my guidance, and made daily reports to keep track of progress. When the session was completed, I was touched by her persistence. Felix's passion is technology. My wife and I encourage him to learn filming and imaging skills from YouTube videos, which came in handy when I tried to sort out screen recording during a video conference. I was impressed by his ability to apply knowledge and skills in everyday situations. Charlotte, my youngest daughter, loves housekeeping. She offered to help with daily chores and in the kitchen, which were very touching acts.
Q2. What is the toughest and best part of being a father?
The toughest part concerns intangible pressure. As the breadwinner, the father always wants to provide his family with the best living and education. But "the best" has no clear-cut definition, it is subject to personal choice and perception. In the end, the quest for the best becomes a psychological burden. As a father who loves to play with his children, I was concerned that my kids were having too much screen time lately. But when I intervened, my boys took it as "faking anger" or "joking", which made me contemplate the balance a "loving father" and a "strict father".
Despite the challenges, it is blessing to be part of the healthy growth of three lives, each one with their own inclinations. I'd love to see them fulfil their dreams, contribute to the world, and pass on the loving torch to the next generation.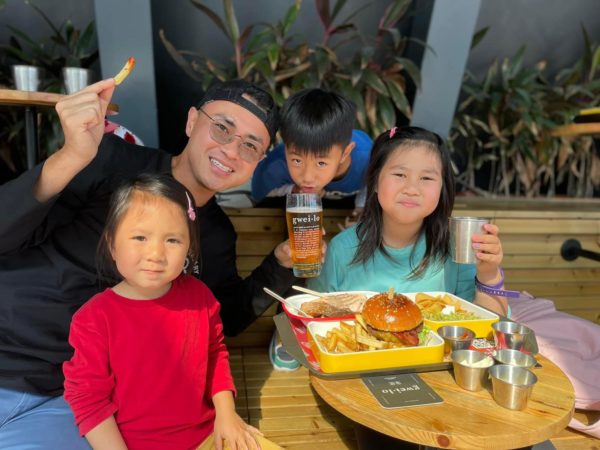 Joe cherishes the moments with his children as they embark on a journey of discovery.
Q3. Could you tell us more about your work? How does your work/ profession shape your parenting philosophies or styles?
The idea of choosing Unschooling for my children took roots in my professional life. I've been in supply chain and logistics for over 20 years, and I had experience in start-up businesses and food trading. I'm also a mentor at two social enterprises and a part-time lecturer. My wife, on the other hand, has exposure to financial and investment services. Thanks to my connection with different sectors and access to an eclectic mix of information, coupled with an international customer base, I was introduced to a whole constellation of cultures, values, and lifestyles. I have learned that knowledge and experiences are complementary; they open up possibilities for new solutions. We are global citizens, it is our aspiration to thrive together.
Sadly, contemporary education is full of labelling and stereotyping, which only limits the imagination of our own career and life. These restraints are not necessary in education. After thorough observation, my wife and I thought we could adopt a child-led learning model with the help of state-of-the-art technology and easily accessible knowledge resources. The point is to nurture my children's intrinsic creativity, allowing them to master technology with empathy and a sense of responsibility while developing team spirit. We have chosen Unschooling to restore natural learning urges to our children with respect to the development of their potentials and curiosity.
Q4. If you could only teach your kids one life lesson, what would it be?
I wish love to show them the path to becoming a Christian. Everything in this world is created by God. If my children understand their own being and the ontological meaning of the world, they will have the wisdom to live a fruitful life. After a thousand years, the message in the Bible is still valid. I want my children to ask questions about life. The answers are in the book and it will show you how to make this world a better place.
We wish all our CUHK Business School alumni mothers a joyful celebration with their loved ones!