| | |
| --- | --- |
| Name | Yikang Wang |
| Study Programme | MSc ITM 2012 |
| Current Location | Melbourne, Australia |
| Current Job | Business Planning Analyst, Syrah Resources |
Q1. Could you briefly describe your current job scope or responsibilities?
My role is closely connected with mining operations. I need to provide commercial analysis support on mining, processing, and logistic activities, and support procurement with cost and benefit analysis. An interesting part of my job is that I need to travel to the operation site in Africa and support business units there.
Q2. 3 words to describe your life in Melbourne, Australia.
Melbourne is sporty, liveable and a city of art.
This city is a true sports enthusiast. It hosts large-scale, international competitions that are known for being incredibly fun. The Australian Open, Australian Grand Prix, and the Melbourne Cup (horse race) all take place here.
On the other hand, Melbourne has been repeatedly crowned Australia's most liveable city and is among the world's best. It is a magnificent city to live in and work in. Diverse values prevail thanks to a population coming from different countries.
The city also fosters a dynamic arts and culture scene. Besides an exquisite arts centre, it is also home to numerous world-class exhibitions and renowned galleries.
Q3. Which industry do you see strong business potential in Australia and why?
Renewable energy.
The Australian renewable energy industry powered on in 2021, generating more clean energy than ever before and adding a record amount of new capacity. The industry accounted for 32.5% of Australia's total electricity generation in 2021, which represented an increase of almost 5 percentage points compared to 2020. At the end of 2021, 66 large-scale wind and solar projects were under construction or financially committed, representing more than 7 GW (gigawatt) of new capacity and 19,000 jobs.
It is possible that Australia can reach 100% green energy for its electricity by 2050. To reach this goal, additional investment in not only new renewable sources, but also other intermediate means like hydroelectric power, batteries, and probably gas for a while during the transition period, will be needed. Undeniably there are business opportunities associated with renewable energy.
Q4. What is the most valuable thing you acquired during your study in CUHK Business School?
CUHK equipped me with a solid foundation in business knowledge and entrepreneurship, which enabled me to advance in my work and life. I will carry on with what I've learnt into the next chapter of challenge.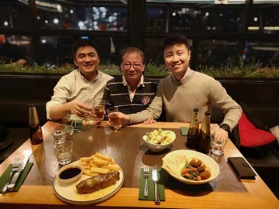 Yikang had a nice catch-up with Professor Jeff Yeung (middle) and his fellow classmate recently.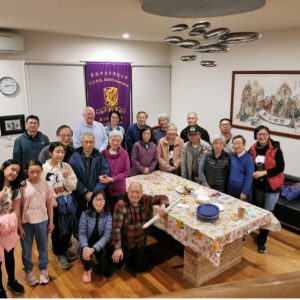 CUHK alumni party in Melbourne