Virtual MBA Information Session & Sample Class on "Venture Capital & Financing in Current Global Uncertainties"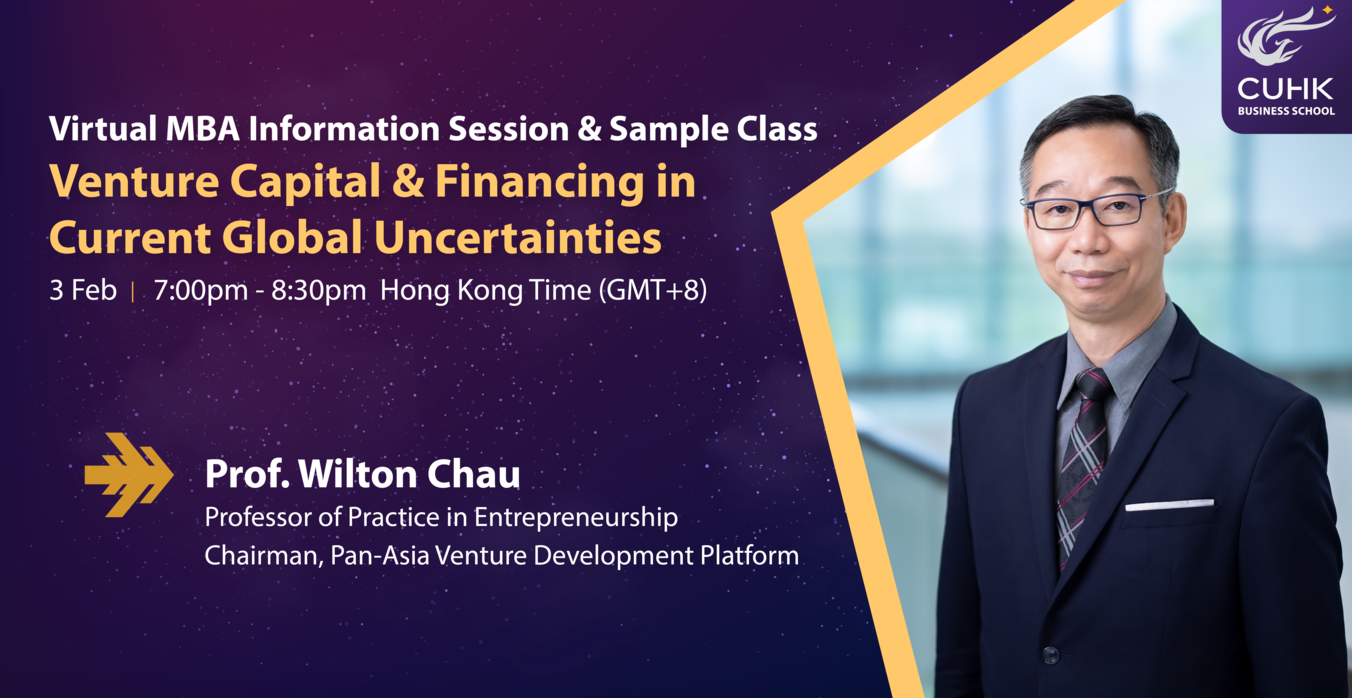 Many people around the world have recently embarked on the path of entrepreneurship. This has led to a vigorous development of new ventures, especially with innovative tech companies that have high growth potential, attracting investors' attention.
CUHK Business School has a number of distinguished professors with substantial experience in PEVC and entrepreneurship training. Prof. Wilton Chau is one of them. He has 30-year experience in venture development and investment in the Asia-Pacific region, and is also the Chairman of Pan-Asia Venture Development Platform (PAVD). His PAVD platform includes over 60 active angels, super-angels, venture capitalists and private equity investors, and helps existing early-stage technology ventures developing their own commercialisation programme and fundraising strategy in Asia (www.pavd.info).
We are pleased to invite him to deliver an MBA Sample Class and he will discuss the following areas from sell-side and buy-side perspectives under the current global uncertainties:
What are the global uncertainties?
How do the uncertainties affect the PEVC industry?
What are the implications to investors and entrepreneurs?
We will also share with you how we help you develop leadership & management skills, equip an entrepreneurial and innovative mindset to enhance your career prospects. During the webinar, you will get an overview on the curriculum of CUHK MBA Programme, the career opportunities after an MBA, information about the application process, scholarships and financial support.
Agenda
MBA Programmes Introduction
Sample Class on "Venture Capital & Financing in Current Global Uncertainties" by Prof. Wilton Chau
Q&A Session