A civil engineer by training, Derrick Pang (EMBA 2007) returned to Hong Kong after graduating from university to join his family's construction company. He worked at construction sites and closely monitored every project placed under his charge, even helping to lay gravel on the railway tracks when duty called. As he worked his way up to CEO, he gradually gained the trust of the team. Now, he is leading Chun Wo, the storied construction and engineering company, in its transformation into Asia Allied Infrastructure Holdings Limited, all while driving the industry forward. Derrick admitted that he has a penchant for "refusing to accept reality". Yet, it is precisely this doggedness that has earned him both achievements as well as respect. "Once I've identified my objective, I'm not going to give up. The construction industry is all about being proactive and problem-solving. I don't think there are problems that cannot be solved."
Winning Respect from the Frontlines
Following his graduation from university, Derrick stayed in the United States to work as a consultant. After a few years, his mother asked him to return home and help out at the family business. Considering that he could have more time to spend with his parents, he left the US and came back to Hong Kong. He started off at the lowest rung of the company and worked on construction sites, hoping to gain experience in construction management. But his colleagues were understandably wary of him. To keep him at a distance, they deliberately assigned him to work at the upper floor office. "I knew I had to be the one to break the ice. So, I went to the construction site every day to check on the progress of the work. I would strike conversations with frontline colleagues and construction veterans to learn about construction progress and operations. Where possible, I would also attend meetings and volunteer to assist. This helped me gain practical experience while also relieving my colleagues' workload." Nobody expected the company's "heir" to roll up his sleeves and get his hands dirty, let alone do the hard work that no one else would – cleaning the sewage pit with his bare hands and getting them covered in sludge. "It's not as if I was trying to prove anything. However, if there was a problem, stalling or fleeing wasn't going to cut it."
Despite the hardships, Derrick managed to earn the much-deserved respect of his team with his hands-on approach and conscientious attitude. His experience working at the frontlines also taught him about leadership: "An engineer's work is full of sweat and tears; it involves reading and collating architectural drawings, as well as careful planning and effective communication. This is how they make sure every unit runs smoothly without making mistakes." Derrick likened a construction team to a football team, in that success is dependent on everyone working together to achieve common goals while complementing one another.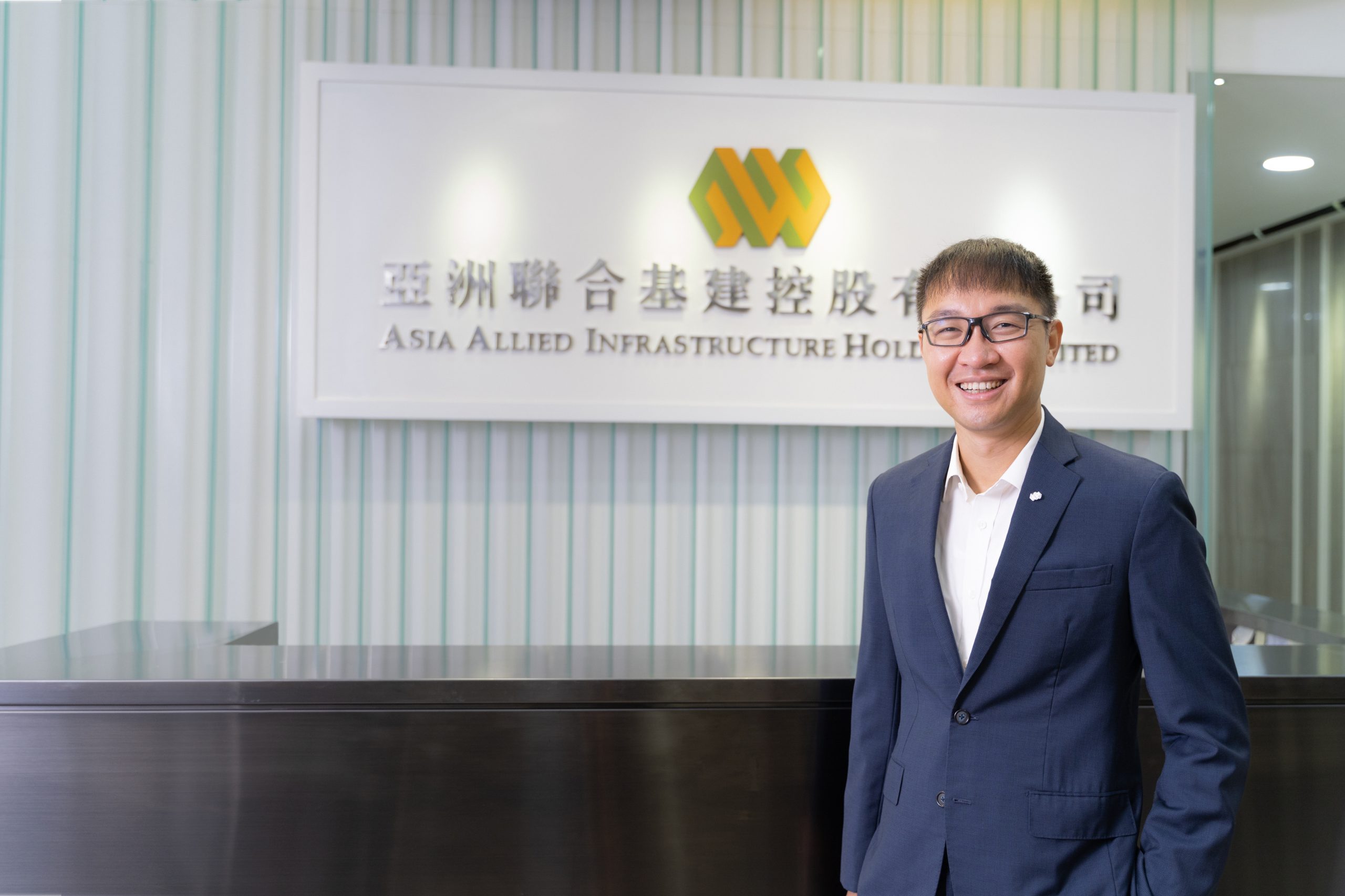 As an ambitious and goal-focused second-generation leader of a family business, Derrick is a man of his words. His hands-on approach encourages his employees to trust him.
Creating the New by Breaking with the Old and Investing in the Future
Just as Derrick was making strides in his career, his father passed away unexpectedly in 2010. Losing his orientation, Derrick found it difficult to ascertain whether he should stay on the job. After much rumination, he recalled his father's teaching: "I still remember working as a volunteer and returning home late at night. My father questioned how much I could do with a single pair of hands, and advised me to focus on gaining professional success first and galvanise 'a hundred pair of helping hands' to achieve greater impacts." Ultimately, Derrick chose to reposition his work and transform the company into a platform that not only continues its mission but also contributes to society. Ever since, he has been actively developing ideas and strategies, while establishing a charity crowdfunding platform to raise funds for sick children and rare disease patients.
The construction industry has been fraught with labour shortages. After taking over the company, Derrick was also challenged with people issues. His company's image suffered a setback due to a construction dispute, and bids placed on construction projects saw no chance of winning at all. Even his human resources colleagues pointed out that "no smart people would choose to work in the company."
After this upset, Derrick resolved to deal with the root cause of this problem. He set up the Elite Program (Management Trainee Program) and hired recent graduates to intern in various departments of his company, in order to groom them to become future executives. He also subsidised continuing education for middle and senior management colleagues, and formed a girl group called "Dream Girls" to promote the industry while projecting an image of diversity and vitality. To encourage more young people to join the industry, he even founded the HKCA Young Members Society and toured around universities for promotion, hoping to bring together young people who are interested in pursuing careers in construction. Derrick jovially remarked that whenever he comes up with new ideas, others are always quick to dismiss them. Nonetheless, he would stick to his beliefs, even if others thought him naïve: "When I set my mind on achieving something, I will see it through, regardless of the challenges."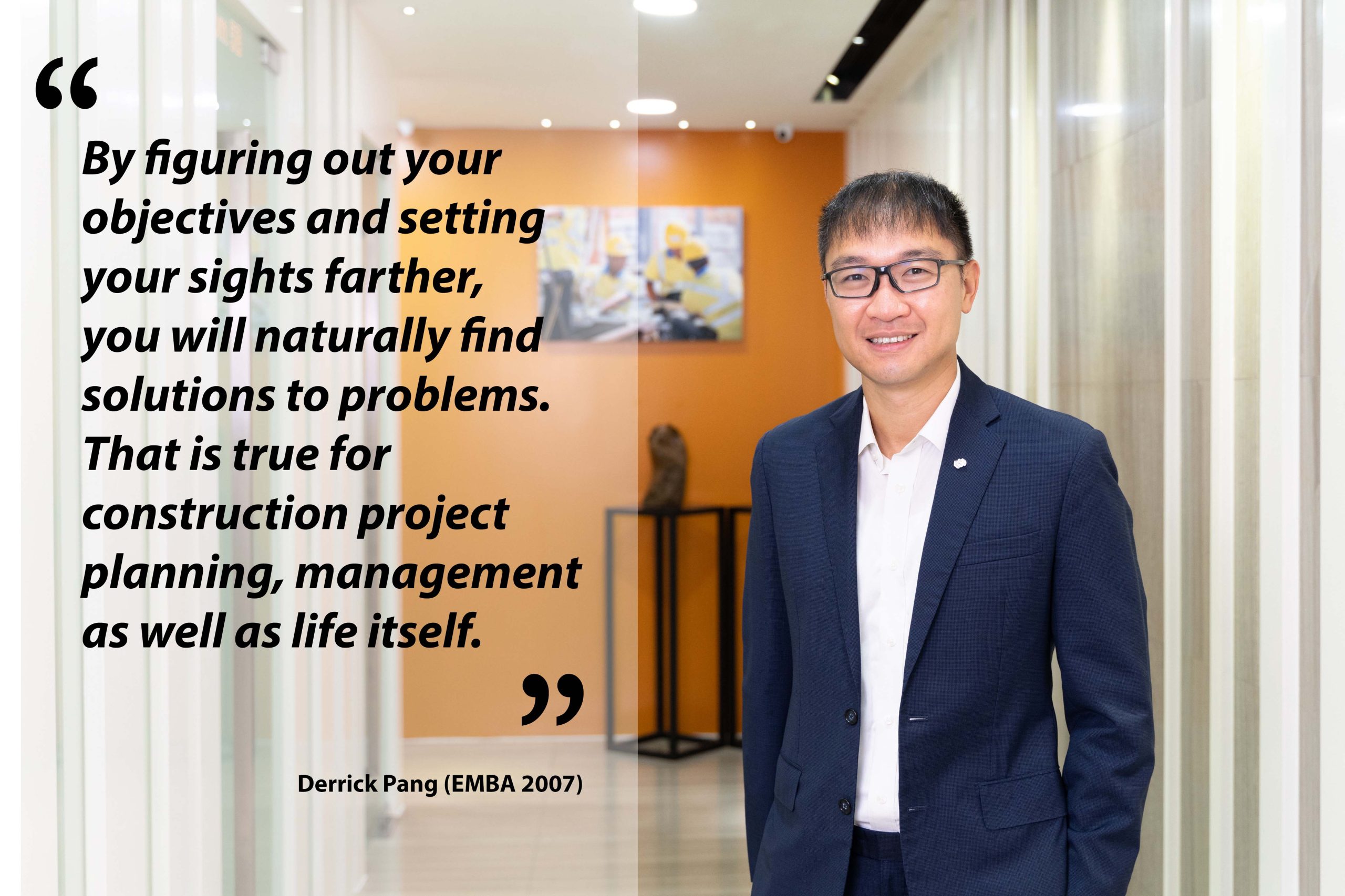 In addition to nurturing talent, Derrick also sets his sights on site safety. He bemoaned how society has become acclimatised to construction site accidents. However, human lives are at stake, and no amount of compensation can make up for the families of the dead who have lost. Tragedy can be avoided only by clearly defining safety responsibilities and raising safety awareness. "Fortunately, there is industry consensus on this. But what I hope to achieve is sustainable development, not flashy 'fireworks' that look great but vanish in the blink of an eye."
Humility, Sincerity, Positivity
Pursuing an EMBA at the Chinese Business School allowed Derrick to meet successful people from various industries. This experience taught him to stay humble and helped him make new friends and confidants. He was particularly impressed by the masterclass "I Ching and Leadership": "There is always a turning point, whether things are going in your favour or against you. It is necessary to consider both positive and negative aspects of everything, keep an open mind and chart a course forward." He urged young alumni to maintain a humble, sincere and studious attitude while awaiting opportunities, without counting what they have to offer. "We all have our own problems and shortcomings. Only by facing problems bravely can we overcome our limitations, grow and take control of our lives."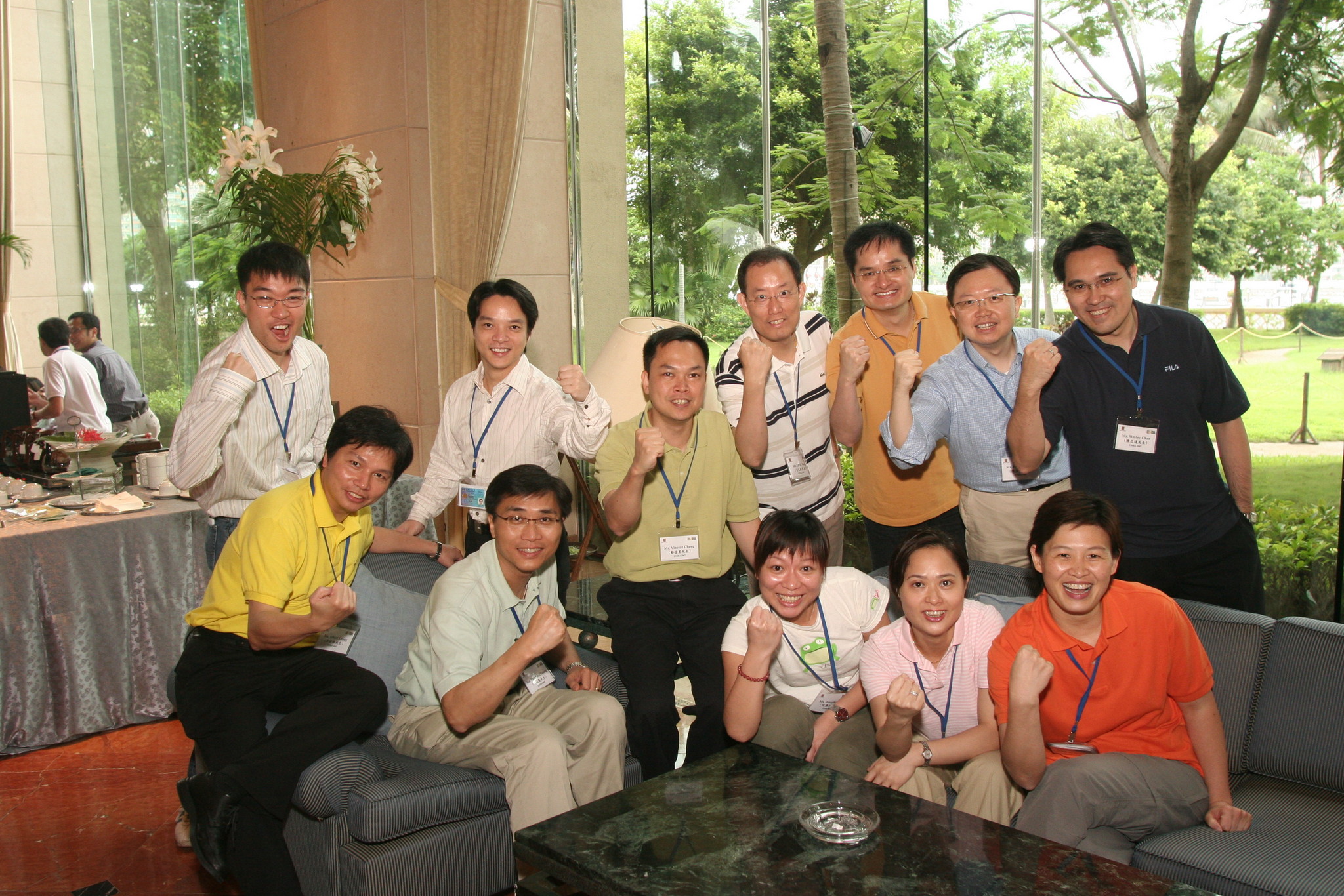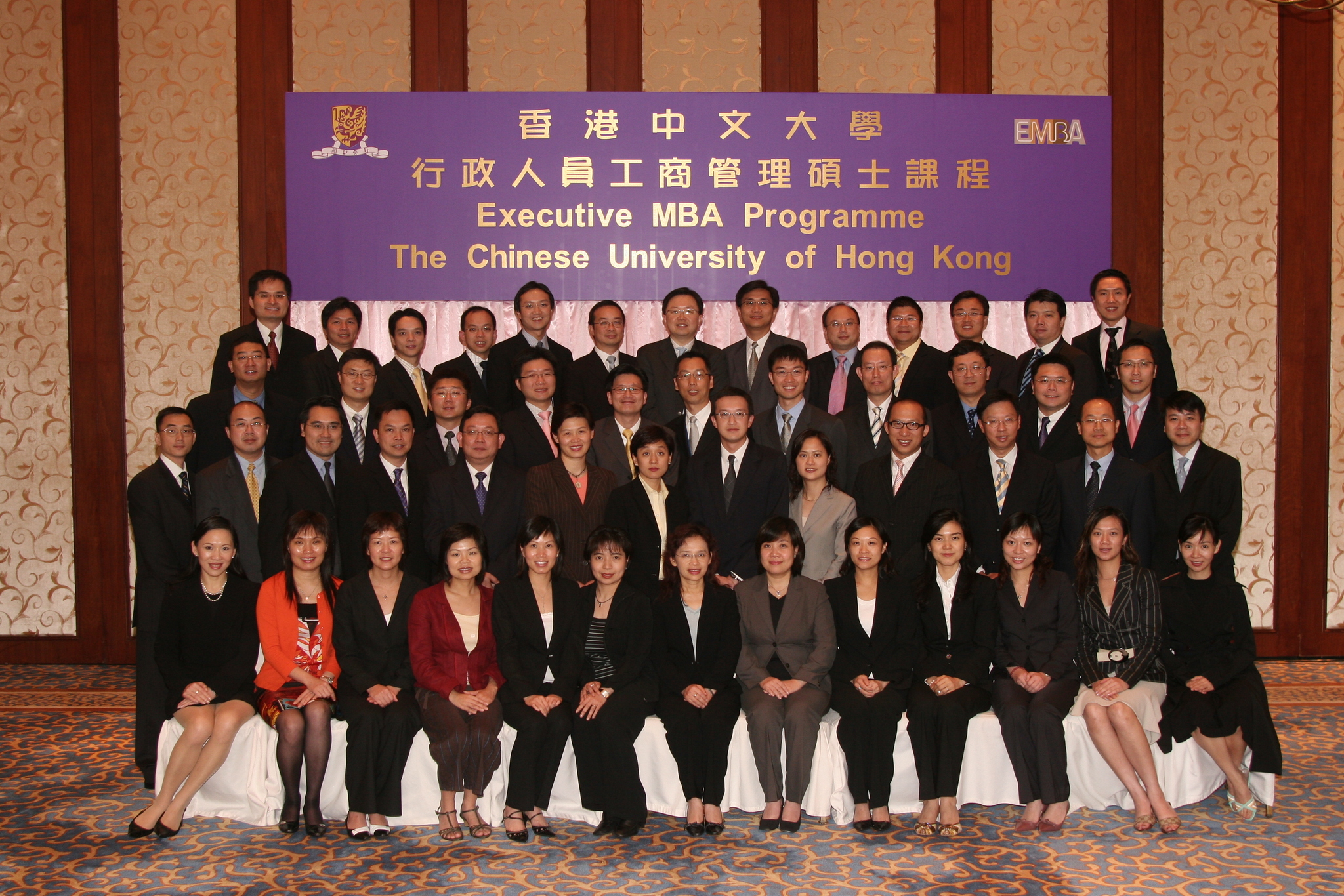 Derrick (top: back row, first from left; bottom: second last row, fifth from right) enjoyed his EMBA studies alongside business leaders from various industries.