Cally Chan (EMBA 2007), General Manager of Microsoft Hong Kong and Macau, believes that technology can empower infinite possibilities. She has spent around 30 years in the IT industry aspiring to build a brighter future through technological advancements, and her passion for the industry has only intensified with time. "With modern technology percolating into every part of our lives, what once seemed futuristic in movies is gradually becoming a reality," said Cally. She believes that by combining creativity with technology, anything is possible.
Championing a New Era with Technology
Businesses in the digital age can no longer afford to take things slowly, otherwise they may miss opportunities or find themselves outpaced by competitors. Cally foresaw this trend five years ago, when digital-first business models were not yet commonplace. At that time, Microsoft was actively foraying into such domains as AI, cloud services, and big data. The potential of these advancements captivated Cally, prompting her to leave HP, where she had worked for almost 20 years, and joined Microsoft. She hoped that the change would offer her greater opportunities to influence Hong Kong's technological development. "If I didn't try, I wouldn't know how far I could go. I didn't want to miss this monumental moment," Cally said. She hopes that she and Microsoft can use technology to "help more individuals and organisations achieve greater things" and to better the world.
2021 marks Microsoft's 30th anniversary in Hong Kong. Cally hopes to lead her team to realise their vision and "Make IT Our Time".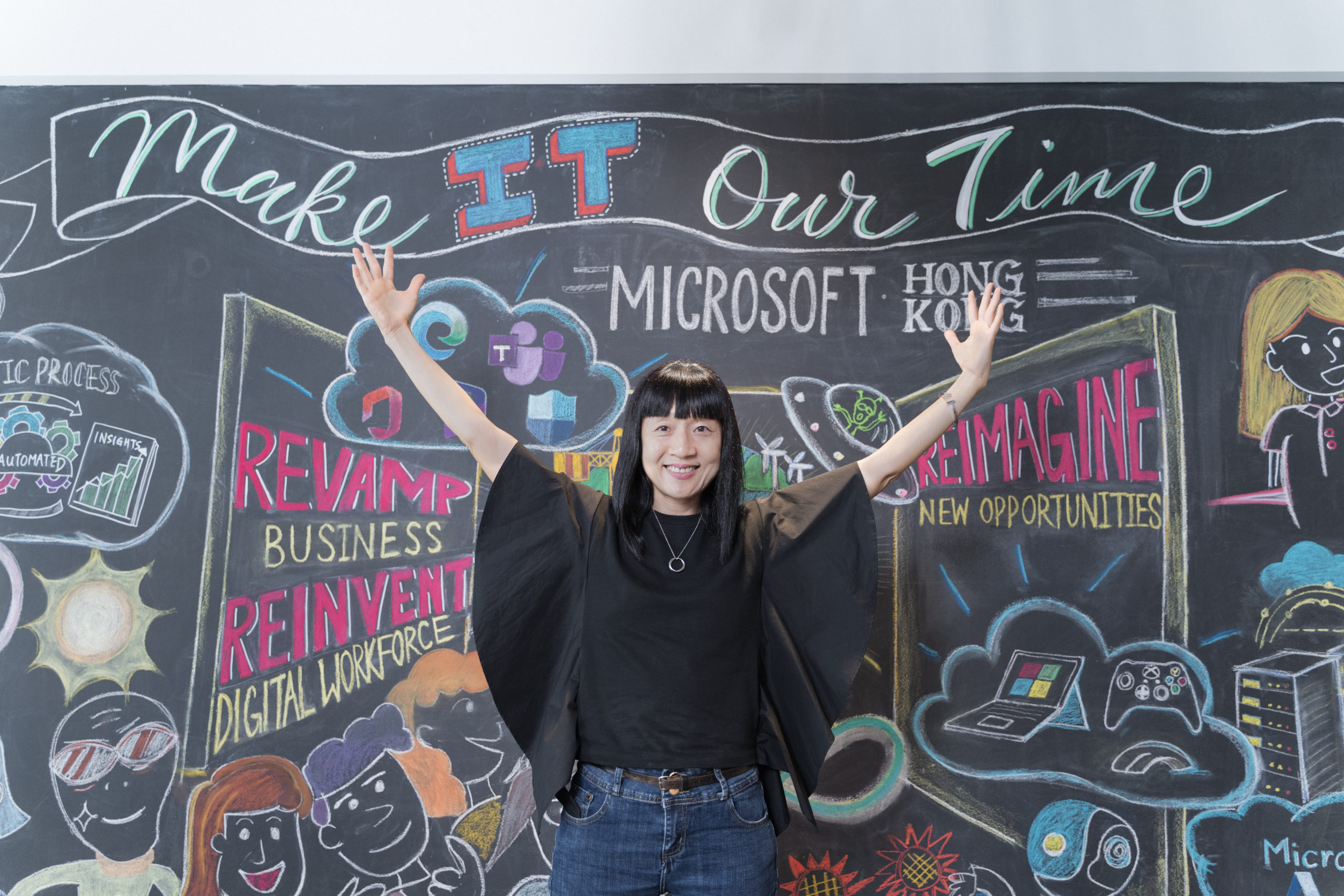 2021 marks Microsoft's 30th anniversary in Hong Kong. Cally hopes to lead her team to realise their vision and "Make IT Our Time".
Bolstering the Industry Ecosystem
Cally noted that enterprise digital transformation is happening far faster than most people anticipated. Today, digital transformation has already become an existential challenge for enterprises both large and small. "More and more companies are appointing Chief Digital Officers, and CEOs or COOs would meet with me to discuss digitalisation plans for their businesses." Cally explained that many of these plans, which were originally expected to take years to implement, were expedited because of the pandemic and set into motion within mere months. Taking Microsoft as an example, the company provided practical solutions, like helping medical institutions build remote diagnostics systems, assisting food and beverage outlets to implement cloud-based ordering services and developing bespoke training models for fencing athletes using AI and cloud technology, within an extremely short time frame.
She credited Microsoft's well-run ecosystem for its agility and swift response to market developments: "An ideal ecosystem must fulfil the '3Cs' of concept, culture, and capability." In terms of concept, Cally encourages her team to take advantage of Microsoft's multinational presence to gather data and inspiration from stakeholders all around the world. She herself maintains close contact with clients, partners and co-workers to explore and identify fresh possibilities. When it comes to company culture, she believes in the notion shared within the IT industry – " the best is yet to come" – and as a result emphasises the importance for teams to maintain a growth mindset and for colleagues at all levels to venture outside of their comfort zones. Ultimately, the organisation and its partners must have sufficient capability to capitalise on anticipated trends and bring about sustainable and impactful changes.
She explained: "Successful ecosystems must look beyond company profits and create value for customers and returns for partners. We want to keep strengthening this ecosystem by combining the strengths of our partners, turning it into a 'generator' that propels all major tech developments."
nbsp;
Driving Hong Kong's Digital Evolution
Cally further pointed out: "Technology now accounts for merely 5% of the world's GDP; but that percentage is expected to climb to 10% by 2030. Accordingly, there is still ample room for technological development." For this reason, her goals and those of Microsoft's are to rev up the engines of IT to engender greater possibilities. She said that under the new normal, every industry needs to transform digitally to survive and open new markets. Hybrid work models will continue to be the trend, and AI, big data and cloud computing will be the three pillars driving technological development.
Cally was emphatic that Hong Kong's digital development outlook is bright in this new age: "Hong Kong's ICT development is world-class, and we have one of the fastest-growing start-up ecosystems in the world. According to the latest figures from IDC, Hong Kong's digital development is highly encouraging." She has already laid out a three-year plan to establish Microsoft as the best hybrid cloud and multi-cloud services partner for enterprises in Hong Kong. She also hopes to nurture more digital talent for Hong Kong and the Greater Bay Area, double Microsoft's profits and accelerate Hong Kong's digital evolution.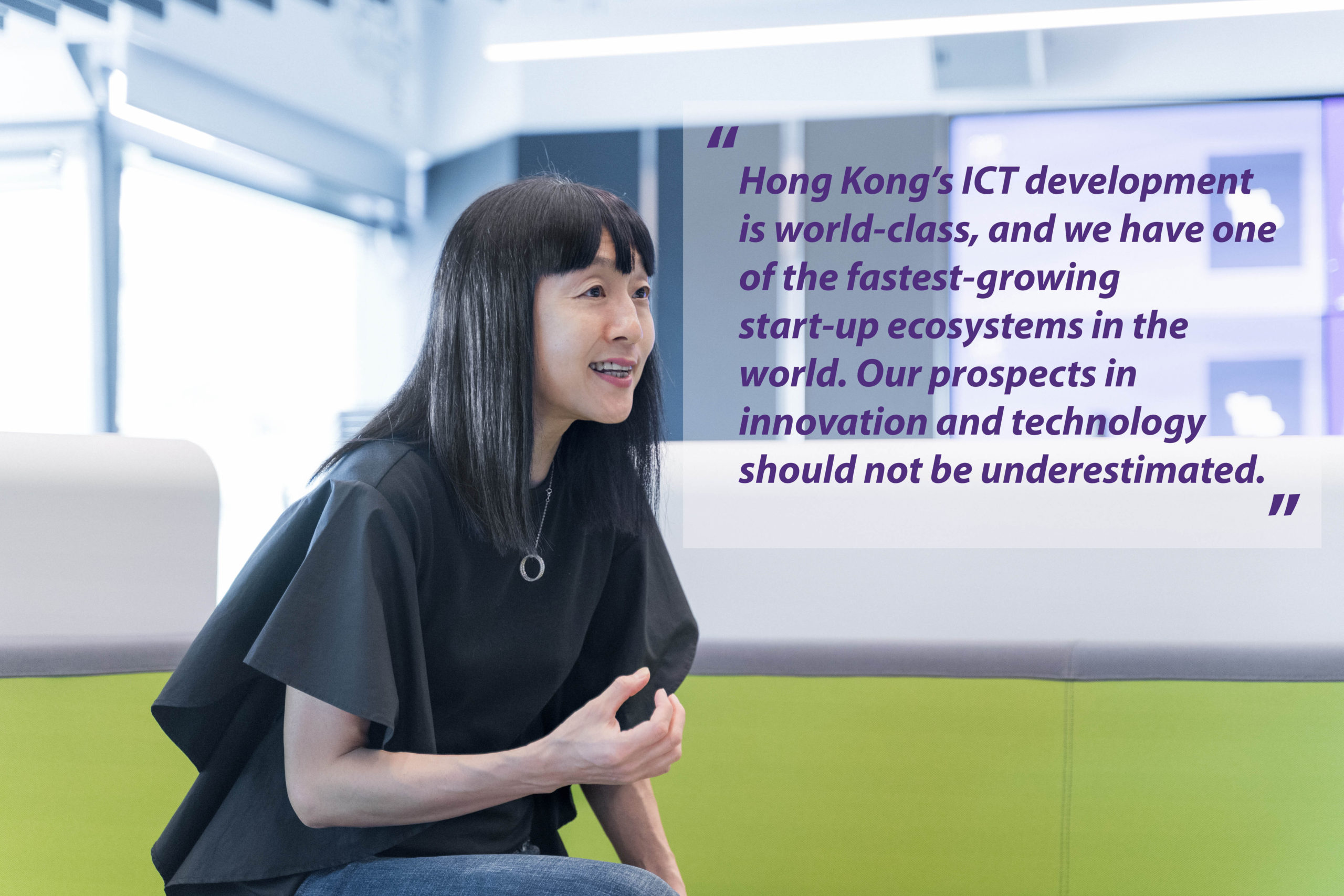 Cultivate Digital Skills to Keep Pace with the Times
Cally said she has always enjoyed mathematics and science, and since joining the IT industry, she has had even fewer opportunities to meet with people and acquire knowledge outside of her professional realm. She was therefore grateful for the exposure enabled by CUHK's EMBA programme: "The EMBA programme has taught me a lot about management principles, especially leadership and strategy execution skills, which have been beneficial to my management work." Meeting professors and classmates from other professions has also widened her horizons and opened her mind. More than that, the programme has helped her cultivate friendships that she maintains and cherishes to this day.
As a featured speaker, Cally will be sharing her secrets for success at the upcoming CUHK Business School master's and doctoral degrees graduation ceremony. Before the interview ended, she advised Business School students to maintain a learning and growth mindset and to keep pushing themselves to do better. According to her, digital technology is poised to become the world's "second language", and everyone, even those who are not in the IT industry, must be equipped with adequate digital skills to embrace this new era.