For some families, CUHK education is a tradition. These legacy families share the same education footsteps and cross-generational memories, passing on the heritage of their alma mater. We interviewed three alumni families with generational ties to CUHK Business School, where they shared about their school choices, memories, and the evolution of CUHK experience from the time they attended to date.
SO FAMILY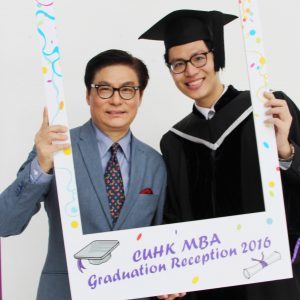 Raymond So (MBA 1981)
Executive President, Daye Transmedia Group
Alvin So (MBA 2016)
Senior Associate Consultant, OC&C Strategy Consultants
Back in Raymond's time in 1979, CUHK was the first and only MBA programme in Hong Kong, with only one class of 30 Hong Kong students each year. The CUHK MBA provided Raymond with the best opportunities to develop a career in business, and he highly recommended the programme to his son. Alvin wanted international business training and focus on the Chinese market, made easier with the large alumni network.
When Raymond attended his MBA, the programme did not have subject concentration or overseas study tours and only four students could go on exchange at New York University. By the time Alvin did his MBA, the programme had expanded its concentration options, course offerings and exchange programmes, as well as the size and diversity of the student population. That's why Raymond thinks spending two years at school can build a strong bond with CUHK Business School, and offer an enriching experience.
During Alvin's MBA, he was a member of the CUHK CSR Conference organising committee. He suggested inviting Raymond as a speaker and was amazed to find out that some classmates from Shanghai knew his father, who had spoken during orientation as the CUHK Shanghai Alumni Association President. Raymond was pleased to see Alvin on stage as a conference host, just as Raymond had been emcee for many MBA class events during his time.
Raymond is very glad that Alvin took his advice to get an MBA at CUHK. "It is great to have a shared identity, a special bond. We are both CUHK MBA alumni! I hope we can have more Business School family legacies in the future."
Three things that the So family want their grandchild to learn at CUHK
Be more than book smart to apply the knowledge taught in class to real-life scenarios.
Work effectively in a culturally diverse team and be a leader. Be open- minded and respect different opinions with a humble attitude.
Remain curious, encourage others to explore their passion and expand their horizons. Develop a lifetime learning attitude that opens their heart to new and innovative ideas.
---
CHU FAMILY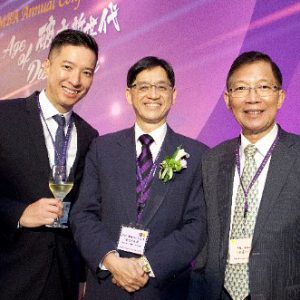 John Chu (MBA 1974) (Right)
Previously Group Chief Investment Officer, AIA Group Limited
Paul Chu (EMBA 2004) (Left)
Managing Director, RedWolf Airsoft Specialist Limited
The Chu family says CUHK is known for having a systematic programme for all areas of business education. Graduates are equipped to engage in different management functions to meet the needs of the rapid changes in the business world.
During John's studies at CUHK, he often took his son to spend time on the campus. They spent many weekends swimming in the university pool and running around the lawns. Thirty years later, Paul took classes on the same campus and visited the same pool where they swam together, and they can both remember the good old times at the university.
John has witnessed CUHK's evolution to become an institution with a global vision and remarked, "The programmes are designed to connect the East and the West, with a Chinese approach." Paul echoes the same belief. Having attained his undergraduate degree in the United States before enrolling in CUHK's EMBA programme, he finds the incorporation of Chinese philosophies and teachings in a business context within the programme appealing.
Over the years, John has been able to assume leadership roles across a broad range of disciplines. He attributes this to a can-do attitude toward problem-solving, strategic and critical thinking skills, and the ability to manage people from different backgrounds and cultures. He shares, "The excellent business leadership programme at CUHK has helped me to develop these skills. The lasting impact on me and others who have gone through the doors of CUHK is strong, ethical leadership and passionate commitment towards the betterment of society."
Three things that the Chu family want their grandchild to learn at CUHK
Critical thinking
Global citizenship mindset
A macro view of the world and the history that shaped it
---
WONG FAMILY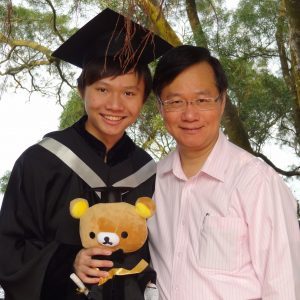 Jacob Wong (BBA Accounting 1979; MBA 1982)
Chief Compliance Officer, China Taiping Life Insurance (Hong Kong) Company Limited
Christopher Wong (BBA-IBCE 2013)
Senior Consultant, KPMG Global Strategy Group
It was by fate for Jacob, and by choice for his son Christopher to attend CUHK Business School. Jacob started with physics, but was unable to cope with scientific theories. After studying accounting in year 1 and enjoying it, he transferred to Business School in year 2. Christopher liked CUHK for its school ethos, and decided to trace his father's footsteps in China business. Christopher chose the International Business and Chinese Enterprise (IBCE) programme with advice from his father, and became part of the pioneer batch of IBCE students.
Christopher invited his dad to share the joy at some of his events, including his graduation, and the HPAIR (Harvard College Project for Asian and International Relations) Conference he hosted at CUHK. Recently, they attended the first Global Alumni Forum together in June 2019.
Jacob thinks there are more opportunities now than the time he attended CUHK, from exchange programmes to internships and competitions. One thing that has not changed much for them is the campus' beauty.
As the saying goes: "Education is what remains after one has forgotten everything learned in school". Teach our youth how to learn, but also how to love and respect. The Wongs wish to see more families here, not just in the literal context, but also in the community sense where one gives back to their home – CUHK Business School.
Three things that the Wong family want their grandchild to learn at CUHK
Humility
Perseverance
Love – the love of business mixed with humanities, and the love of people and our community