Hong Kong's young entrepreneurs join the battle to combat COVID-19 that has infected tens of thousands people around the world so far.
Co-founded by Mark Mak (MBA 2011) and Eden Lu (MBA 2011), local tech startup Roborn Technology has developed a smart robot with 5G technology to monitor body temperatures in public places, and trace people who have come into close contact with infected patients, using cruise-control functions.
The 5G epidemic prevention smart robot is equipped with an infrared thermometre and Roborn's 5G AIR PEP system that allows it to detect and monitor body temperatures at specific locations. Once the device detects any abnormal body temperature, it sends out an alarm to alert medical staff to identify and track down the suspected patient.
Mark Mak, Co-founder and Director of Roborn Technology, shared with China Daily in an interview, "unlike fixed infrared body temperature detection devices that are widely used, the robot can move to different locations to detect the temperature of various people, and the robot's path can be adjusted if necessary."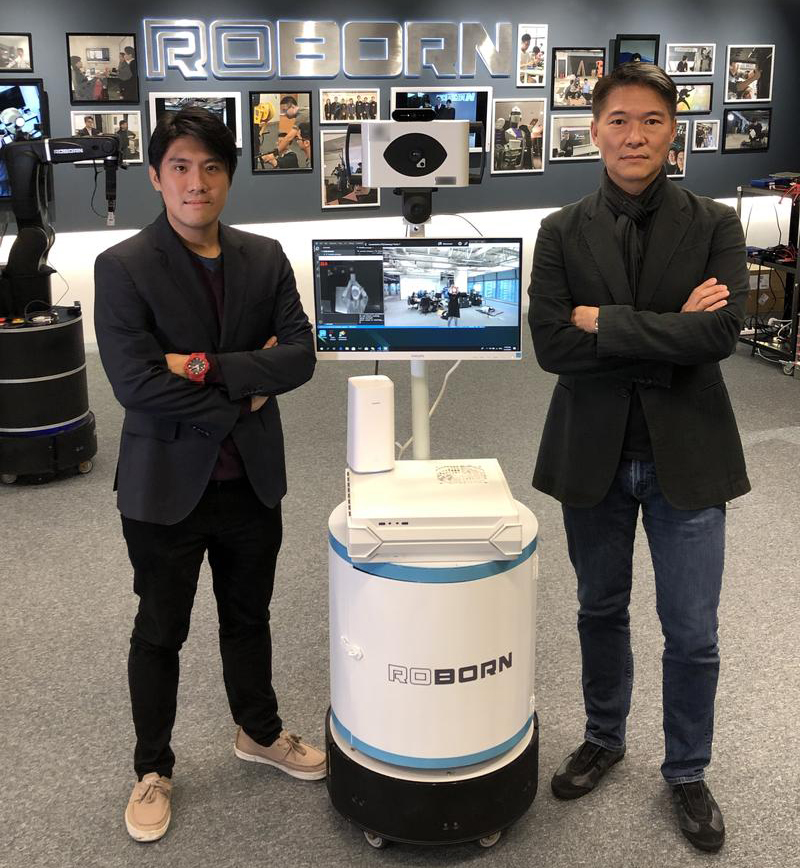 Mark Mak (left) and Prof. Larry Poon
The robot's screen also displays epidemic prevention information and knowledge, and advises people with an abnormal body temperature on the measures to be taken.
According to the World Health Organization, the common symptoms of COVID-19 include fever, coughing, shortness of breath and breathing difficulties. Mark said testing body temperatures in public places would be the norm in the future to curb the spread of the epidemic. To make the robot sustainable, being compatible with 5G technology is essential and the robot also supports Wi-Fi and 4G mobile network connection.
Specialising in designing and creating humanoid robots with its motion control technology, Roborn, with a team of six professors, 15 researchers and developers, began deploying the concept of its 5G epidemic prevention smart robot on the first day of the Lunar New Year.
Two days after the Chinese government locked down Wuhan – the Hubei provincial capital at the centre of the coronavirus outbreak – Mark and Prof. Larry Poon, Adjunct Professor of Department of Marketing at The Chinese University of Hong Kong Business School, discussed designing an epidemic prevention robot using Roborn's technology.
"We sourced most of the robot's components and accessories in Hong Kong and used some components of our other robots to assemble the prototype," Mark said. Roborn is also in touch with suppliers in the United States and the United Kingdom as most factories on the mainland have suspended operations due to the outbreak.
Mark said the project is self-financed by his team to relieve the pressure on front-line healthcare workers and raise efficiency in detecting body temperatures.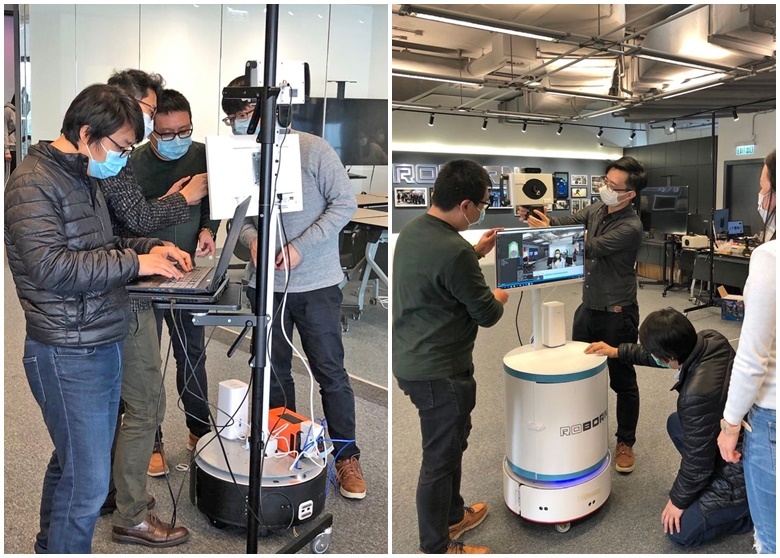 The robot is being tested at medical centres in Hong Kong and is ready to be deployed in epidemic prevention efforts. Roborn's team has tested the device at Cyberport, where the tech startup is located. The startup plans to work with government and public organisations in the future to put the robot into service.
In collaboration with China Mobile and ZTE Corporation, Roborn previously developed China's first 5G Motion Control Humanoid Robot. The project received the Hong Kong Awards for Industries 2018: Equipment and Machinery Design Grand Award and Hong Kong ICT Awards 2019: ICT Startup Grand Award and ICT Startup (Hardware & Devices) Gold Award.
Besides China Daily, Roborn's 5G epidemic prevention smart robot was also featured by local media, including Cable TV, East Week, Economic Digest, e-zone, Headline Daily, Hong Kong Commercial Daily, Hong Kong Economic Journal, Oriental Daily News, Ming Pao Daily News, RTHK, Ta Kung Pao, TVB, Unwire, Wen Wei Po and more.
Source: China Daily
Date published: 14 February 2020
This article first appeared in CUHK Business School Website, republished with permission from Marketing and Communications Office, CUHK Business School