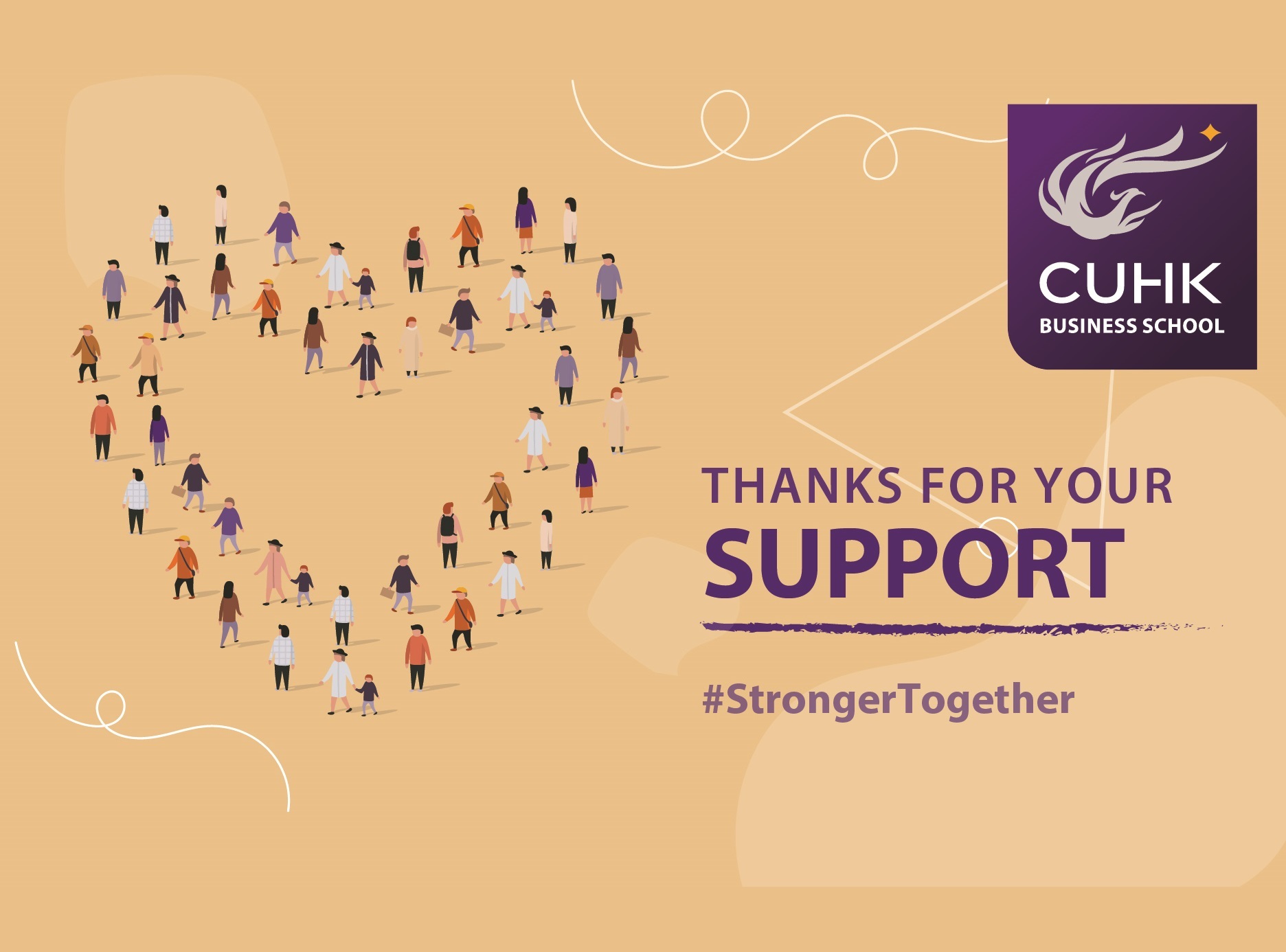 As Hong Kong continues to fight hard against COVID-19, how can students equip themselves for the challenges ahead while searching for new opportunities? In mid-June, the Alumni and Corporate Affairs Office launched the #StrongerTogether campaign, first inviting professionals and alumni to share their thoughts, experiences and ideas on camera, encouraging students to continue to seek out opportunities even in the midst of so much uncertainty (watch video). To facilitate job search for this year's Business School graduates during these difficult times, we followed up with a second event – Career Planning Consultations, inviting alumni from different industries and functions to do phone consultations with students, giving the latter a chance to get an understanding of the career prospects in their preferred field, to learn from their predecessors and to prepare them for entering the job market.
We truly appreciate our alumni for taking time out of their busy schedules to provide valuable advice to students (in alphabetical order of first name):
:
Armstrong Lee (BBA in Integrated BBA; MBA)
Brian Lee (MBA)
Chris Xie (Executive Master of Professional Accountancy)
Claudia Lau (EMBA)
Daniel Wan (OneMBA)
Horace Ma (BBA in Integrated BBA; MSc in Finance)
Howard Cheung (BBA in Integrated BBA)
Jason Lee (BBA in Integrated BBA)
Jiawei Zhang (Master of Accountancy)
Kathy Kum (BBA in Integrated BBA)
KC Wong (BBA in Integrated BBA; Msc in Information and Technology Management)
Kent Yu (EMBA)
Kim Man Wong (BBA in Accounting; MBA)
Lilian Kung (BBA in Integrated BBA)
Loren Fung (EMBA)
Michael Ng (BBA in Integrated BBA)
Oliver Leung (BBA in Professional Accountancy; EMBA)
Peter Yeung (MBA)
Philip Lok (MBA)
Richard Chu (MBA)
Rocky Cheng (EMBA)
Roy Lee (BSc in Quantitative Finance)
Sammy Ngan (BBA in Integrated BBA; EMBA)
Sandy Hui EMBA)
Sharon Liu (MBA)
Sinha Ranit (MBA)
Terence Lam (BBA in Integrated BBA)
Tony Chau (BBA in Integrated BBA)
Winnie Che (BBA in Hotel & Tourism Management)
We gathered feedback from alumni and students after the event. Students agreed that they were able to benefit immensely from the consultations. The sharing from alumni and their unique experiences deepened students' understanding of their ideal roles and businesses, helping them make better choices and eventually launch their careers successfully. Through this programme, students were able to connect with industry professionals, while alumni showcased their continuous support for the Business School and creating unimaginable and infinite possibilities. Feedback from alumni was equally positive and they pledged their participation if we were to organize the same event next year. It's obvious that our alumni genuinely hope to help the younger generation, while these cross-generational conversations also help them to understand the thoughts and mindset of young adults and professionals.
Finally, we would like to thank all alumni and students for providing us with feedback on how to further improve this event next year. Please stay tuned to more events in the Business School during the 2020-21 academic year, and continue to partner with us as we #lookforward!