The new academic year of 2020-2021 just began in August and our new students are now enjoying their university life at CUHK Business School. Various programmes have been striving to provide our freshmen with the most fruitful orientation activities as a tradition for years that prepares them for the upcoming university life. With regard to the lingering effects of the pandemic, the orientation arrangement for this year is meant to be unusual yet memorable. Nonetheless, the faculty and supporting staff of each programmes managed to organise an extraordinary orientation for new students with their incredible creativity. Although freshmen are scattered all over the world and cannot meet one another face-to-face in the meantime, they all demonstrated excellent adaptability and versatility in coping with the changes.
Various postgraduate programmes including Master of Accountancy, MSc in Finance, MSc in Real Estate and Hospitality Assets, MSc in Management, MBA, EMBA and FMBA have organised online orientation since late August 2020 to welcome the new blood in our community.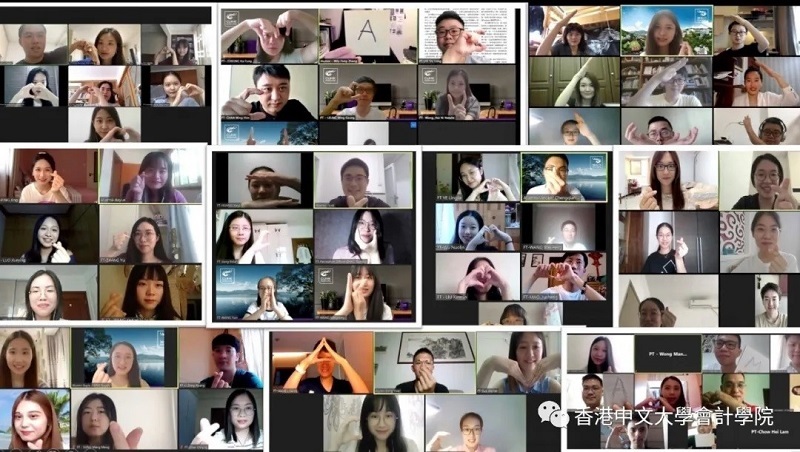 Master of Accountancy students kicked off their first school day with an ice-breaking game led by the alumni.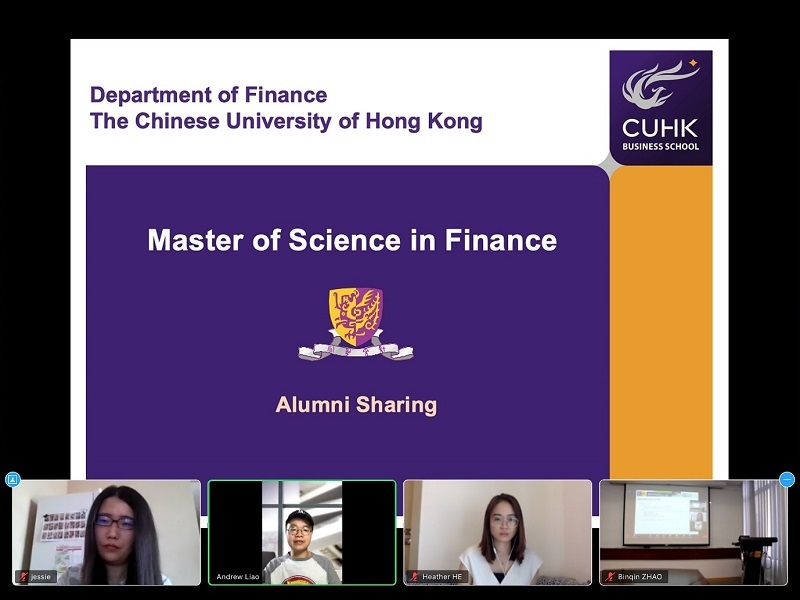 MSc in Finance Programme organised a series of orientation activities including Welcome Meetings, Alumni Sharing Sessions, Career Briefing Sessions and Pre-term Courses to help new students better prepared for university studies.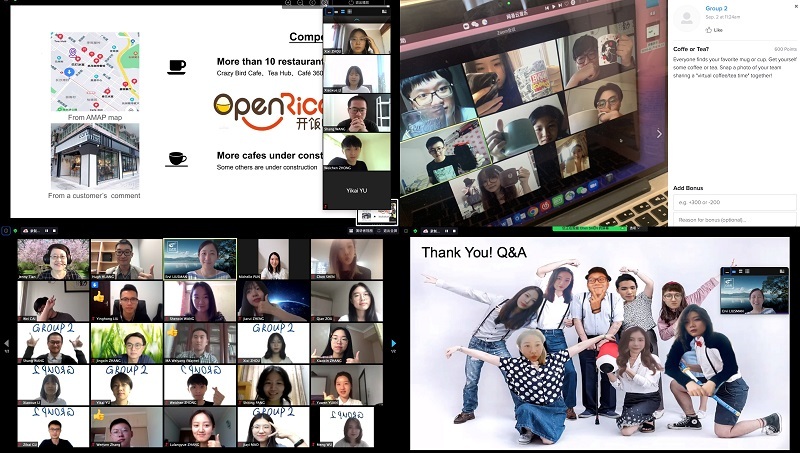 MSc in Management of Real Estate and Hospitality Assets Programme organised a 3-day virtual orientation camp with team building activities, career briefing and workshops regarding academic integrity and presentation skills. Students were divided into teams to work on a project about office space and all of them enjoyed a "virtual coffee/tea time" together during the break time.


MSc in Management (MiM) Programme organised a series of fruitful orientation activities including the Orientation Day, MiM Accelerator, Alumni Sharing Session, a series of Pre-term Workshops and the Career Week to warm the students up for the new academic year. Prof. Lin Zhou, Dean of CUHK Business School, and Prof. David Ahlstrom, Acting Chairman of Department of Management, extended a warm welcome to the students at the Orientation and over ten MiM teaching faculty also joined to speak to and welcome the new cohort. In addition, MiM students showcased their different talents by performing at the Orientation.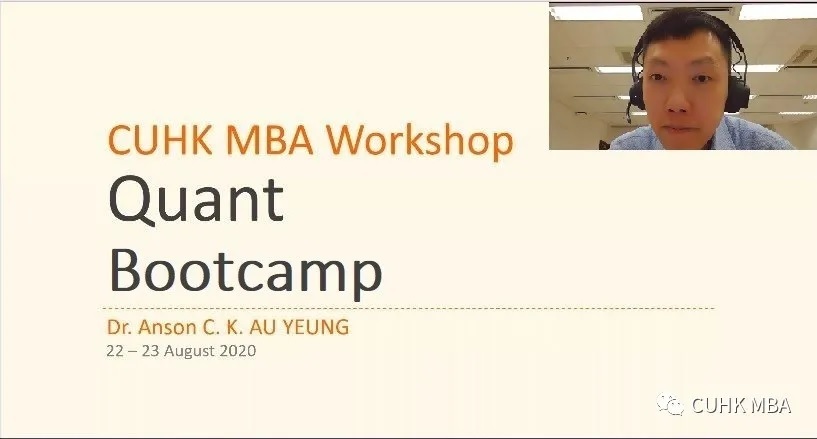 MBA programme equipped the newly admitted students with the basic knowledge of Excel and modelling as well as accounting via the mini-workshop Quant Bootcamp instructed by Dr. Anson Yeung.

EMBA Programme organised an orientation session to introduce the programme curriculum and the "EMBA Six Pillars" to the new students.

Career Management Centre organised a Career Orientation Week for MiM programme to inspire the students on their career planning and equip them with essential skills of CV writing, presentation, and job interview while the undergoing MBA Career Orientation series will inspire students on self-exploration.


CUHK-Tsinghua FMBA is one of the few programmes that can maintain a face-to-face orientation session. The programme organised the school commencement ceremony in both Beijing and Shenzhen for the new students.
The grand opening of this academic year has not yet come to an end as online orientations of some programmes are approaching soon. We look forward to the day when live lectures resume, and students greet one another on campus – the day when CUHK Business School, alumni and students can, once again, be closely connected in our beloved community.