In Hong Kong, business study has become the highway to elitism. But a young business graduate goes against the grain to pursue a career in a paddy field, thus unlocking an extraordinary journey into the emerging permaculture.
That young man is called Victor Lo who, as a university student a few years back, had a taste of farming with a small plot of land outside the dormitory and a friend's rooftop farm. What began as a hobby ended in true calling in life for Victor – he went on to develop a symbiotic fish-plant aquaponic system with two friends in Jiangmen after graduation in 2016. Today, they own a 505-acre integrated farming base with a 6,200-square-metre greenhouse, yielding over 300 tonnes of vegetables and 450 tonnes of rice. Victor himself was nominated the 24th edition "Guangdong Youth May Fourth Medal" for his achievements recently. "It's fulfilling to see our produce on the dining tables of millions of people," says Victor who harbours the ambition to shape the next-generation farming with knowledge learnt from the CUHK Business School.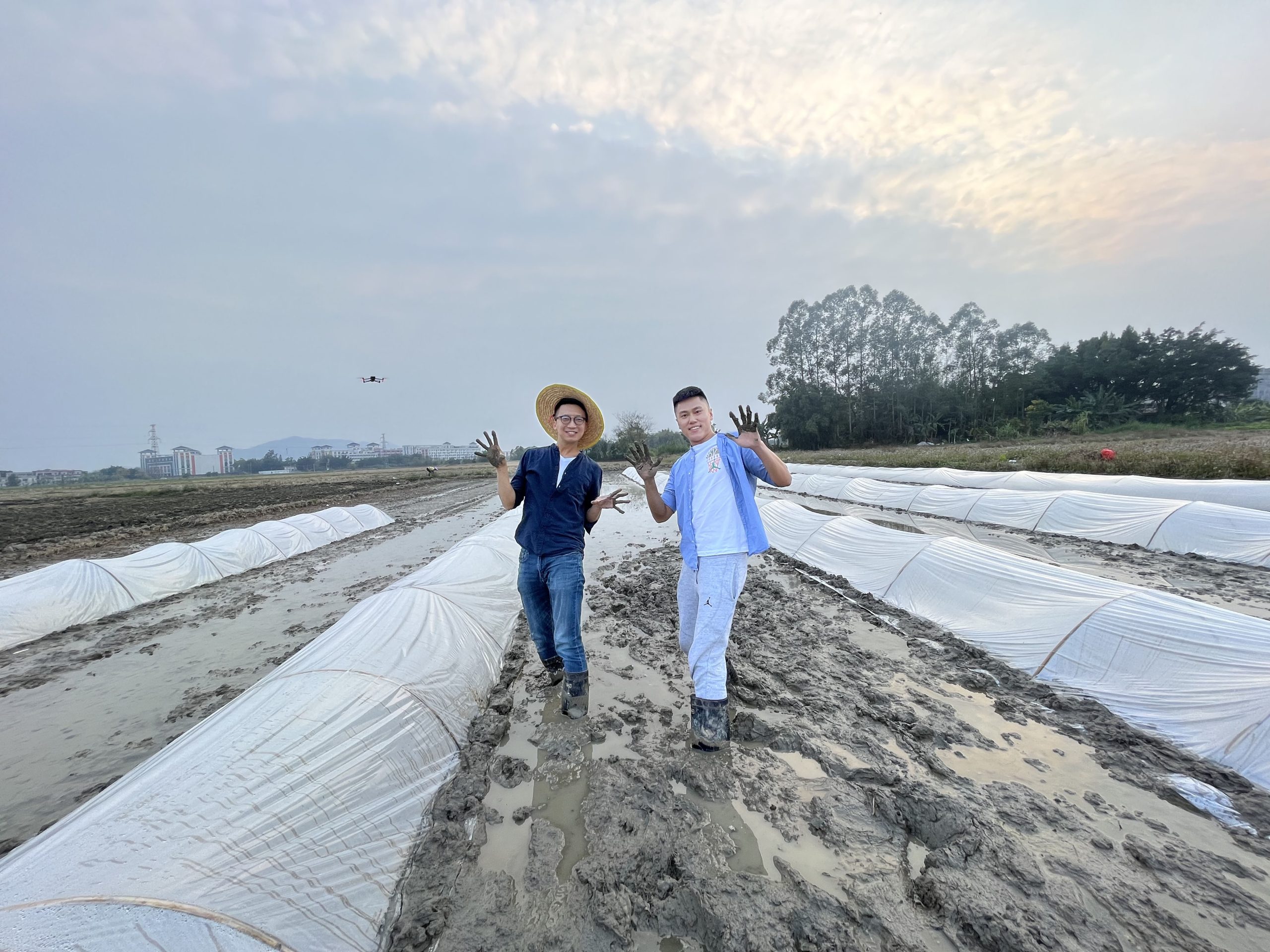 Victor Lo (right) ventures into the blue ocean in farming with friends.
Agricultural Innovation from Business Lens
Looking back on his entrepreneurial journey, Victor recalls all the poignant anecdotes from it. "It is one thing to have overcome the obnoxious physical conditions, such as the mire and the heat; but quite another to be in the company of rats and snakes – it would not help with keeping the spark of interest alive, not to mention our inexperience in aquaponics. We were just trying to hang onto the lead." Luckily, the business acumen grown from the past learning experience in the CUHK proved handy for the maverick entrepreneur. He was aware that business study had instilled in him a problem-solving mindset, which is now one of his greatest assets as he pushes the boundaries of farming.
"Managing a vast plot of farmland and hundreds of farmers takes a great deal of business administration skills. Any improvement in finance or time management, however tiny it may be, is a giant step towards efficiency." As opposed to traditional farming, Victor has created a new mode of operation by introducing the economy of scale, branding, tourism, and other commercial elements into the local agricultural practice in Jiangmen. "Under this new agricultural model, we have successfully increased the income of 251 farmer households and reduced effluent discharge by 16,000 tonnes. From a start-up living off patronage to an enterprise that gives back to society through tax, we have come a long way," he enthuses.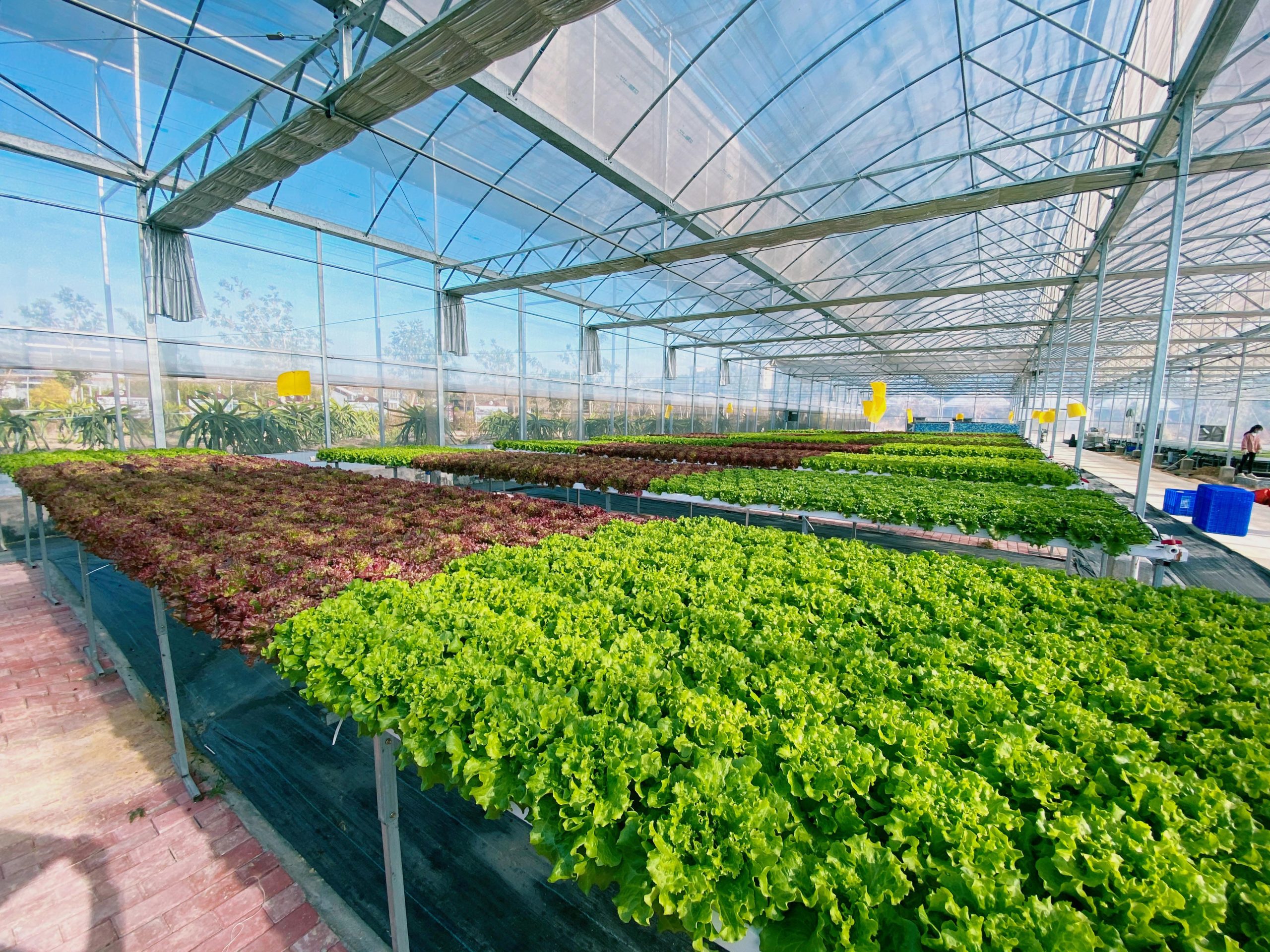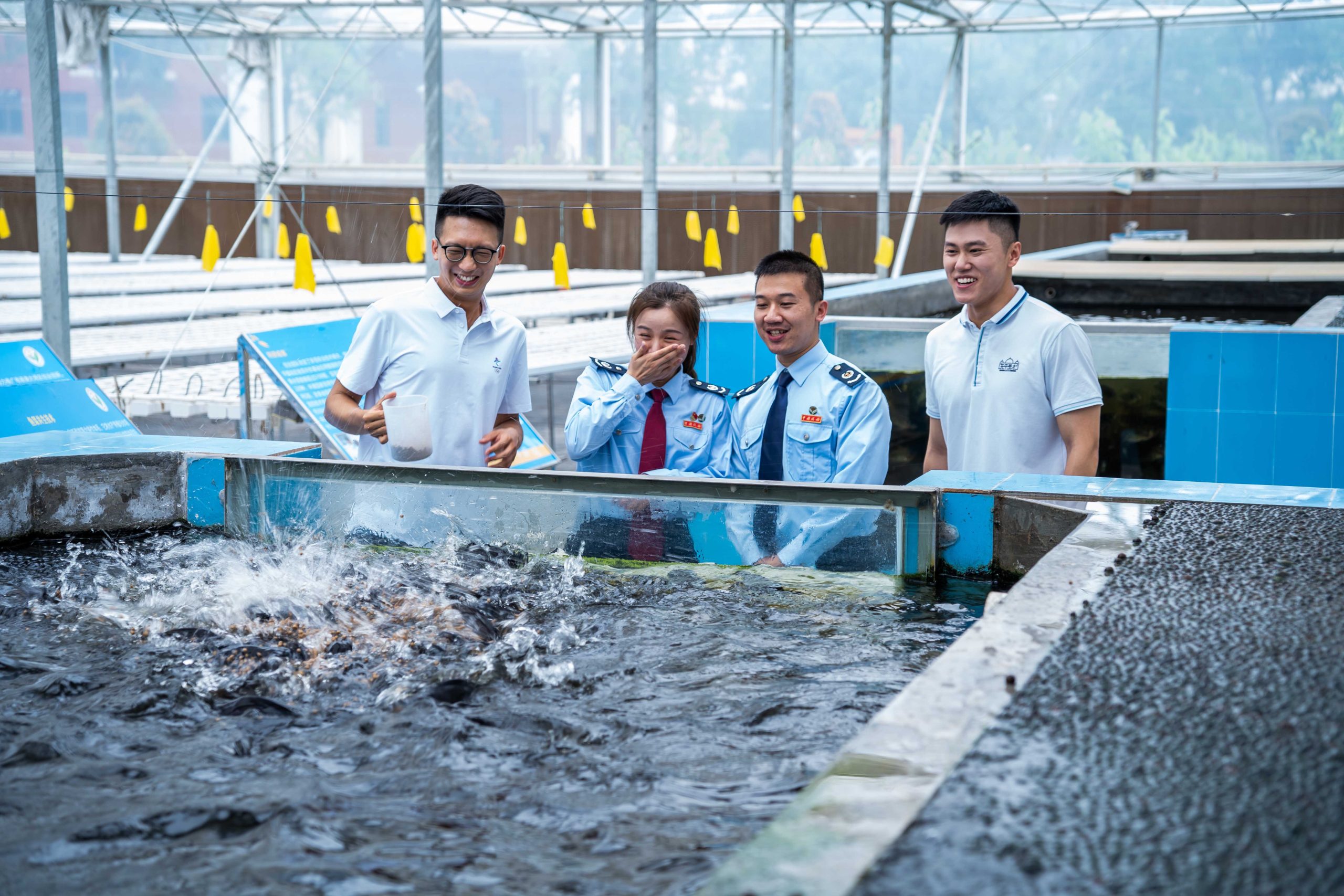 In the aquaponic facilities in Jiangmen, Victor and his team leverage the "fish-plant symbiosis" through which the aquaculture effluent is treated via direct uptake by vegetables as nutrition before flowing back to the fishery.
Capturing Business Potentials in Greater Bay Area
Victor bases his aquaponic facilities in Jiangmen for many reasons: it is a land blessed with natural resources and a gateway to entrepreneurial success, with similar cultural dynamics as Hong Kong. "Jiangmen is home to many overseas Chinese. It is a Cantonese-speaking city with countless architecture named after people or places in Hong Kong." Yet the sweep of Victor's ambition goes beyond Jiangmen to reach the whole of the Greater Bay Area (GBA). Early in 2020, he started to supply Hong Kong, his hometown, with agricultural produce as an accredited Mainland vegetable farm. As the geographical spread of sales expands, Victor feels the intrinsic connection among GBA cities. "Each city in the region has its own character and role. In our case, we focus on three pillars of support: financing in Hong Kong, production in Jiangmen, and sales distribution across cities in GBA. In other words, we leverage the innate advantages of the region, coupled with market demands, to exploit entrepreneurial opportunities to their fullest."
Victor is confident in young talent in Hong Kong. "Young people in Hong Kong are competitive in that they possess soft power in terms of creativity, passion, and vision." He encourages young aspirants to broaden their horizons, with a view to unleashing their full potential as they pursue their dreams.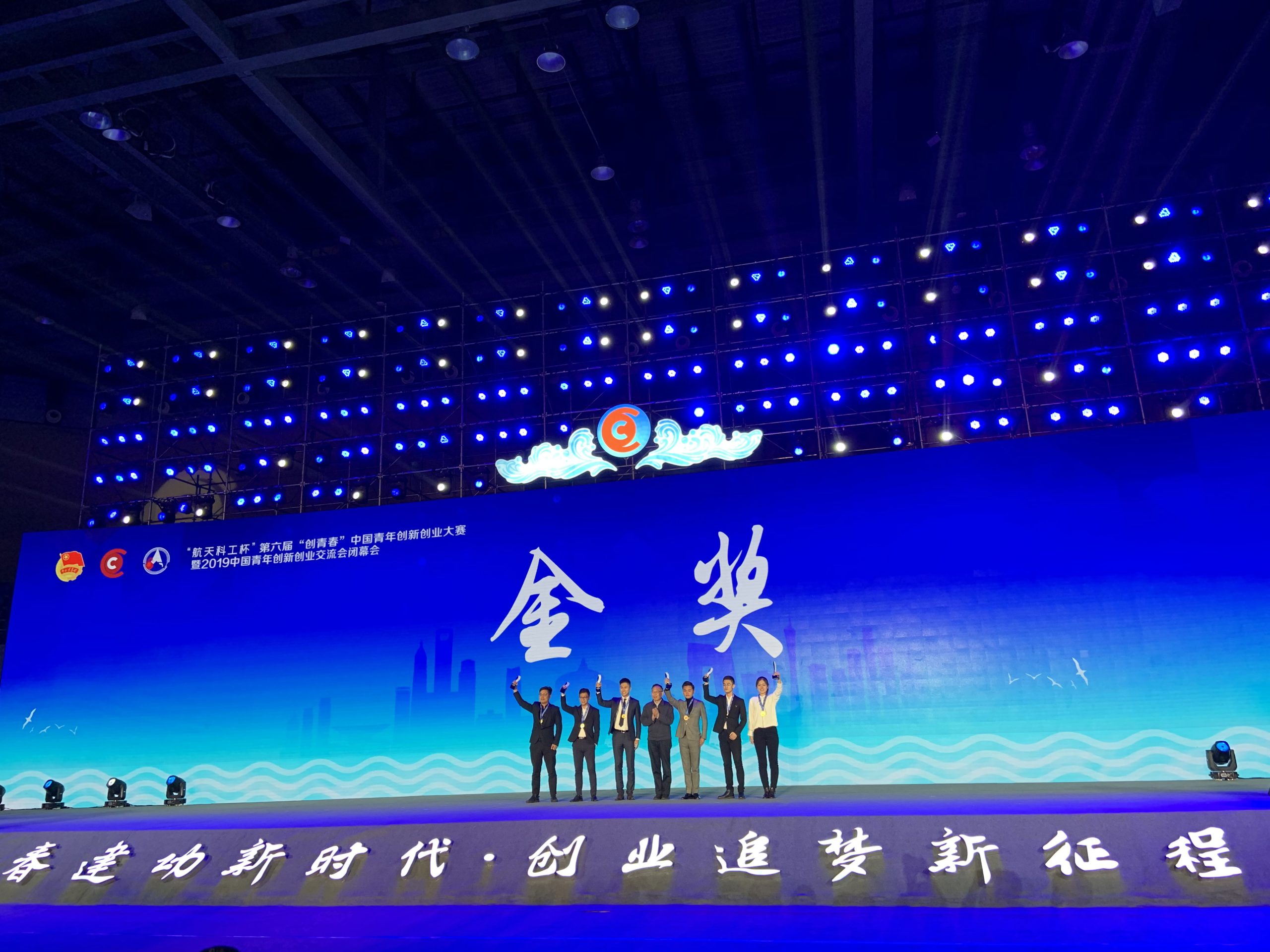 The entrepreneurial achievement of Victor and his team is recognised in Youth Innovation and Entrepreneurship Competition 2019 with a gold medal in the agricultural start-up category. Victor himself is also nominated for the 24th edition "Guangdong Youth May Fourth Medal".
Unyielding Resolution as Ode to Youth
Victor has had his share of anxiety and self-doubt at the beginning of his pursuit in the agricultural industry, but he overcame them with encouragement from his mentors. ''I am grateful to Dr Joyce Iun from the CUHK Business School for her great life lessons during my six-year entrepreneurial journey. The intrepid act of her to give up an competitive hotel internship in Macao and go all the way to Guangzhou alone for another opportunity she set her heart on, inspired me to pursue my dream with a visionary mindset." Victor added that Dr William Lau was also a solid support for him all along, as he was one of the few people who encouraged him to venture into agricultural business and enlightened him with industrial insights.
With the moments of doubt and adversity now far behind him, Victor is poised to scale new heights in new farming. In addition to increasing production, Victor sets out to apply his business acumen on the development of a farming industrial chain. Although life in a field is not without challenges and setbacks, Victor remains hopeful about the future. "Six years in agriculture are filled with joy and tears. They are an ode to youth written in my own determination."