CUHK Business School Class of 2022 Celebrates Remarkable Accomplishment on Home Ground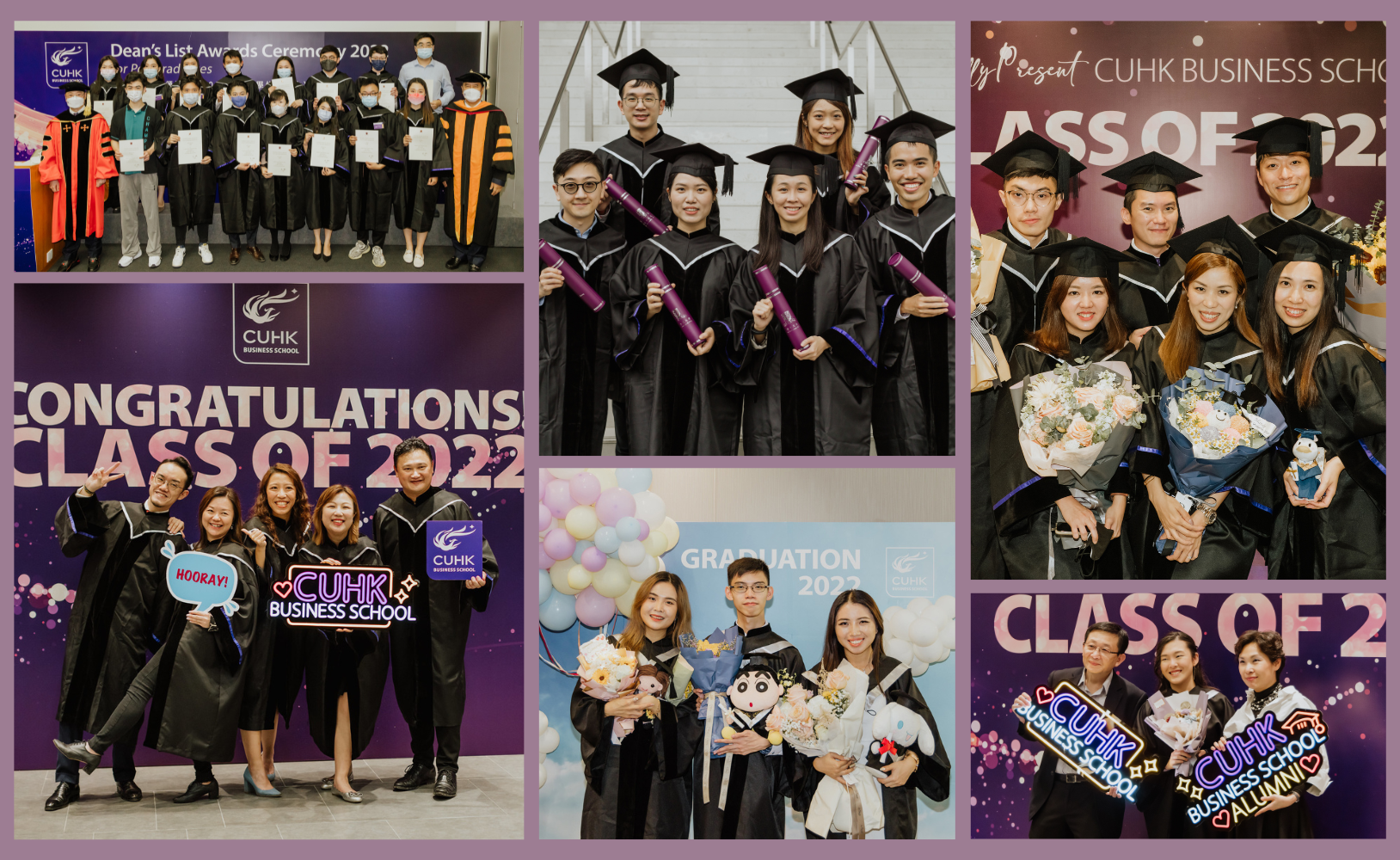 After a two-year hiatus, graduates finally get to celebrate one of their most pivotal moments in life with loved ones at CUHK campus this year, where Bachelor's, master's, and doctoral degrees were conferred to Class 2022 at ceremonies held on 24 & 26 November. Business School graduates also gathered at Cheng Yu Tung (CYT) Building for the convivial celebration held by the Alumni Office.
Dedicated backdrops, decorations and props were aplenty at CYT Building for graduates to capture the indelible memories, along with professional photographers present to take individual and group photos. On this occasion, graduation gifts and souvenirs and were available for redemption or purchase at designated booths.
To recognise the outstanding academic achievements of the top performing graduates, the Alumni Office also organised Dean's List Awards Ceremonies and had Prof Lin Zhou, Dean of the CUHK Business School, presenting the award certificate to awardees. Friends and families also joined the momentous occasion as proud witnesses.
Prof Zhou remarked at the Dean's List Awards Ceremony, attended also by Programme Directors, that the academic accomplishment of the awardees in the time of COVID-19 was a solid proof of their unflagging dedication to excellence, perseverance in spite of challenges, and adaptability to changes. He believed that these qualities would continue to empower them as they scale new heights in their future endeavours. He encouraged them to stay humble and keep on learning, making the most of their competence for a better world while contributing to the community of CUHK Business School as a member of the alumni family.
Here are some of the Dean's List awardees and their graduation speeches:
"It must have been a proud moment for my parents to fly from Indonesia to attend my graduation ceremony and to see me receiving the award certificate from Prof Zhou! A lot of adaptations had to be made in our campus life due to the pandemic situation these years, but I managed to stay focused and achieved good results thanks to the thoughtful arrangement by the School. I'm now working in a major management consulting firm in Hong Kong and I look forward to building my career here." Cahaya Putra Karuniawan (PACC 2022)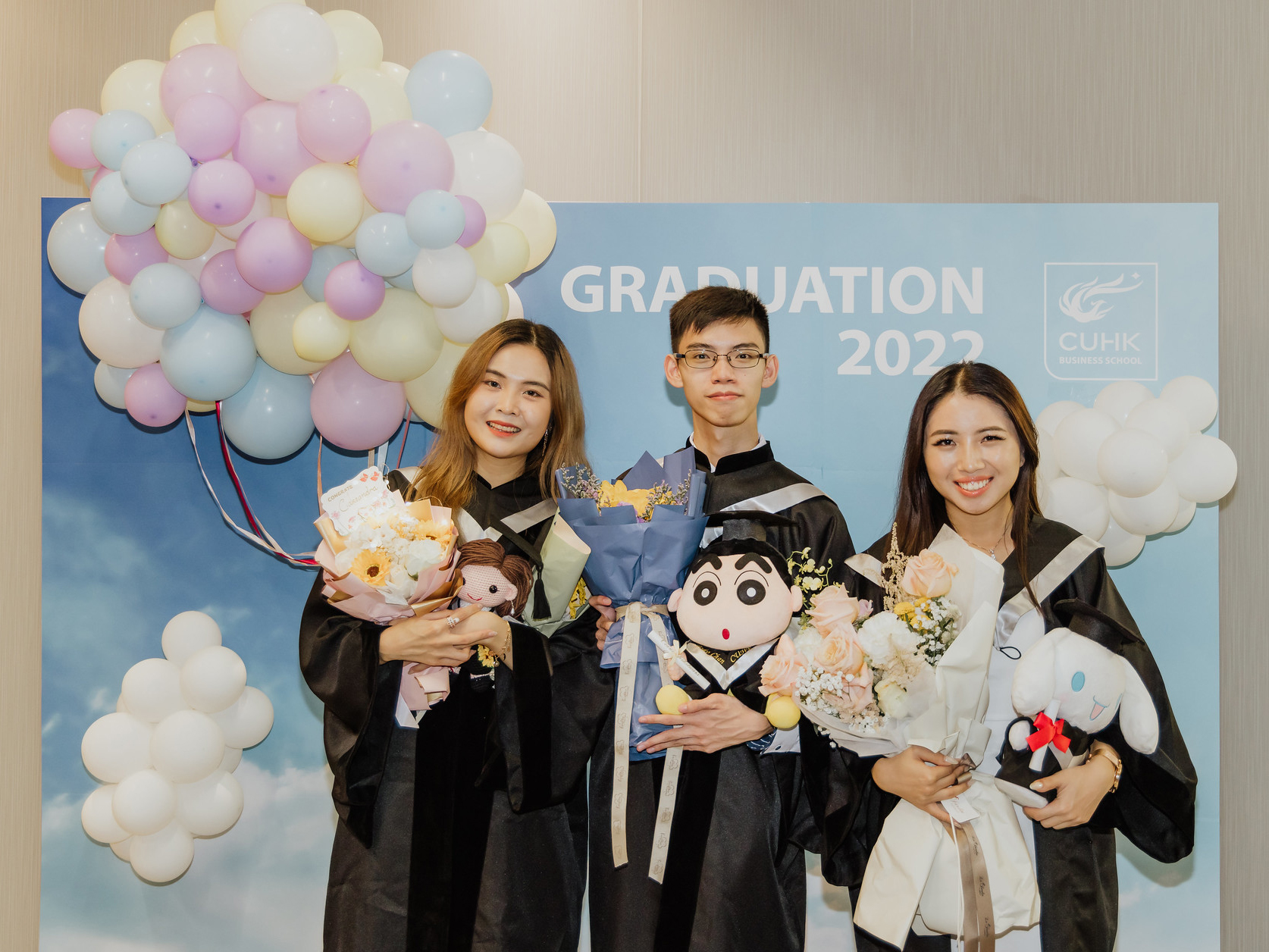 "Business School has prepared me for my pursuit in marketing; it allowed me to gain on-the-ground experience through a wide range of programmes with corporate presence, including a project with P&G." Cassandra Lee (IBBA 2022) (left)
"CUHK Business School is a heartwarming family. While business is all about interpersonal interaction, I felt stressed as I used to have a speech impediment. Fortunately, I received comprehensive academic guidance and emotional support from the School, and was given ample opportunities. Through participating in the 'Student Ambassador Programme' and moderating the 'Alumni Lecture Series', I have been able to rebuild my confidence and gain valuable experiences which are constructive to my career." Bedco Chan (IBBA 2022) (centre)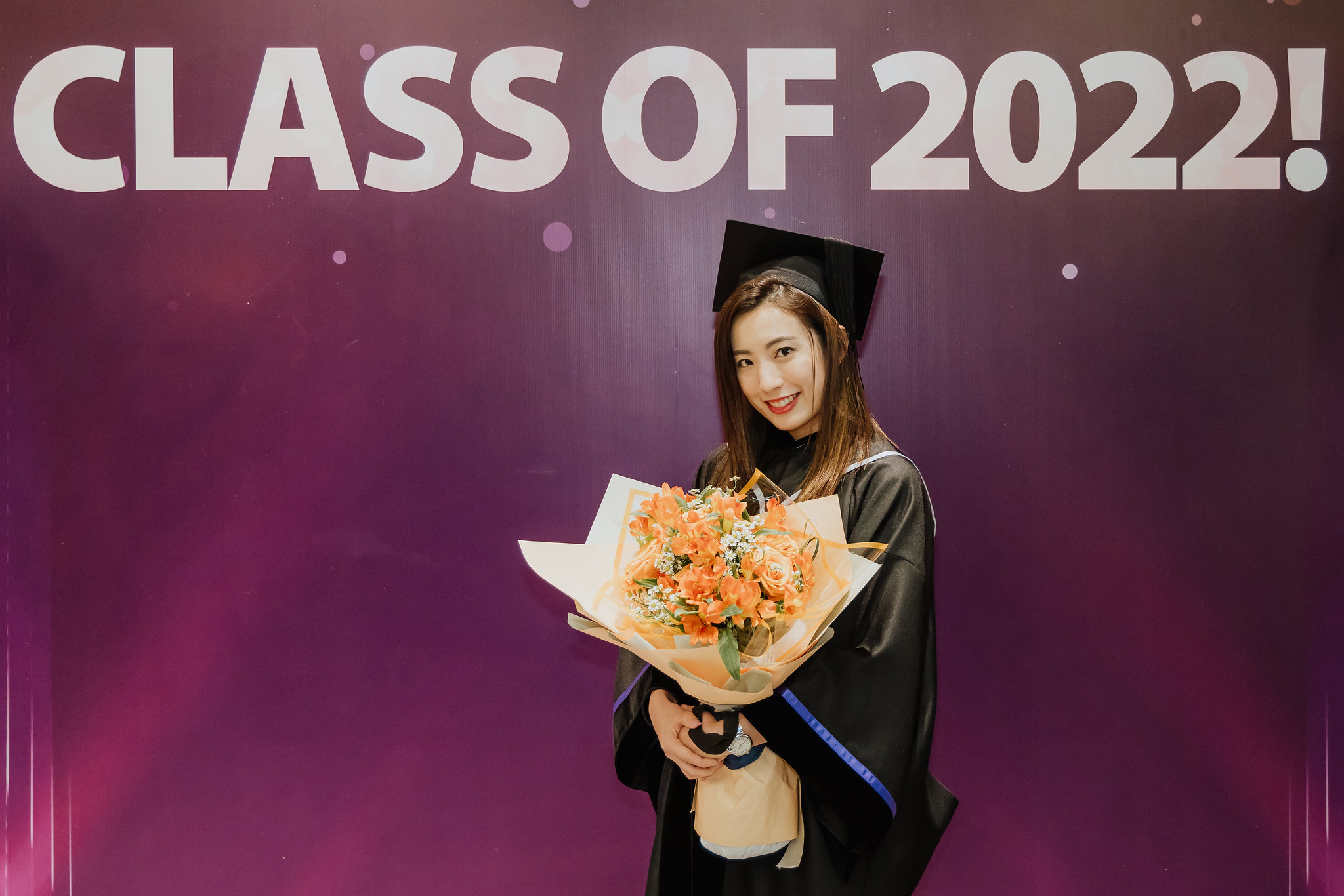 "Studying the EMBA programme while the world was on pause has been one of my best decisions made, given it was the best timing to learn, unlearn, and relearn with professionals from all sectors. Of course, we all struggled to adapt to the new normal and to strike a balance between work and study. But it wasn't that hard with the mutual support in class which drives us through all the most challenging moments! Thank you, CUHK EMBA and the Class of 2022! May all graduates continue to be bold, strive for the best and succeed in life!" Jessica Ng (EMBA 2022)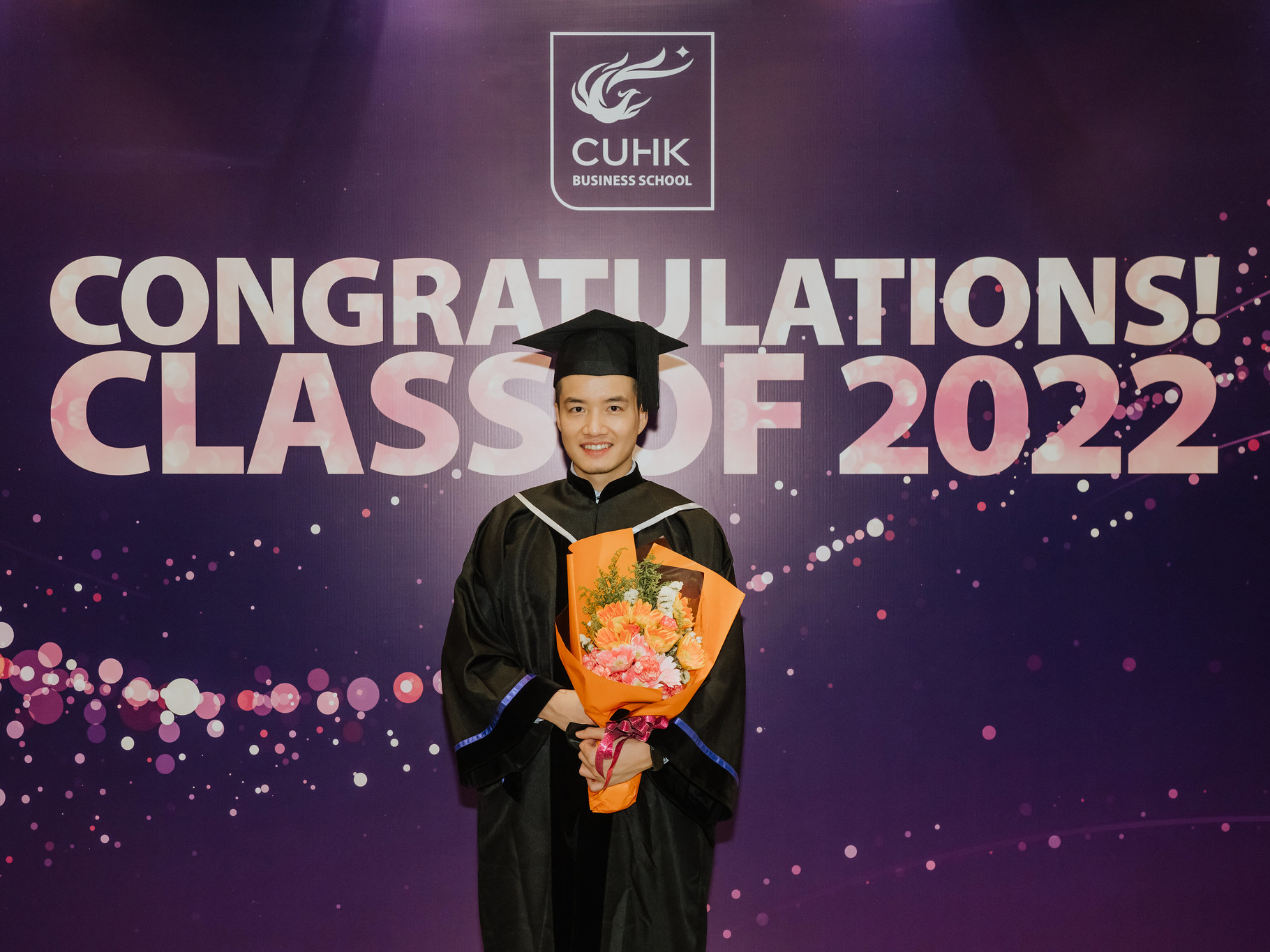 "My university life has brought me so many fond memories since I came to Hong Kong from the mainland less than two years ago. The faculty and staff from programme office are friendly and warm – at one time they even photoshopped a class photo for us as a memento because many of us couldn't attend the class in person! It is this hearth and humanistic spirit which I'll miss the most." Jerry Li (MScMKT 2022)
Full Album for the Graduation Reception and Dean's List Awards Ceremonies:
– Graduation Celebration for Undergraduates
– Graduation Celebration for Postgraduates
– Dean's List Awards Ceremonies for Bachelor's Degrees Graduates
– Dean's List Awards Ceremony for Postgraduates