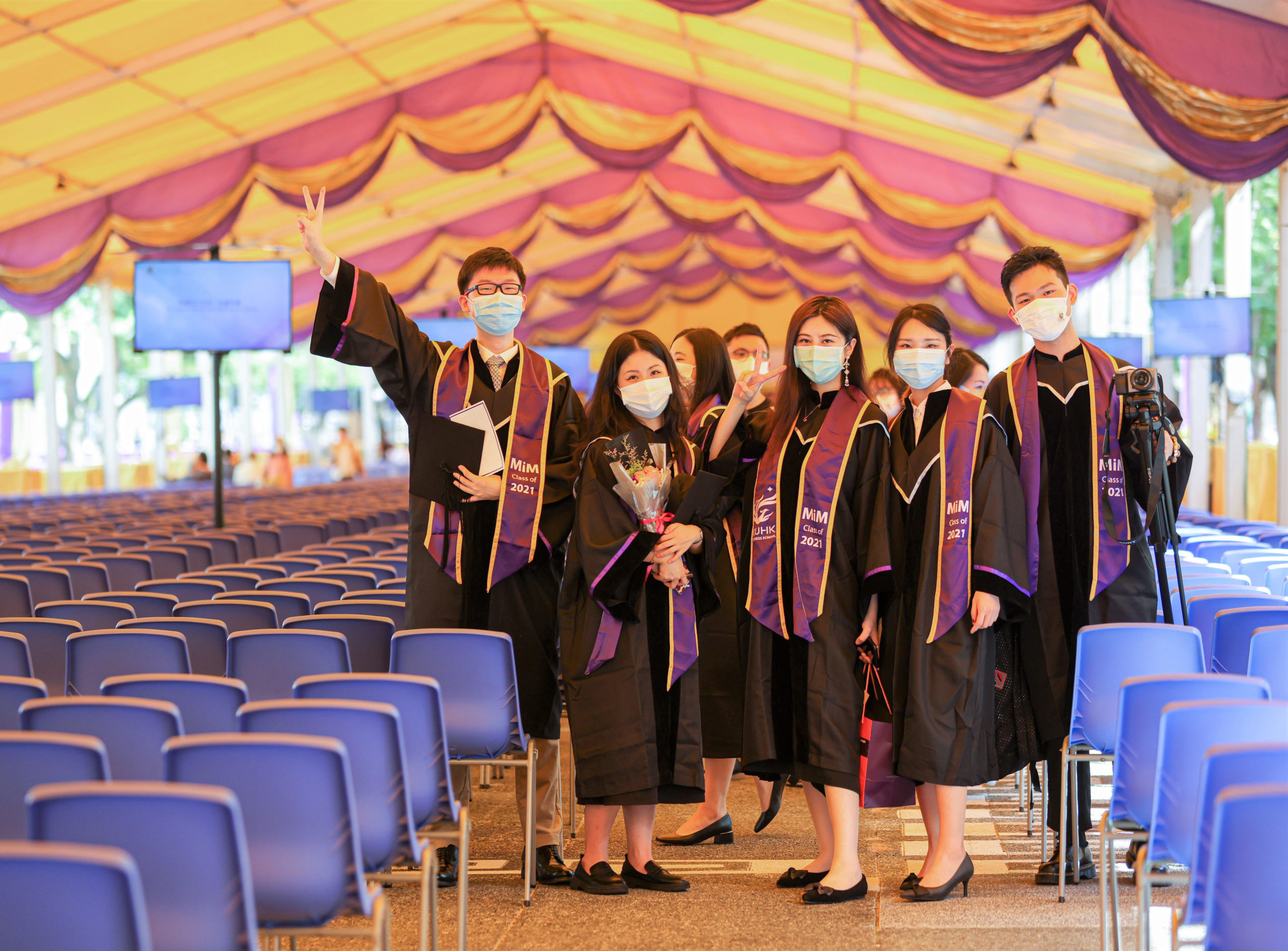 Congregation for the Conferment of Degrees
The 90th Congregation for the Conferment of Degrees of The Chinese University of Hong Kong (CUHK) was held on 4-6 November 2021, celebrating the graduation of Class of 2021 graduates with their proud families, teachers and distinguished guests.
This year's graduation ceremonies were divided into 17 sessions and hosted by colleges and faculties. The nine colleges of CUHK conferred the Bachelor's Degrees on 4 November, while CUHK Business School, along with the other seven faculties, held the Doctoral and Master's Degrees Graduation Ceremonies on 5 and 6 November.
A total of 568 doctoral degrees, 6,235 master's degrees and 5,046 bachelor's degrees were conferred at the Congregation. Among them, there were 14 Doctor of Philosophy and Master of Philosophy, 1,112 Bachelor of Business Administration, 95 Master of Accountancy, 280 Master of Business Administration and Juris Doctor and Master of Business Administration, 82 Master of Professional Accountancy and 476 Master of Science degrees.
At the Master's and Doctoral Degrees Graduation Ceremony on 6 November, Cally Chan (EMBA 2007), General Manager, Microsoft Hong Kong and Macau delivered a speech to all the CUHK Business School graduates as the Guest of Honour. Cally encouraged them to "enjoy every moment no matter it's tough or not; be grateful that we have the opportunities to grow and be stronger every day."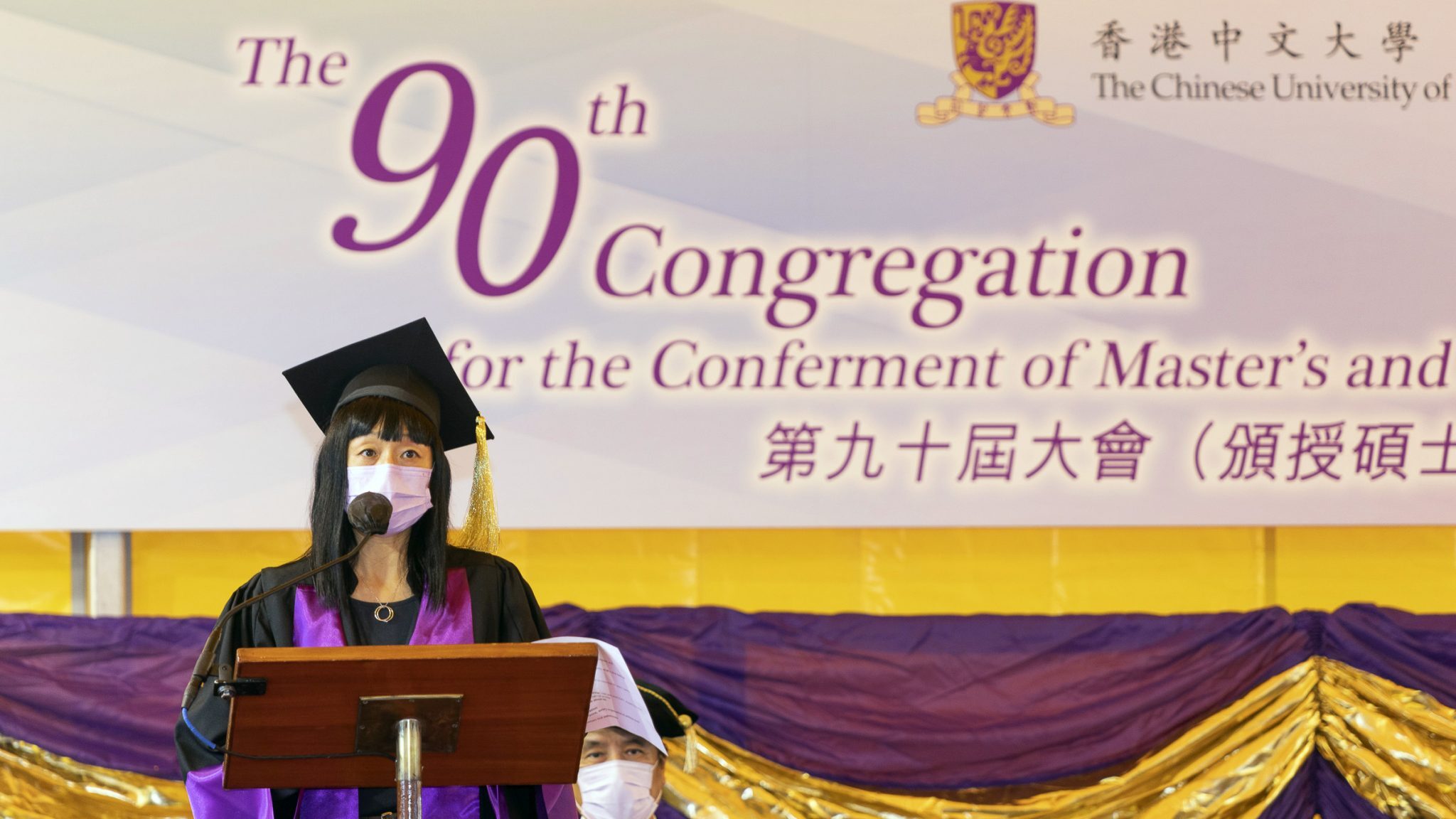 Guesst of Hounour Cally Chan (EMBA 2007)
Berrin Birsen Oenguen, a Class of 2021 graduate from the Master of Accountancy (MAcc) programme, also represented all the graduates to deliver a speech. "One thing I have learnt in my short career so far is that it pays off to be flexible and to find solutions to make things work in difficult situations. This class of graduates has had an excellent education on that." She concluded with a quote from the famous German poet and philosopher, Friedrich von Schiller: "Those who do not dare, dare not hope", advising her fellow classmates to be daring and be courageous for the challenges ahead.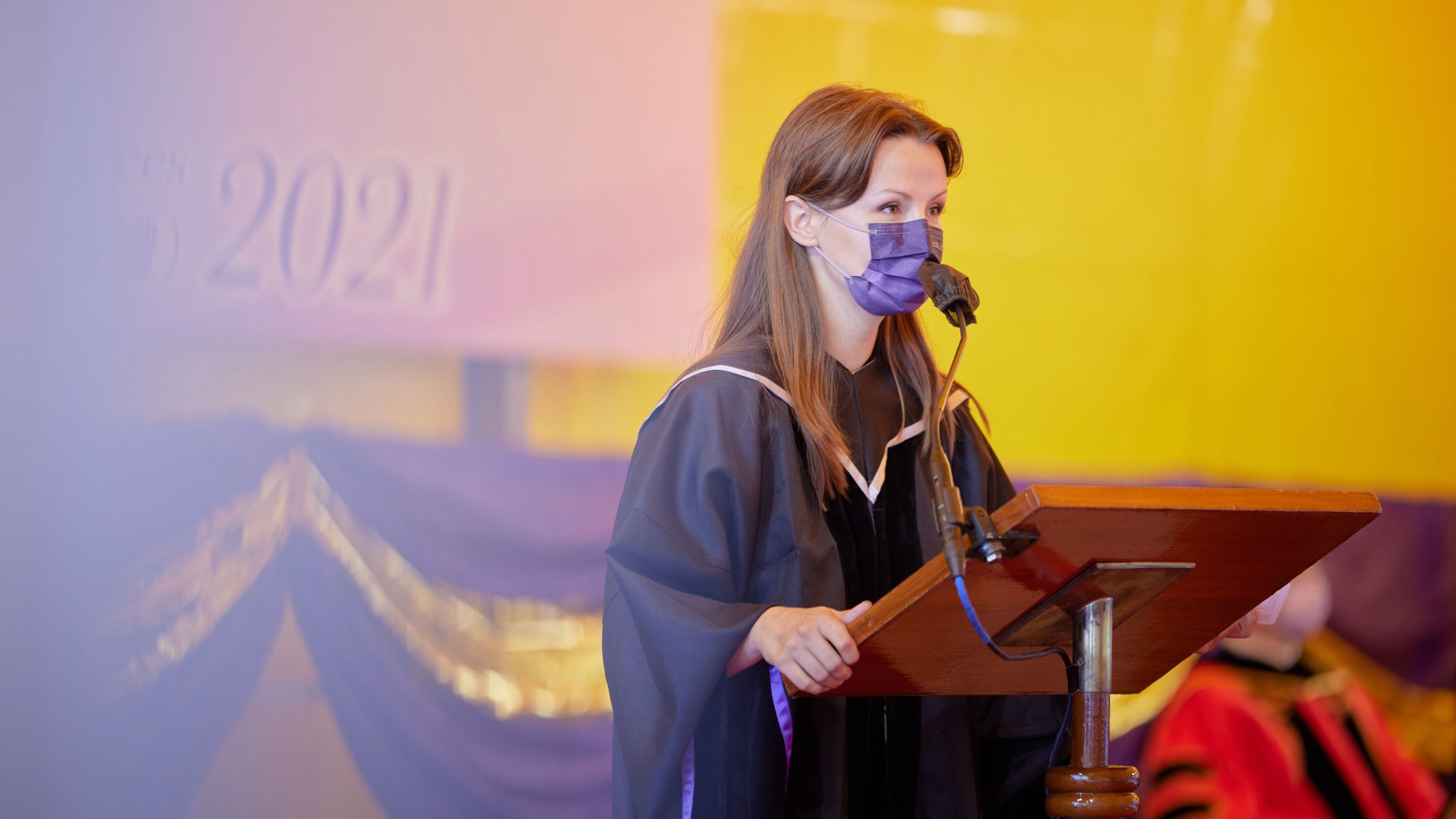 Graduate Representative Berrin Birsen Oenguen (MAcc 2021)
Tailored Celebrations in CUHK Business School
After the congregation, celebrations in all forms were hosted by the various master programmes of the CUHK Business School to commemorate this exciting milestone of the Class of 2021.
MSc in Management (MiM)
MiM graduates shared the joy of completing this important milestone with a full house of friends and families, teaching faculty, and current students at the MiM Graduation Reception. Over 40 graduates, guests and faculty from other parts of the world also joined the Reception online.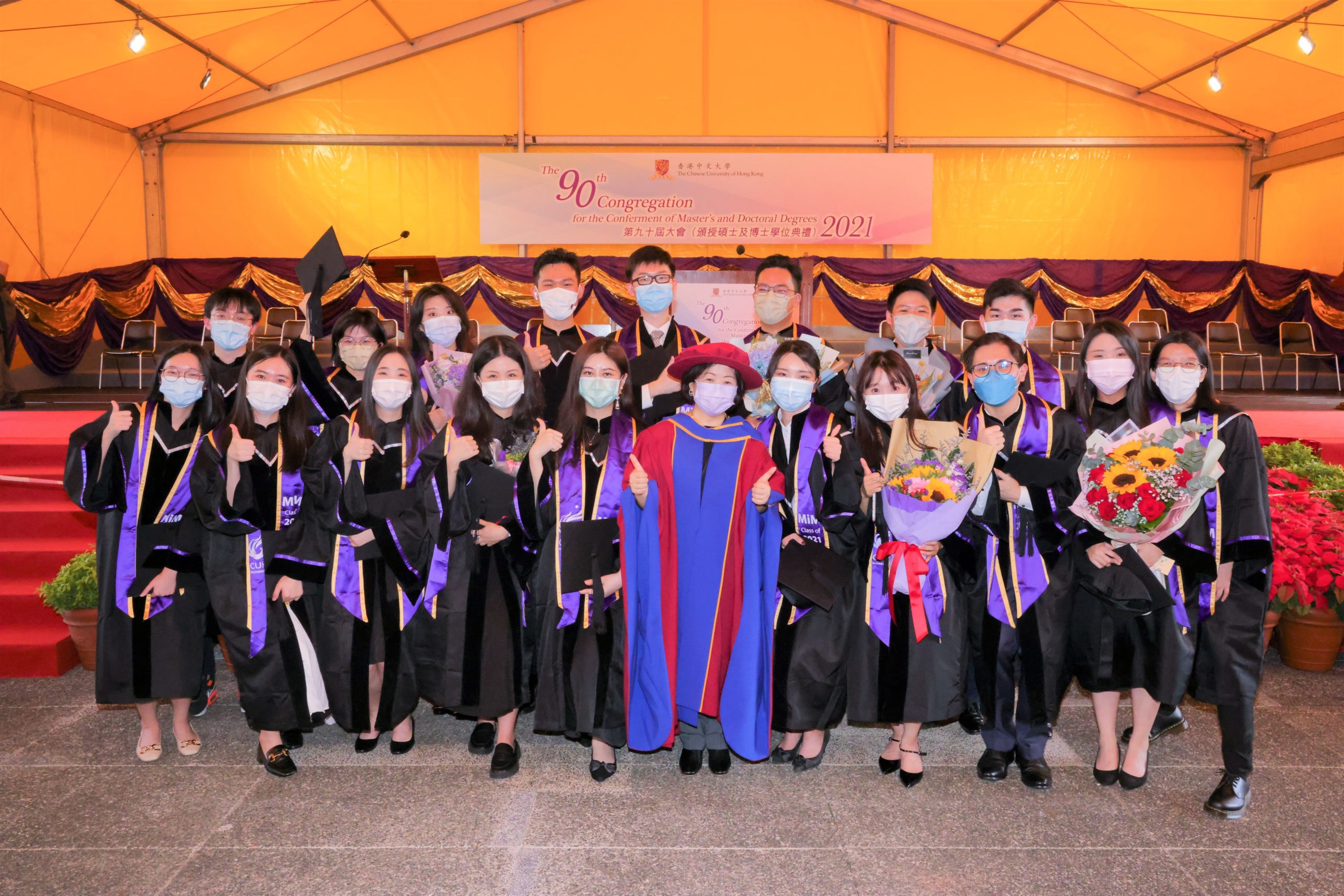 Prof. Dora C. Lau, Programme Director of MiM and graduates gathered in The University Mall to capture the joyful moment
Graduates shared at the Reception about their life-changing journey with MiM which gave them the opportunities to unleash their full potential and unlock the doors to success in life.
MSc in Finance
The newly minted batch of MSc in Finance Graduates, together with their proud parents and families, joined delightful award ceremonies for Distinguished Academic Performance Scholarships and the Dean's List awards. Sharing precious friendships, happy moments and laugher together, they are now carried by their dreams into the outside world for bigger adventure.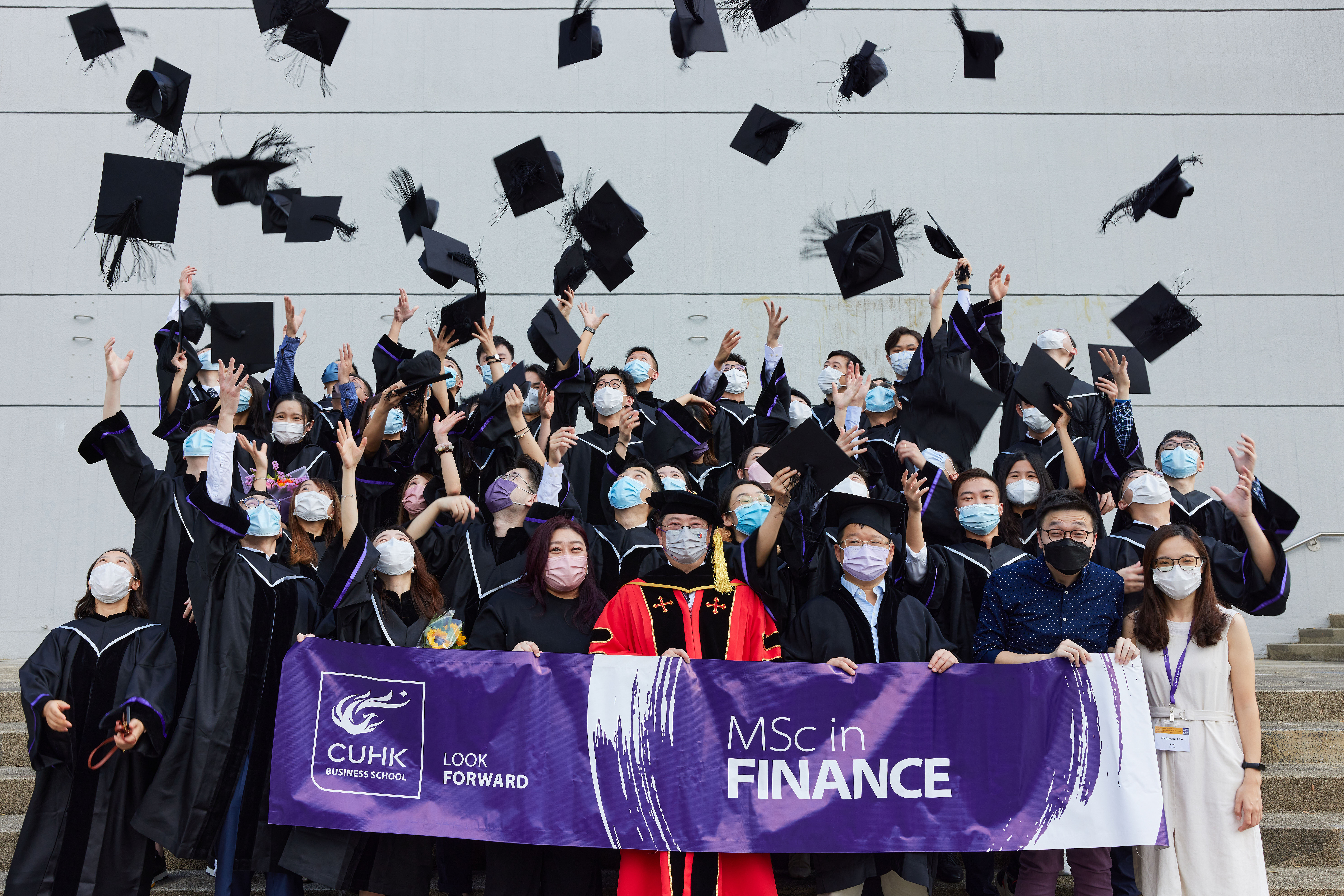 MBA
The CUHK MBA office hosted a celebratory graduation reception in hybrid mode for their graduates. Full-time and part-time graduates were joined by their happy family and friends in the Hong Kong campus, CUHK Shenzhen Research Institute and over Zoom. Executive Director Grace Liang, President of MBA Alumni Association Armstrong Lee, as well as President of MBA GBA Alumni Chapter Adrian Chan, delivered words of appreciation and encouragement during the occasion.
MAcc
Graduates celebrated with fellow teachers and alumni at the MAcc Graduation Dinner Reception on 6 Nov 2021. Programme Directors, Prof. Zili Zhuang and Dr. Raymond Wong, acknowledged the accomplishment of the graduates against all odds over the past year, and presented awards to those with outstanding academic achievement. Appreciation was also given to alumni with significant contribution to the programme.
MSc in ITM
The Graduate's Reception of Class 2021 was held at the CUHK Campus after the Master's Degree Graduation Ceremony. During the Reception, Dean's List were presented to graduates with outstanding academic achievements. ITM graduates had a great reunion with their schoolmates, and took class photos together to commemorate the occasion.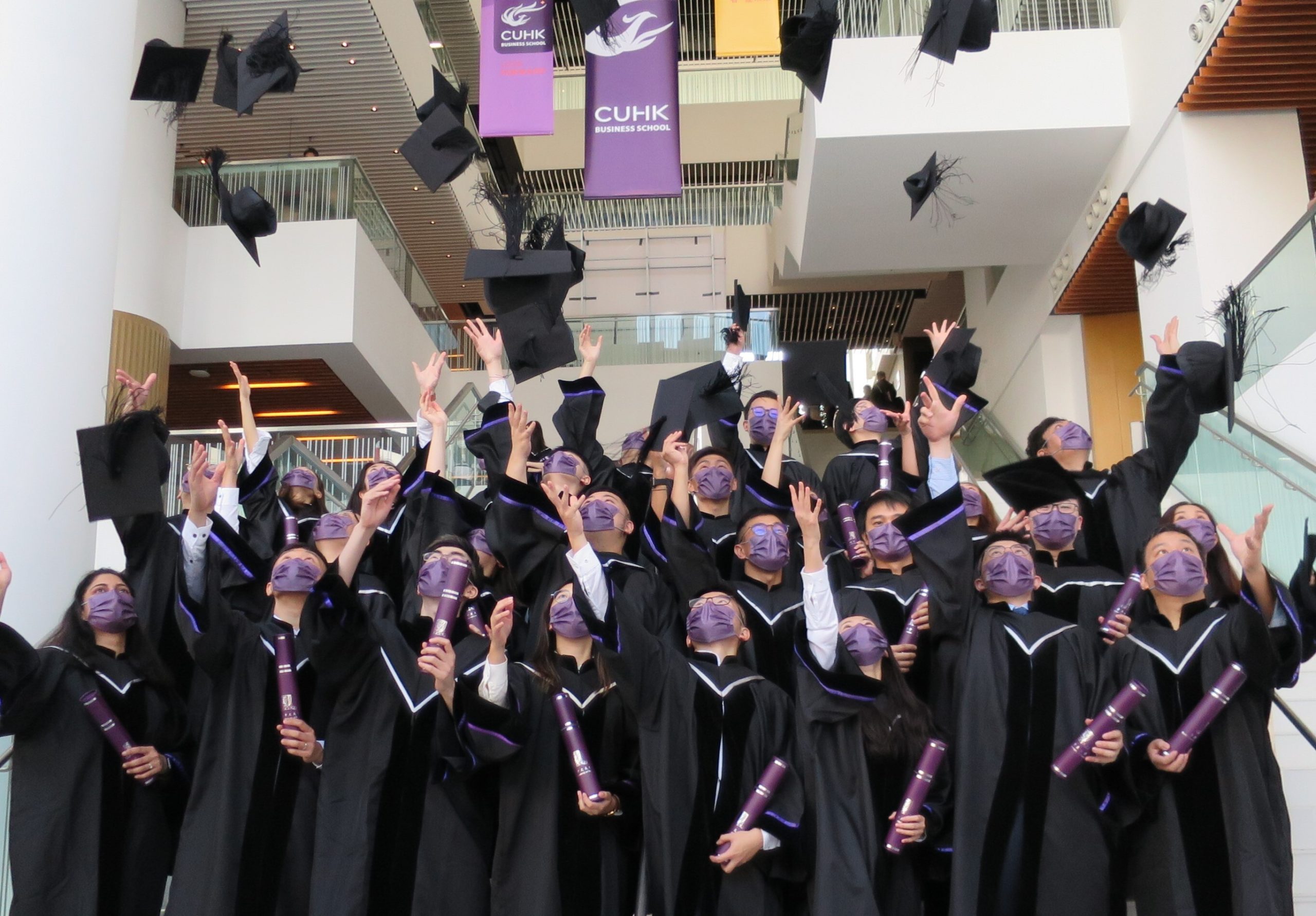 Class of 2021, Congratulations once again on your accomplishment, and here's to another phase with greater heights!
Don't forget to redeem your Welcome Pack HERE!