Vivek Avari (MBA 2011): Entrepreneurial Journey Took Off with Tourism Revived in Portugal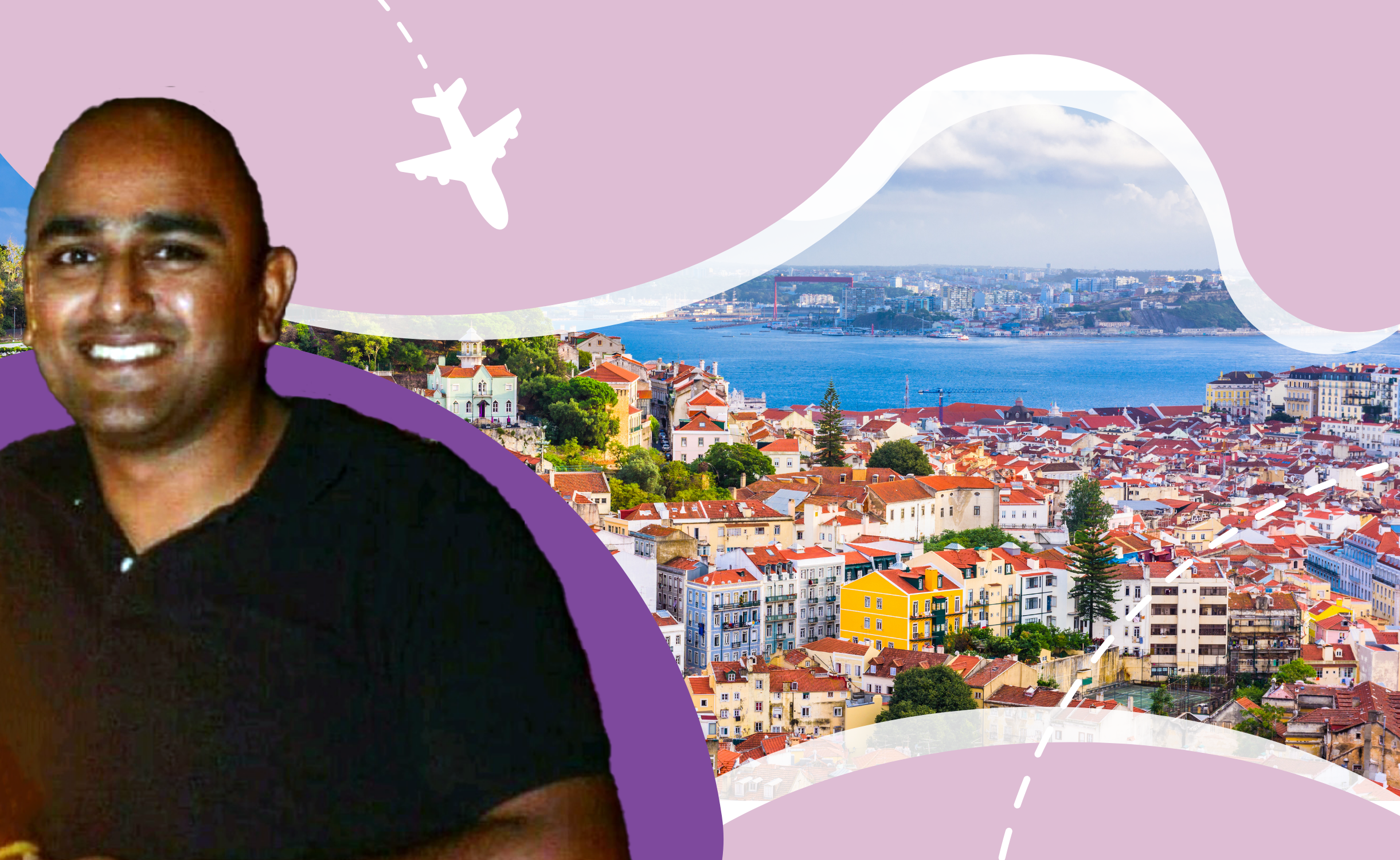 | | |
| --- | --- |
| Name | Vivek Avari |
| Study Programme | MBA 2011 |
| Current Location | Albufeira, Portugal |
| Current Job | Director, Visionary Bravery LDA |
Q1. Could you briefly describe your current job scope or responsibilities?
I have started my own fast food franchise and a bar/ restaurant in Albufeira, Portugal. Our peak season is from March to October when tourists flock to the city. I oversee the overall business operation and administration.
Q2. 3 words to describe your life in your residing location (the country/ city), followed by a brief explanation.
Busy, Contented, Challenging.
When I moved to Portugal in 2015 I was working as a GM for a hotel company. It was a secure job. But ever since I started my own business in 2020 and the pandemic hit us, things have been like a roller coaster. Having said that I am more contented in my present role – there are a lot more challenges on a daily basis but that is also what I love most.
Q3. Which industry do you see strong business potential in your country and any reason?
Tourism, real estate and holiday rental.
Portugal is a safe country with extremely low crime rate and hence it is a preferred destination for tourists around the world. Area around Algarve is particularly famous among tourists and holiday rental is always in great demand. Since it is also a liveable city, it attracts more and more retirees as well as digital nomads when the world gradually recovers from COVID. The residential real estate industry is therefore also booming.
Q4. What is the one thing you miss the most during your study in CUHK Business School, and that you look forward to doing it/ making it happen again?
I miss the time that I could spend with my classmates. That used to be a lot of fun. Out of all the great memories, I particularly treasured the time we spent in our outward bound. In my class people come from different countries and background, and the experience was an ice breaker and in many ways also forged lifelong friendship among us.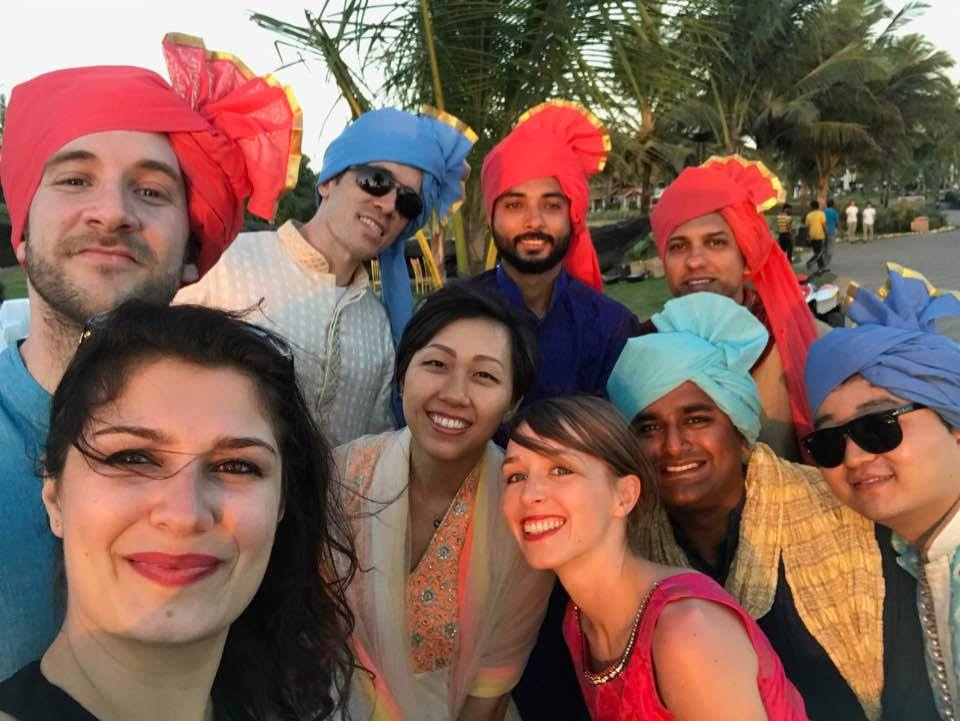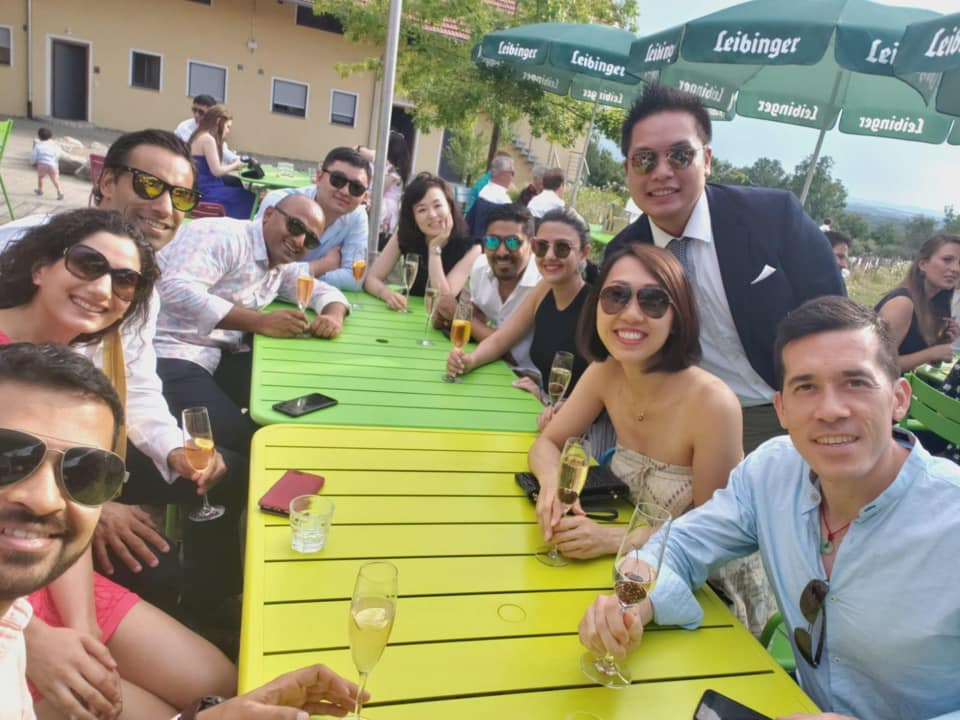 Vivek (upper: in light blue head wrap; lower: fourth from left) had wonderful time with his classmates during their overseas trip.