CUHK Business School receives a record-breaking number of postgraduate students in the 2022/23 school year with excitement. Over the past couple of months, the new cohort has had a great start with tailored orientation events designated to get them prepared for the learning ahead. Let's take a look at the fun-filled activities and join us to give them a warm welcome!
EMBA Programme hosted its Residence Week on 19 – 24 August. Focusing on management of corporation, the week was designed to cultivate bonding among new students through intensive team-building, problem-solving and creative activities.
EMBA (Chinese) Programme organised orientation activities in Hangzhou, Guangzhou and Shenzhen respectively in June, with new students joining eye-opening company visits alongside faculty and alumni. Programme Director Prof. Ming Liu pinpointed during the welcoming remark that innovativeness, entrepreneurial spirit and social responsibility would be the main focus of the study ahead. He encouraged students to enjoy and make the most out of their new school year.
MBA programme has had their new cohort of students kicked off the learning journey with a series of orientation activities, Quant Bootcamp, academic workshops, and pre-term courses in the summer. With the class being culturally diversified, students have the opportunity to share their personal interests and professional insights in a dynamic setting and develop themselves into global leaders of tomorrow.
Master of Accountancy (MAcc) Programme organised an array of orientation activities, including ice breaking and team building games, an introduction to career services, an ethics talk and an overview of the programme. Students also had a chance to mingle with faculty over dinner.
MSc in Management (MiM) programme welcomed the new cohort during the orientation day held on 9 August. Despite the torrential weather, new students had a warm gathering and the day was concluded with a hearty dinner. Various workshops were also held in August to equip students with essential skills.
MSc in Actuarial Science and Insurance Analytics (MScASI) programme greeted its inaugural intake of 54 students with various orientation events, including a virtual orientation and workshop on programming language, in order to get them in a good shape for a challenging yet fruitful academic year ahead.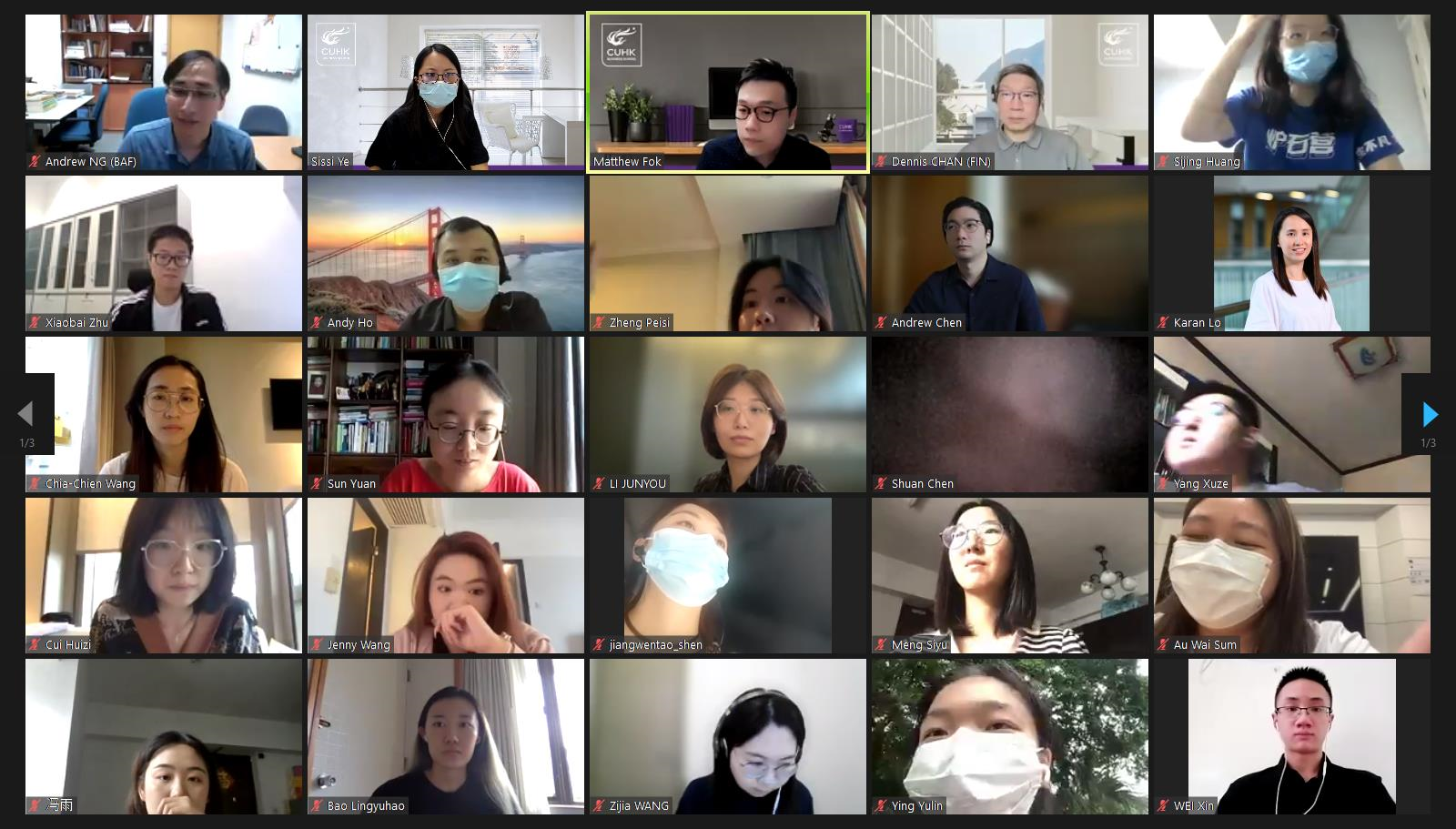 MSc in Finance (MScFIN) programme took its new students through an intensive programme of activities which include pre-term courses, a series of talks given by alumni and senior executive, as well as a number of career-related events to get them beginning their year with the end in mind.
MSc in Information and Technology Management (MScITM) programme organised orientation sessions to give its freshmen a glimpse of into their study and life in CUHK. Besides presenting Admission Scholarships to students with outstanding qualification, it also arranged team building workshops and other fun activities for full-time and part-time class respectively so that students can get to know their peers.
MSc in Real Estate (MscRE) programme organised a three-day orientation camp in late August with team-building activities, briefing sessions about the real estate industry, career and other student support arrangements. Students were divided into groups to study commercial real estate projects in Hong Kong and made presentations in front of their new classmates.
Doctor of Business Administration (DBA) programme, presented in collaboration with Fudan University's Fanhai International School of Finance, has had its inauguration ceremony held online on 3 September. Prof. Lin Zhou, Dean of the CUHK Business School, Prof. Vernon Hsu, Programme Director of the Doctor of Business Administration Programme and other faculty were joined by over 30 students from the inaugural cohort from Hong Kong and Shanghai to commemorate the occasion. Valuable sharing from the guest of honour aroused great interest among the students, and discussion continued throughout the interaction subsequently. The two-hour event was concluded with a high note.
Prof. Lin Zhou, Dean of the CUHK Business School

Prof. Jun Qian, Dean of the Fanhai International School of Finance of Fudan University

Professor Lawrence Lau, the sixth Vice-Chancellor of the CUHK and former Chair Professor at Stanford University

Professor Zuowei Xie, Choh-Ming Li Professor of Chemistry and Member of the Chinese Academy of Sciences
Once again, the Alumni Office of the CUHK Business School would like to express our most heartfelt welcome to all aspiring freshmen. Have a blast everyone!