It feels almost like yesterday that you began your study in CUHK, and in the blink of an eye this chapter of life has headed to its grand finale. Graduation is not the end though, but merely the beginning of a new phase that lies ahead of you. The Alumni Office of the CUHK Business School (hereafter "Alumni Office") has put together an exquisite welcome kit for the Class of 2021 at this very special season of hope and blessings, to enable you to take a bold leap forward towards your beautiful dreams, no matter where you are at.
Follow the steps below to receive our best wishes!
Step 1: Take Your Graduation Photos Digitally!
The Alumni Office has created a set of graduation photo frames in digital format for you to capture the precious moments:
Method 1
Download the png files of the photo frames to embed your own photos
Method 2
Take photos instantly with the photo frames by using the WeChat mini programme (only applicable to device with the WeChat app)
Step 2: Stay Up-to-date with Happenings in Your Alma Mater!
The Alumni Office looks forward to staying side-by-side with you as you embark on your new journey. Click on the video below to explore the exciting things we have planned for you: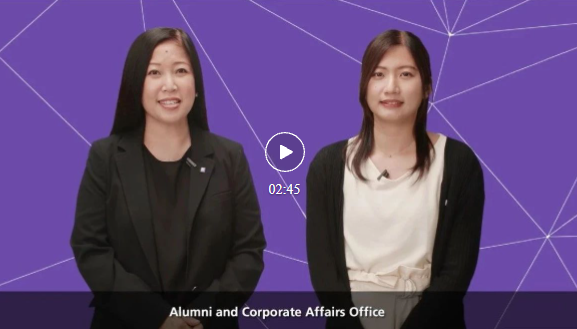 Besides keeping an eye on our monthly alumni e-newsletter, the Alumni Link, you are also highly encouraged to follow us on the platforms to keep abreast of the latest updates of the Business School and the alumni community – you would not want to miss out any wonderful event or alumni privileges!
Step 3: Join an Alumni Association!
Alumni of the CUHK Business School have set up a number of Alumni Associations and Alumni Chapters around the globe according to the programmes or regions they are in. Find your peers, and be exposed to many more opportunities – be it networking, academic or many other – by joining the Alumni Association TODAY!
Click HERE to get the contact details of each alumni association now and join the alumni group or WeChat group you belong to!
Congratulations once again on your accomplishment, and here's to another phase with greater heights!